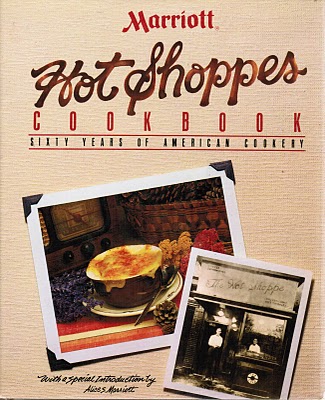 I had never heard of Marriott's Hot Shoppes until I found this cookbook.  At their height, there were over sixty Hot Shoppes, serving what we would  probably call "family-style" food; simple food prepared daily.   The first Hot Shoppes opened in 1927 in the Washington, D.C. area, catering to many government workers.  Even before the Hot Shoppes, Bill Marriott owned an A and W Root Beer franchise.  He sold the root beer at "five cents for a frosty mug."  The book even gives the "recipe" for preparing the mugs properly.  But since Bill wanted to expand the business to serve hot food to warm the Washington winters, he selected the name Hot Shoppes. 
During the 1930's, the automobile came to occupy a central place in America, and drive-in service grew proportionally, with the Hot Shoppes leading the way on the East coast.  Bill Marriott hired hundreds of drive-in waiters he called "Running Boys" in 1934.  The Running Boy actually became the logo for the Hot Shoppes because he was an appropriate symbol.  From their inception, the Hot Shoppes were dedicated to serving Americans on the move.  In fact, the first Hot Shoppe opened on the very day that the most daring American on the move, Charles Lindbergh, took off on his non-stop solo flight across the Atlantic.
In the 1940's during the war, the Hot Shoppe menus had to change because of meat and other food rationing.  Because of the meat rationing, salads, vegetable platters, and souffles were introduced and quickly gained popularity.  During the war, even Bob Hope and his USO troupe were a common site at Hot Shoppes enjoying home-style food before taking off to entertain the troops.  Throughout the 1950's, the Hot Shoppes were serving a great deal of food-to-go, and expanded even more in the 60's and 70's, with busy Americans on the move. 
The recipes in the cookbook reflect the Hot Shoppes slogans:  "Food for the entire family" and "Square meals at a fair price."  The recipes also represent the enduring styles of American cookery, and reflect tastes that have evolved over the years, from buttermilk biscuits, to chicken pot pie, to pineapple upsidedown cake.  The cookbook is a view into a little slice of Americana.