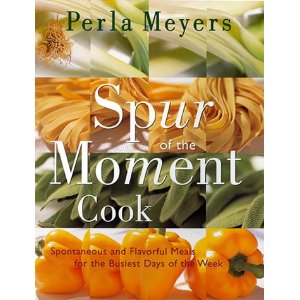 Those of you who read my blog regularly, know how much I love the cookbooks of Perla Meyers.  I received emails from people who ordered her "Seasonal Cook" after I wrote about it a couple months ago and are now enjoying her recipes, too.  Here is another one for you.  Perla wants us to create fabulous food with a minimum of fuss and a whole lot of flavor and pleasure.  You will need a well-stocked pantry along with an innovative approach to shopping for fresh ingredients.  People seem to have a more enlightened sense about finding the best local and regional food.  Because there is so much available now, shopping is more fun than ever.  Supermarkets are more focused and specialized.  Farmer's markets are everywhere.  By a well-stocked pantry, Perla means things like tomato paste, tomatoes, mustards, spices, olive oil, roasted red peppers, vinegars, soy sauce, pasta, and rice.  In the book she will also tell you what fresh vegetables are handy to have, dairy products, fruits, and freezer items.  If you are basically ready to cook, then you can make any spur-of-the-moment healthy, satisfying meal. 
Our First Lady has an agenda for helping the obesity problem with our nations' children.  She planted a garden at the White House, and promotes the use of good, fresh food, just as Perla does.  I bet Perla could find anything in the garden and make something wonderful.  She could make things from her book like fresh pepper and sage grilled pork tenderloin, mushroom polenta with fresh thyme, zucchini and fresh basil risotto, penne alfredo with wilted fresh greens, cabbage-potato and turnip soup, or a caramelized corn, mango, and bacon medley.  Each recipe is better than the next. 
For dessert, how about a mascarpone yogurt cream with grated orange and spring berries; or a pink grapefruit sabayon with strawberry sauce; or what about…… Help!  I can't stop.  Just get the cookbook and you will see what I mean.