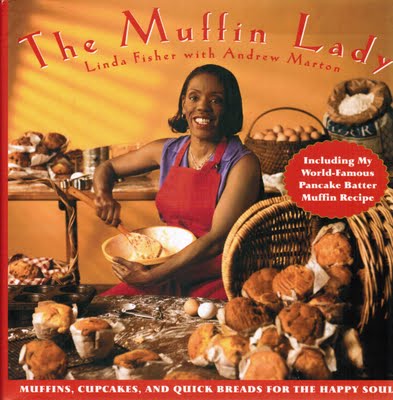 Linda Fisher was a single mom who found herself divorced and struggling to support her son.  Rather than ask for public assistance, Linda vowed to take care of her own.  She decided to take her mother's old family pancake recipe and modify it into a muffin batter.  Linda loaded up a Radio Flyer wagon with dozens of her mouthwatering muffins such as blueberry, peach cobbler, apple dumpling, and burnt sugar, and hit the pavement to sell her ware to nearby businesses.  She soon became a local favorite known as "The Muffin Lady." 
Linda's business was starting to take off when she was informed by the local Health Department that she would have to cease selling her muffins because they were not prepared in a department-approved commercial kitchen.  Feisty and determined Linda wasn't going to take that lying down, and the whole community rallied around her to help. Finally the fire department offered her the use of their kitchen and she was back in business.  Linda had to use the kitchen between 2:00 a.m. until dawn at the firehouse.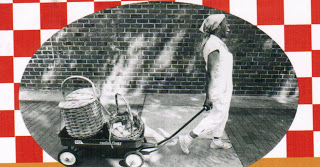 The cookbook not only has Linda's famous muffins, but also cookies, other quick breads, cupcakes, cakes, and pastries.  She also includes her famous frosting recipe that chefs tried to buy from her for years.  Another recipe people could not pry from her is the carrot cupcakes.  They contain most of the basic ingredients you think of in a carrot cake, but with the addition of orange marmalade.  Linda says the orange marmalade is a factor in making them different, but she thinks the secret is the mace!  She says the muffins are even better if they are baked and frozen.  For some reason, she says they end up with a better flavor after being frozen and thawed.  You will love reading all of Linda's notes by each recipe.
The recipe used for the muffin base from Linda's mother was an inheritance of sorts.  Some people inherit money, property, or jewels, but Linda inherited a recipe filled with family values and pride – and it served her well.  In the book Linda says, "I guess you could say that my mother's recipe comes down to some basic, elemental ingredients.  The spiritual ones are pride and perseverance.  The material ones are sugar, flour, eggs, and milk."  Linda's mother didn't live long enough to see her simple recipe develop into so many delicious forms, but her original recipe was a tribute to her life and that of Linda and her son.  Linda said she feels her mother's presence when she bakes, and her recipe is the legacy she carries on.  Sounds better than jewels to me.