If you don't know what I just ordered in the title, that's Deli-speak for a cherry coke and a corned beef with coleslaw and Russian dressing!  Deli-speak is a language all its own.  How about a jackhammer (American cheese, tomato, and ham), or some nervous pudding (gelatin), or burn it and let it swim (a float).   The true American deli where this language was used is an endangered species.  The deli started out as a place to serve simple foods from Eastern Europe, Lithuania, Russia, and Hungary.  Many favorites were offered like challah, corned beef, matzo, cheesecake, and bagels. German and Alsatian immigrants were the first to open and run delicatessens in this country, mainly New York City,  followed by Jewish immigrants.  Today, many delis are still operating with third and fourth generation family members.  They have pride in what they serve and a love for the life they have inherited.  The Jewish deli is more than a place to sell food; its heritage is of a gathering place where new immigrants could find a sense of community.  Newly arrived immigrants had to sometimes live in cramped conditions, which spilled people out into the streets and became their daily life.  It was then that pushcarts became popular.  By 1900, there were more than 25,000 pushcarts on the streets of the Lower East Side in New York City.  Vendors sold everything from fruits and vegetables to pots and pans.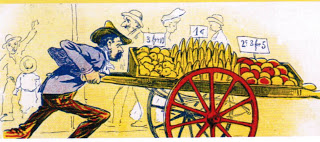 This book is part cookbook with great recipes and lots of fascinating history on the delicatessens from coast to coast.  The book starts out with a timeline.  Did you know the frankfurter originated in 1484?  Or that bagels were created in Poland in 1610 and given as gifts to women after childbirth?  I didn't know that in 1937 the Coca-Cola company was the first beverage company to obtain kosher certification.  A chapter to follow is all about the origin of popular deli foods such as the Black and White cookie, blintzes, challah, cheesecake, chopped liver, cream cheese, egg creams, and pickles.  The history of famous delicatessens includes Lindy's, Carnegie Deli, 2nd Avenue Deli, Ben's, and Katz's Deli,  all in New York City.  In the Midwest, you will find Zingerman's in Ann Arbor, Michigan; and Protzel's in St. Louis.  One of the largest in the country is Canter's Deli in Los Angeles, which boasts 14,000 square feet, or Nate 'n Al's, also in Los Angeles and provider to the Hollywood celebrities. 
Delicatessens have a rich culinary history and tradition all across the country.  Even though the deli culture is slowly diminishing, people still seek out places to gather with friends, and the deli character can hopefully  restore that sense of community.  It's discouraging to see neighborhood establishments such as delis and small family restaurants fade from the landscape.  If you read this book, it will first make you a little sad how these places are disappearing, but at the same time want to seek them out and support them.  In my small hometown we have a couple delis in town that have been around for decades.  One of them is right next to the town square in the middle of town.  People go into the deli to place an order, then walk across the street, sit on a park bench, and enjoy watching the busy little downtown while enjoying a big sandwich, salad, and a fat cookie.  It's the small establishments and the townspeople who love them that will keep the community moving.  It can happen in small Illinois towns as well as New York City.  People still love to gather, talk, and enjoy some of the ultimate comfort foods.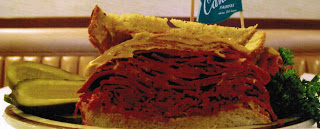 Now that's a sandwich!