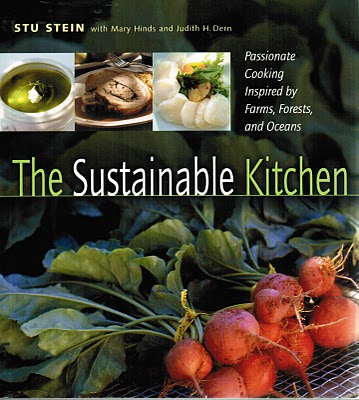 The Sustainable Kitchen is all about contemporary cuisine made with the best ingredients grown locally.  Sustainable cooking is talked about and discussed with almost every food article you read lately.  Today, all across our country, more and more chefs and home cooks alike are in search of fresh, seasonal food.  If you haven't yet explored the pleasures of shopping local Farmer's Markets, this book will open up a whole world of new ideas and flavors.  There is such a growing movement of those who farm with a passion for their land and for fresh products for the consumer.  If you are not near a local Farmer's Market yet, it is most likely you will be sometime in the future, or you can begin by planting your own garden.  The principles of sustainability as discussed in the book encourage us to enjoy local, seasonal, and artisanal ingredients, and understanding the source of the ingredients by the way they have been grown, raised, or caught.  Choosing sustainable food products is about more than helping the environment, it's about sustaining the heritage and the economy of whole communities.
The State of Michigan has announced a 10-year plan for sustaining their heritage and economy with goals to be reached by 2020.  This includes having Michigan institutions getting more of their food products from Michigan growers and producers, making affordable, fresh, and healthy food more available.  The idea isn't to displace the state's current agriculture businesses, but to highlight opportunities to add onto what they already have.  This plan is in motion at a time when state, local governments, and community groups are ramping up efforts to make healthy food more widely available.  Not getting enough fresh fruits and vegetables is seen as a public health issue.
The authors believe in aligning our choice of ingredients by the seasons.  Food that is in season is at the peak of nutrition and flavor.  When ingredients are used seasonally, they are bountiful and less expensive at their peak of perfection.  How many times have you seen cantaloupes for sale in the winter months for $5 each, and in the summer, they can be found for about $1.00.  The expensive winter ones just do not taste as good as the summer ones, because they have most likely been shipped from a faraway location, and in transit, the product has had sugar turn to starches, plant cells will shrink and break down, and it will lose nutrients.
Now let's get down to the fabulous recipes in this book!  There is an excellent chapter of how-to basics, from A to Z, which is very informative and valuable to novice cooks, or cooks who have never learned the basics of  cooking with fresh ingredients. The idea is to cook only to enhance the natural flavor of the fresh product.   What I loved about the recipes is that at the end of every single one, there are suggestions on how to serve, advance preparations, substitutions and options, and even what wines can be served to enhance the meal.  It is a very thorough cookbook and easy to follow.  Even intimidating-sounding dishes like "Dungeness Crab-Ricotta Ravioli" or "Maple-Apple Brandy Cured Wild King Salmon with Maple-Mustard Dressing" don't seem difficult.  When I get some fresh Michigan blueberries this week at my local Farmer's Market, I plan to make the "White Chocolate Cheesecake with Blueberry-Caramel Sauce" for dinner guests coming this weekend.  Reading this cookbook is an eye-opener about sustainable foods, but also contains some of the most intriguing recipes I have read in a long time. 
Quote from chef Charlie Trotter:
"Cooking is really not that difficult.  In fact, it's more about love and touch and caring than about special techniques or magical recipes.  It is about caring for and loving the foodstuffs you are working with and caring for and loving the people you are cooking for."