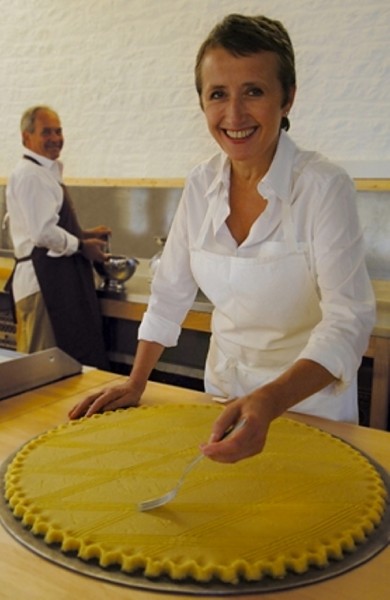 Have you ever seen shortbread this large?  Neither have I, and also have never tasted shortbread so good.  What you see here is the delightful result of a 100-year-old recipe using only a few ingredients: wheat flour, lots of butter, sugar, fresh eggs, and sea salt; simple and natural ingredients without any preservatives or colorings.  In the past, the "Broye de Poitou," this large crusty shortbread, was baked to celebrate events such as the harvest and weddings in a French countryside village near Poitiers, between Paris and Bordeaux.  It was there that grandma Paulette began baking shortbread and her mission of sharing with others.  For more than 35 years, Goulibeur has been carrying on Paulette's family recipe, and the "break-and-share" tradition of serving the shortbread, along with beautiful and unique packaging of their product.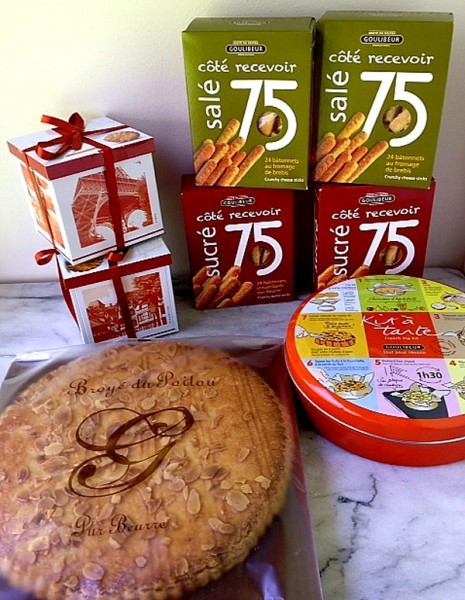 Once only available in France, the Breton Gourmet now offers the shortbread products in America.  I felt like the luckiest girl on the block when I received a large package of beautiful Gouilbeur products from Breton Gourmet.  The two charming tins with the red bows feature scenes from Paris, Cognac, Cannes, and Strasbourg, and contain 12 round shortbreads wrapped in packages of two.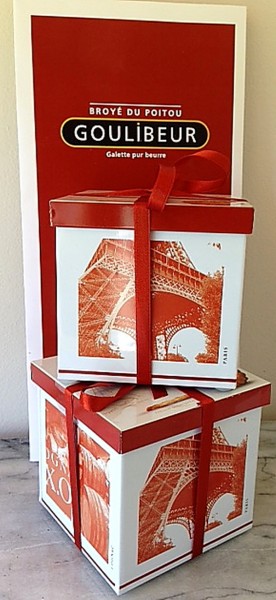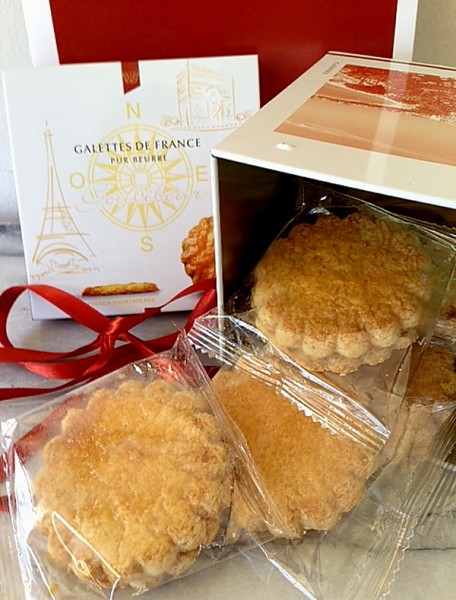 The new tart kit in the round tin was developed by Michelin-star chef Jacky Dallais from La Promenade in the Lorie Valley, and is completely unique to the US market.  Each tin contains two ready-baked shortbreads and a recipe booklet to make delectable items such as a French Apple Tart or a Chocolate Ganache Tart.  These and other recipes are available online.  The website has cute videos for the tart kit, so be sure and check those out along with interesting historical facts of Goulibeur.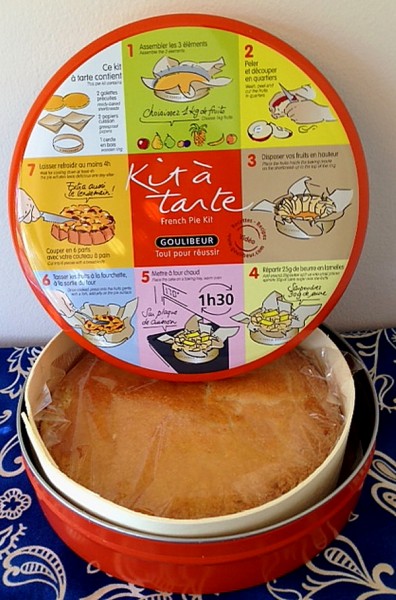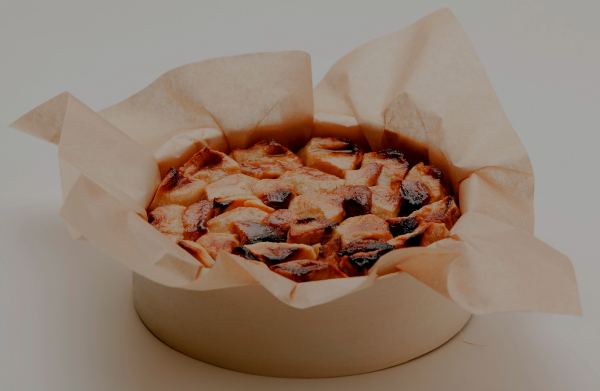 Apple Tart with Shortbread Base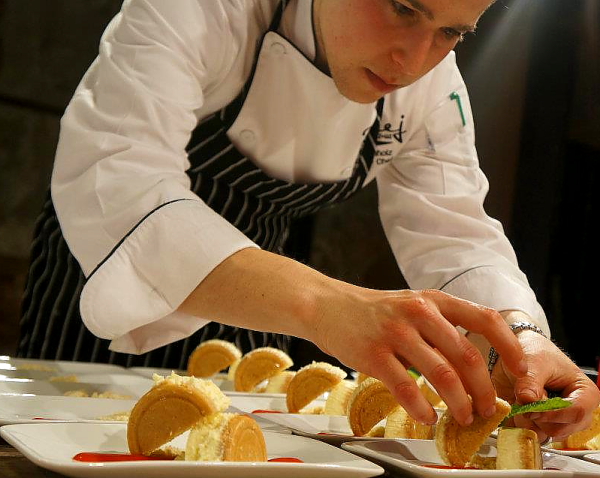 This is a chef's creation using shortbread to make a fabulous goat cheese cake.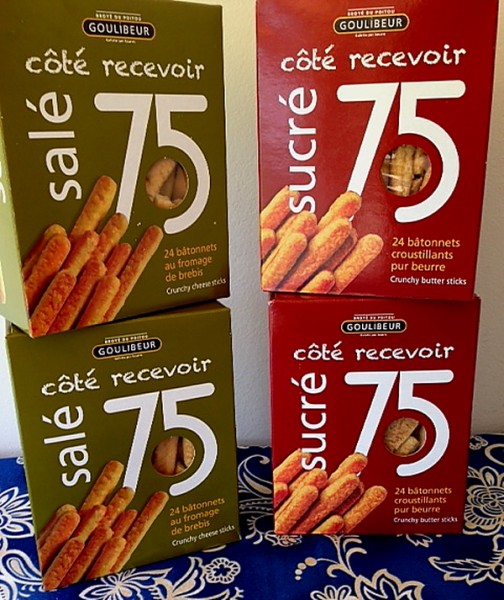 These boxes contain melt-in-your-mouth little sticks of the shortbread.  The red box is the regular buttery shortbread in stick form, and the green box contains savory shortbread of salty and crunchy cheese sticks that go perfect with a glass of wine.  I love these!  They make a perfect hostess gift, or just wonderful bite-size portions to have with tea or coffee.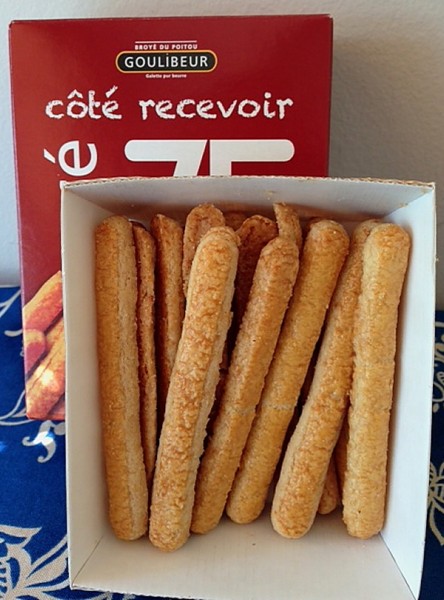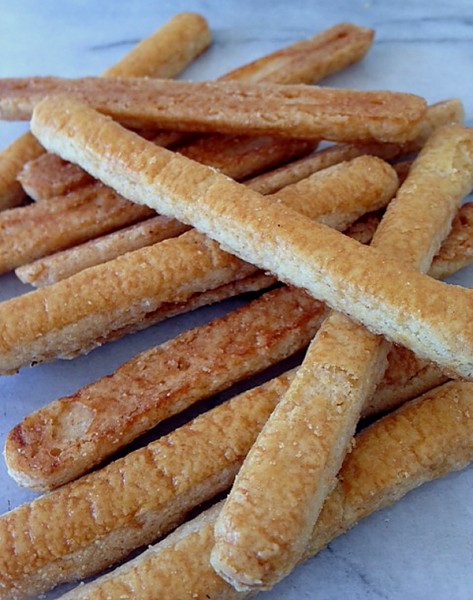 The large Broye with flaked almonds is a real show-stopper, serving 8-10 people.  It is perfect for the break-and-share tradition where guests can just break off whatever size piece they prefer.  It looks beautiful served on a platter.  I decided to place one on my grandmother's antique Limoges that she gave me as wedding gift and it looked gorgeous.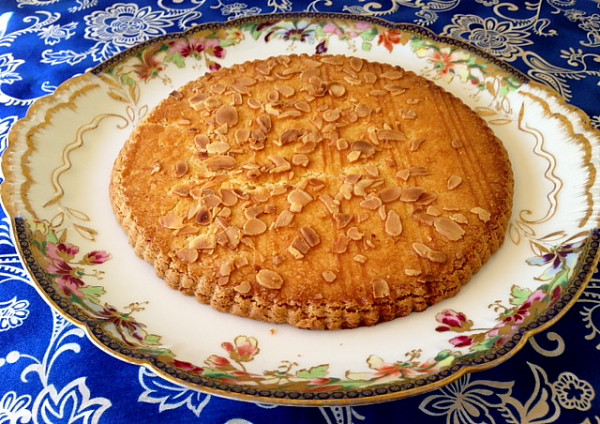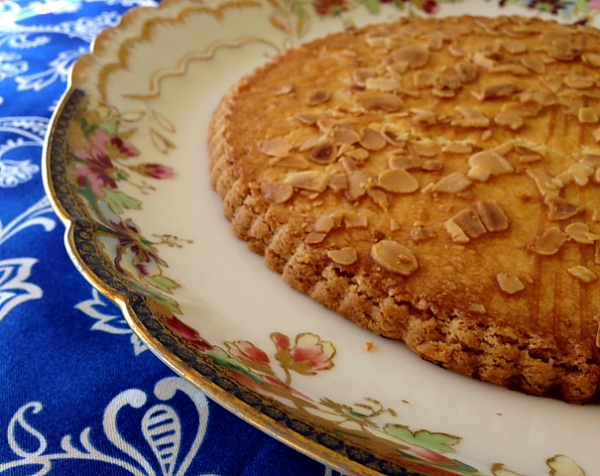 I can't say enough about these wonderful products, and I hope you will try them.  There is a complete product list online.  I am certainly going to order more in the future for parties and gifts.  Since Breton Gourmet may be bringing the large wedding size shortbread to the US, my girls have already decided they want to have them at their own future weddings, not just because they are delicious and unusual but also because we have French ancestry.   And here's another fun twist-  I read that one of the owners of Breton Gourmet is from Brittany, France.  In Brittany, there is a castle called "Chateau de Josselin."  I grew up with a sketch of this château hanging in our home.  It seems we had an ancestor with ties to the château, who I believe married someone who lived there.  I will have to ask my mother the full story.  My great-grandmother's maiden name was Josselin.  Small world.
There are many celebrations and countless weddings this summer.  Wouldn't you like to include some shortbread?  I promise you will love it.