Sometimes the nice parts of life come out of nowhere.  I had that kind of weekend.  After a Saturday morning of running errands most of the day, I came home to find an email that made me smile.  It seems a book publisher I know had a friend who was selling some cookbooks, and take a guess who he suggested he call.  When I found out some of the books were from a fifty year collection, you know I was more than a little excited.  After speaking with one of the family members, we set up a time for Sunday afternoon.  I drove forty minutes in the rain, and pulled up into a lovely area not far from Lake Michigan with canopy trees in a quiet and charming neighborhood.  It already had a good feeling.  I was greeted by a woman who said the cookbooks were her dad's, who loved to cook and entertain.  We entered the garage where the cookbooks were displayed on three shelves, and my eyes starting scanning the titles.  Julia, Paul Bocuse, original Fanny Farmer, the old checkered Better Homes and Gardens, and an original Betty Crocker Picture Cookbook.  She proudly showed me a photo in the Betty Crocker book that her photographer father had taken.  Wouldn't it be something to have your photograph featured in such an iconic cookbook?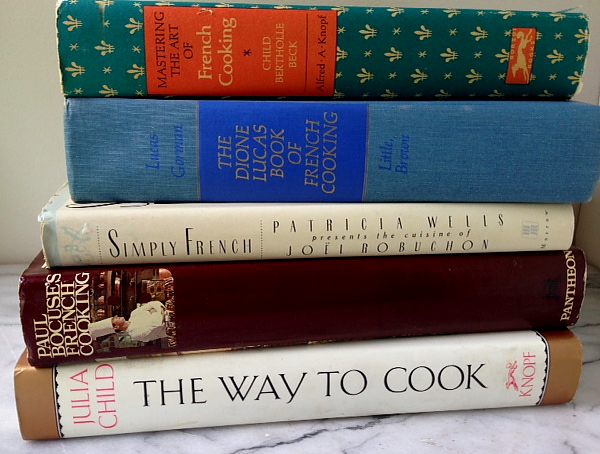 These were my first selections.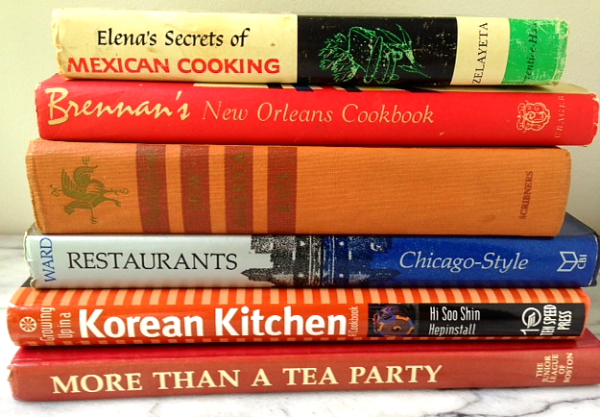 The orange one that you can't read is from one of my favorite long-ago food writers, Clementine Paddleford.  I know more than one of my readers who will love that I have a Brennan's from the restaurant in New Orleans.  And I couldn't pass up a Chicago book with recipes from many of the restaurants that are no longer open.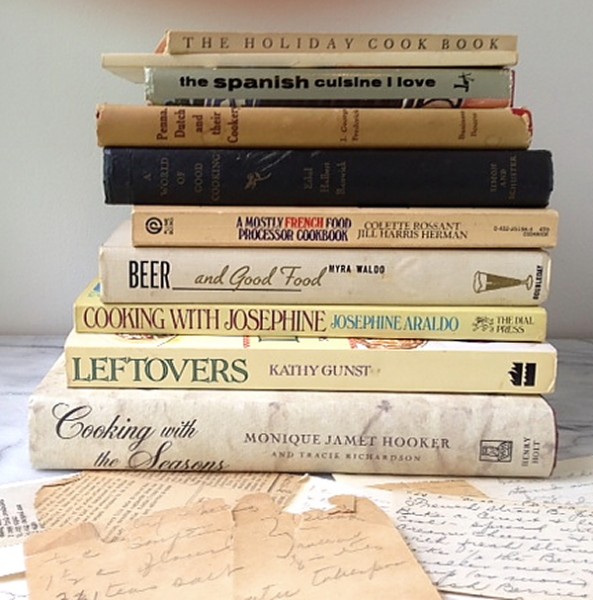 The old recipes in the front were stuck in some of the books.  There is a recipe for a jalapeno-cranberry relish that sounds delicious.  Some are barely legible or are have parts of the recipes torn away, but I love the look of them, and know they were used by someone who loved to cook.  As I was sitting browsing through the books,  it was obvious how much the books were used over the past fifty years.  The first thing I do with old books is find the pages that are spattered with food, dog-eared, or with notes written on the margins.  I found just that with some of the books.   I always feel so honored and responsible to carry on the love of cookbooks.  I told the family that their books were in good hands and I would always treasure them.  I can't wait to sit down and start making some of the dishes.
Another good part of the day was also unexpected.  There was a local florist that I had been meaning to visit since last summer.  When I was recovering from major surgery, my wonderful friend, Lisa, ordered flowers from a small shop nearby, Donna's Custom Flowers.  Actually, not flowers, but herbs, and also an herb cookbook to go with it.  How many florists will take the time to find a cookbook to go with a delivery?  It would be one with a big heart, for sure.  I needed to find a florist to order something for an upcoming birthday and decided there was nowhere else I would rather go than to Donna's.  When I walked up to the door, my heart sunk when the sign said they closed early on the weekends for the wedding season.  I went back to the car, then realized I had forgotten to see when they opened again, and went back to the door to find the information.  Imagine my surprise when someone opened the door.  I asked the woman if she was Donna, and she said yes.  I told her about my friend Lisa who called her from Connecticut to order the herbs last year and she remembered right away.  Donna let me come in and order the flowers I needed.  We chatted for quite a while, and then she said she had something for me.  In her display case of beautiful flowers, she pulled out the most breath-taking rose I had ever seen.  She proceeded to peel down the petals to reveal even more beauty.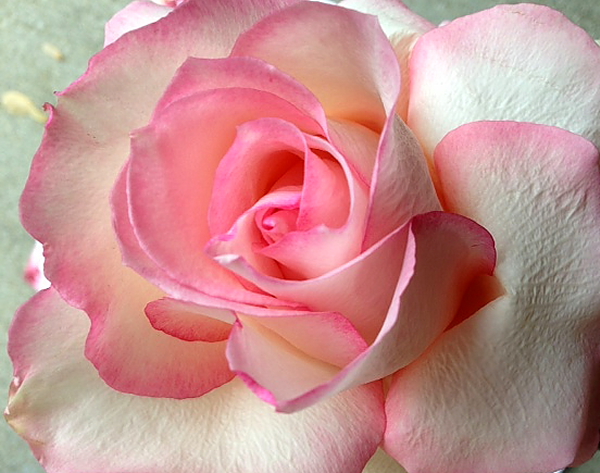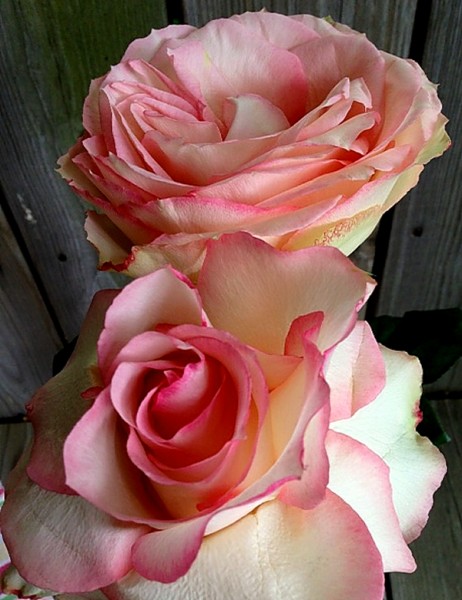 I couldn't believe they were the same flower! The one in the back is before the rose is peeled away from the center.  Donna told me the story of how it got its name – the Oprah Rose.  It seems that Oprah Winfrey had a party at one of our hometown's great restaurants and Donna was hired to make the centerpieces.  It featured this beautiful rose along with pale green hydrangea's and some ivy.  Donna decided to name the rose variety, Oprah.  Donna gave me both roses to take home, along with a hug.
The kindness of strangers will never cease to amaze me.  One person trusted a total stranger with their beloved cookbooks, and a florist with a big heart gave a stranger a beautiful rose.  Life is good.