Feeling sad that you didn't win the $600 million in the lottery?  No worries!  I have a delicious "Power Ball" to make you feel better.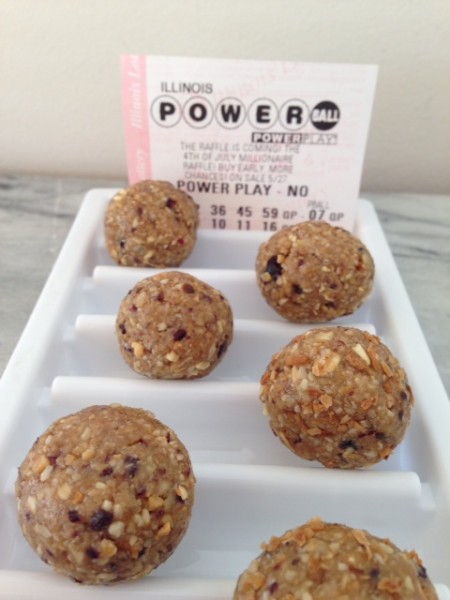 These delectable little bites of goodness have all kinds of healthy ingredients.  Toasted oatmeal, three kinds of seeds, nuts, organic almond butter, honey, maple syrup, dried fruits, and a hint of cinnamon.  My husband, who prefers a giant chocolate chip cookie to almost anything else, asked me to make more.  That means a lot coming from the original Cookie Monster.
The oatmeal, seeds, and nuts are toasted to bring out the wonderful flavors.  They are then mixed in a food processor (you need a food processor for this recipe) along with the other ingredients.  The dough will be stiff and look like this: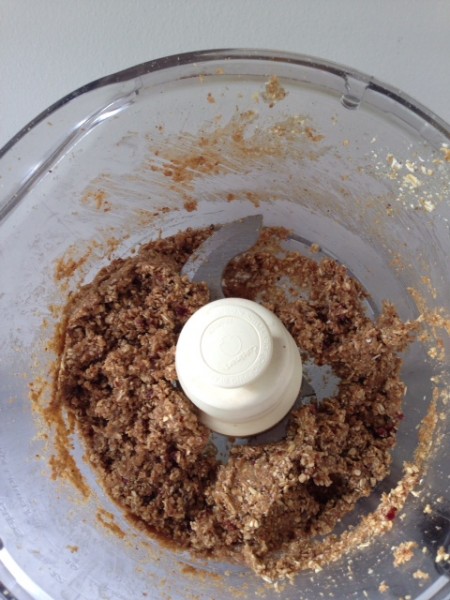 The dough is then formed into small balls and rolled in toasted coconut, if desired.  I love them with the coconut.  They make a great snack any time of day and you don't need to feel guilty.  I came up with this recipe after tasting something similar at a bakery in Alaska.  They can be packed into pretty tins or jars for a gift and will last a long time if kept airtight.
Make and eat some before the next huge lottery comes around.  Who knows?  It might bring some luck!  In the meantime, make a batch and you'll feel better that you didn't win the $600 million.  Well… maybe that's taking it a little too far, but have a few and you'll feel good and healthy.
1-1/8 cups old-fashioned rolled oats
1/2 cup walnut halves*
1 teaspoon raw sunflower seeds
1 teaspoon raw pumpkin seeds
1 teaspoon sesame seeds
4 Tablespoons organic almond butter
2 Tablespoons honey
2 Tablespoons pure maple syrup
1 Tablespoon dark raisins
1 Tablespoon dried cranberries*
1 teaspoon vanilla extract*
1/2 teaspoon cinnamon
1/4 teaspoon coarse sea salt
1/4 cup toasted unsweetened coconut for rolling (optional)
Heat oven to 350 degrees.  Place oatmeal on a rimmed baking sheet and bake for 10 minutes; stir and bake another 5 minutes.  Remove and set aside to cool.  Place the nuts and seeds in a small rimmed pan or pie plate and bake for 5 minutes and stir.  Return to the oven for another 2-3 minutes, checking carefully as they can burn quickly.  Remove and set aside to cool.
When cooled, place toasted oatmeal, and nut mixture in bowl of food processor.  Process until finely ground.  Add almond butter, honey, maple syrup, raisins, cranberries, vanilla, cinnamon, and sea salt to bowl and process until well blended and mixture forms a stiff dough.  Remove dough and form into a compact ball with your hands.  Form dough into 1-inch balls and roll in toasted coconut, if desired.  Place balls on a wax-paper lined sheet and let stand for an hour or so, then transfer to a tin or container with a tight lid.  The power balls will keep for at least a week at room temperature, or you can chill them.  This recipe will make around 20 balls.
* Note:  I tried another version and loved it!  For a different flavor, use slivered raw almonds instead of walnuts, dried blueberries instead of cranberries, and almond extract instead of vanilla.  These are the only two variations I have tried, but if you have a favorite nut, flavoring, or seed, use those instead.  I would love to know how they turn out!  I always roll the balls in the toasted coconut, but I put it as optional for those who don't care for coconut.