Good things happen from my Bake-Off blogs that remind me why I write one each week honoring the winner and the contest from each year since 1949.  Case in point was yesterday when I received a lovely email from a woman named Phyllis Smith.  Phyllis's mother, Mrs. Claude E. Hughes, won the 2nd Grand National Prize of $7,500 in 1955 at Pillsbury's 7th "Grand National" Contest, which what it was called before it became the Pillsbury Bake-Off.  Phyllis said she was searching for information on the web about her mother's winning cake, "Regency Ribbon Cake," found my blog, and wondered if I had ever made the cake.  I have not made it, but you can bet I will now, and you will too,  after you see it and read the recipe.  Here is how Pillsbury describes the cake:  "A beauty of a cake with an attractive ribbon effect that's so easy to achieve.  Mrs. Hughes' pleasing combination of mocha and orange flavors is unique…and her luscious chocolatey frosting is smooth and extra-rich."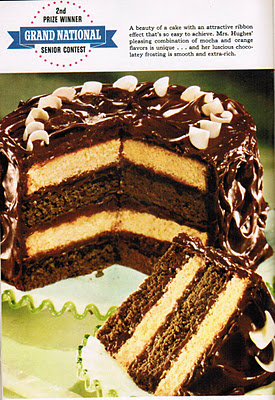 Isn't this gorgeous?  Wouldn't it be a great cake to make for the holidays?  I love the shiny, rich look of the frosting.  And those layers!  Pillsbury calls it "A one-bowl, one batter cake with four layers made out of two."  In the short bio section, Mrs. Hughes writes:  "I bake almost every day for my husband and three children – this is one of their favorite desserts.  I like to try out old  recipes.  I have some that are more than 100 years old, but this cake is one I developed in my own kitchen."
I was so thrilled when Phyllis wrote, that I asked her if she would like to share some information about her mom, who died two years ago.  Phyllis responded right away with the following memories of her mother:
"Mom was a stay-at-home mom and loved to cook.  She also did alterations and made clothes for people and custom made drapes and slipcovers.  My dad worked in a steel plant as a floor manager at the time mom was working on this cake.  She made it so much to perfect it,  that dad told her to please stop as it would never win anything.  When she got the call that she had been chosen as one of the two finalists in Virginia, she thought that dad had put someone up to calling and playing a trick on her.  As word got out, she was getting calls from newspaper reporters in surrounding counties and cities.  She and dad traveled by train to New York City in December of 1955, leaving us three children with a cousin.  (we were ages 1, 5, and 13).  The luncheon was held on Friday, December 13th, 1955.  The 13th has always been a lucky number for our family.  She won the trip to NYC, 2nd prize of $7,500, a stove, a mixer, a year's supply of Domino's Sugar, and several smaller gifts.  She had her picture taken with Art Linkletter, Ann Pillsbury, and Helen Trable.  Other pictures were taken of she and Mrs. Bertha Jorgensen (the grand prize winner) and the 3rd prize winner.  They gave her a 33 record with the conversation of she and Art Linkletter when he presented her with the check.  She was a celebrity in our small community.  She was also contacted by Pillsbury in 1967 when she and my dad were flown to Milwaukee to try a new test kitchen product of Pillsbury.  When in New York, they stayed at the Waldorf Astoria, got to see the Rockettes, and were actually on the Ed Sullivan Show.  She continued her baking until the week she died.  Even when in the hospital and she was not in her right frame of mind, she was baking cornbread.  I just last year took all of her recipes and had a cookbook made titled, "From Mom with Love," and gave copies to my sister, my brother, and other cousins and close family.  We continue to bake her favorites and talk about her wonderful cooking, and how she loved to give her baked goods to others."
It warms my heart to be able to report on Bake-Off contestants, because behind every recipe is a real person with real stories – like Mrs. Hughes.  She gave her family such a precious gift with her cooking and recipes, and now we can all enjoy her beautiful cake, as will many generations to follow.  Thank you, Phyllis, for sharing your mom with us.