I know spring has arrived when the birds wake me up in the morning.  I love to awaken to just a tiny sliver of light peeking through the curtains and the robins calling out to the neighborhood to wake up.   When the last of the snow is gone and pieces of my garden start to peek through the chilly soil, it's time to start cooking something lemony.  It's always my first thought – or maybe strawberries, too, but lemon is on my mind today.  One of my favorites is this lemon poppy seed cake with a cinnamon-sugar swirl running through the middle and topped with a rich lemon icing. If you don't care for icing, it can be dusted with powdered sugar instead.  I prefer it that way and my husband prefers the icing.  Either way, it's wonderful.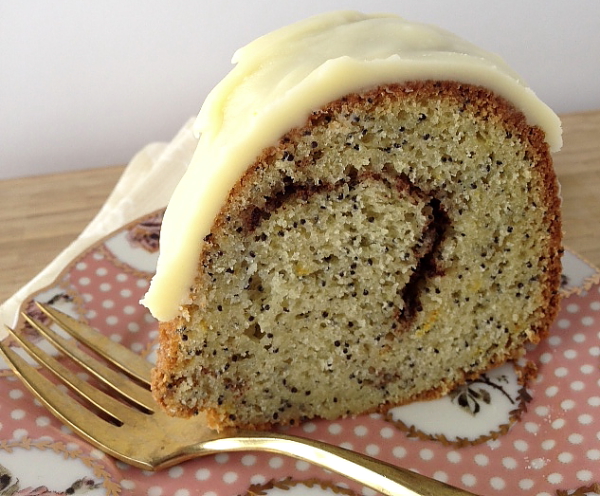 The cake is best if you follow a couple steps.  The poppy seeds need to soak overnight in buttermilk, and after the cake is done, it needs to be tightly covered and left to sit for at least a day, preferably two or even three.  It gets even more moist and  rich after it sits.  I know that's hard to do, but worth it!  This also makes it a great party cake that you can make way ahead of time.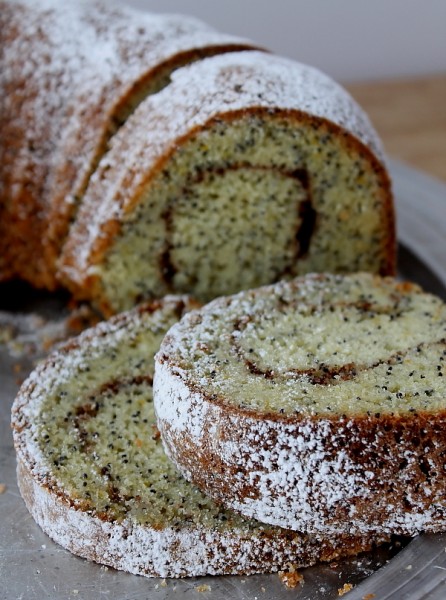 Lemon Poppy Seed Cake
1/3 cup poppy seeds
1 cup buttermilk
2-1/2 cups all purpose flour
2 teaspoons baking powder
1 teaspoon baking soda
1/2 teaspoon salt
1 cup (2 sticks) unsalted butter
1-1/2 cups sugar
4 eggs
1/2 teaspoon vanilla
1 Tablespoon freshly grated lemon rind
2 Tablespoons sugar mixed with 1 teaspoon cinnamon
Lemon-Butter Glaze- recipe follows  or powdered sugar for dusting
Stir the poppy seeds into the buttermilk in a small container.  Cover and refrigerate overnight.
Grease and flour a bundt pan or angel food pan; set aside.  Heat oven to 350 degrees.
Sift together the flour, baking powder, baking soda, and salt into a bowl; set aside.  In bowl of electric mixer, cream together butter and sugar until light and fluffy.  Add eggs one at a time, beating after each addition.  Add the vanilla and lemon rind.  Add the flour mixture alternately with the buttermilk-poppy seed mixture in about four dollops each, beginning and ending with the flour mixture.  Mix just until smooth.
Pour half of the batter into the prepared pan.  Sprinkle batter evenly with the sugar-cinnamon mixture.  Top with the remaining batter.  Bake at 350 degrees for around 45-50 minutes or until a cake tester comes out clean stuck in the center.  Let cake sit in pan for about 10-12 minutes, then turn out onto a wire rack to cool completely.
When cake is cooled wrap in plastic wrap or place in an airtight container for 2-3 days.  When you are ready to serve, either drizzle the icing on the cake or dust with powdered sugar.  If you ice it, let it sit until it hardens before slicing.
If you prefer, you can substitute orange rind for the lemon, and put orange juice in the icing instead of lemon juice. Keep in mind that this icing is rich and thick, but that's how my husband likes it.  You could also make a much thinner confectioner's sugar icing, if desired.
Lemon-Butter Icing:  Place 1/3 cup of butter in a saucepan over low heat and stir just until melted.  Remove from heat and stir in 2 cups confectioner's sugar and 3 Tablespoons lemon juice.  Beat quickly until of desired consistency and drizzle over top of cake.