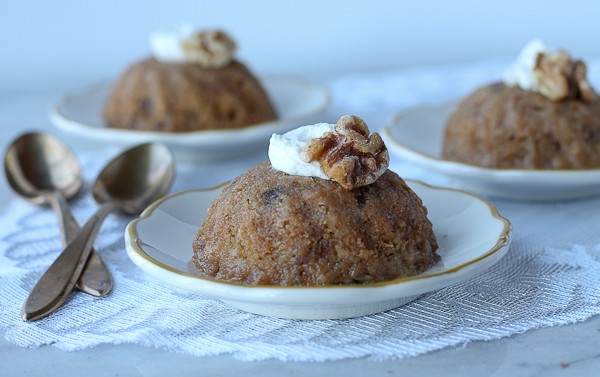 Yes, we are supposed to hit 35 degrees below zero wind chill factor today here in the Chicago area.  You can drink coffee, tea, hot chocolate, or you can stay warm with a whiskey cake.  At least that's what my husband thinks makes sense since the cakes are so potent, it's like drinking shots of whiskey!  What sounds better when you are stuck in the house all day because it hurts your face to even go out and get the mail:  a cup of something ordinary or a cute little booze-soaked raisin and nut-filled cake?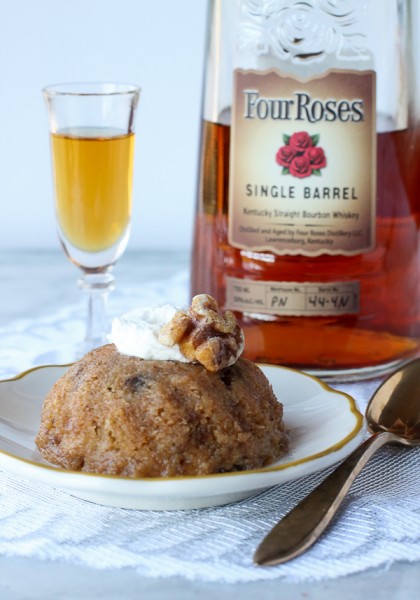 Turn the oven on, warm up the kitchen, and get those whiskey cakes going.  They have to sit for a couple hours to soak up the whiskey sauce, but they are worth the wait.  You can serve them with a dollop of whipped cream or just enjoy them plain.
Individual Whiskey Cakes
Ingredients
⅓ cup all-purpose flour
2-1/2 cups finely chopped walnuts
1 cup golden raisins
2 large eggs, separated and at room temperature
⅔ cup lightly packed brown sugar, divided
¼ cup butter, room temperature
⅓ cup granulated white sugar
⅔ cup all-purpose flour
½ teaspoon baking powder
¼ teaspoon ground nutmeg
⅓ cup bourbon whiskey
Whiskey Syrup: recipe follows
Instructions
Butter and flour eight 4 to 6 ounce metal molds or pans. In a medium bowl, combine the ⅓ cup flour with the walnuts, and raisins; set aside.
Heat oven to 250 degrees. (Yes, this is correct!) In a small bowl with electric mixer at high speed, beat egg whites until soft peaks form. Gradually beat in ⅓ cup of the brown sugar; set aside.
In large bowl beat butter, remaining ⅓ cup brown sugar, and granulated sugar until well mixed. Add the egg yolks and beat well. Beat in the ⅔ cup flour, baking powder, nutmeg, and bourbon. Stir in the floured nut-raisin mixture. Gently fold in beaten egg whites. Spoon into prepared molds.
Bake cakes for 1 hour or until lightly browned. Cool cakes in molds for 10 minutes on wire rack, then carefully remove from molds. Place cakes in a large, shallow pan. Spoon whiskey syrup over each cake. Let cakes stand about 2 hours, spooning syrup over them several times.
Whiskey Syrup: In a small saucepan combine ½ cup granulated white sugar and ¾ cup water. Heat to boiling, stirring to dissolve sugar. Remove from heat and stir in ½ cup whiskey.