One might think Elizabeth restaurant in Chicago is a little like walking into a scene from a movie, or at least a bit of a fantasy land.  You will see shelves of small animals in a forest setting along with whimsical toys and antique kitchen items.  Did we come to play or eat?  Turns out, we did both.  Elizabeth is one of the most fun and funky dining pleasures I have ever experienced.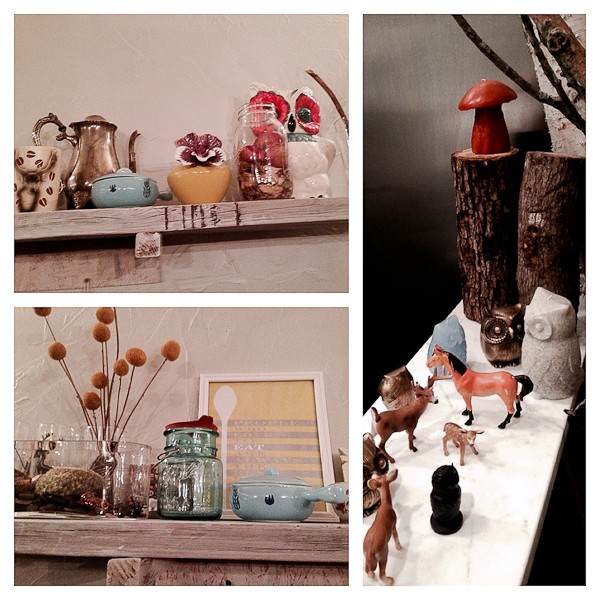 My daughter Kristina and I had this unique experience thanks to our friends Rachel and Dan from Cuisinart. They know how to throw a party.  Even though this was months ago, Kristina and I haven't stopped talking about Elizabeth.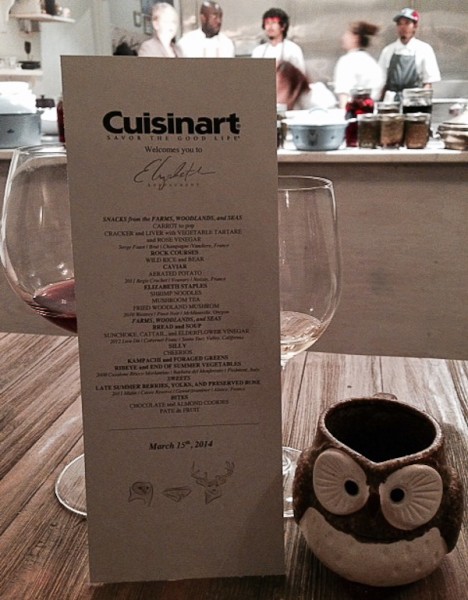 Owner Iliana Regan grew up foraging and hunting in semirural Indiana where she grew up, and she has taken her childhood roots into her kitchen.  Regan's fine dining could be called farm-to-table, but goes even beyond that to a "gatherer cuisine" if you will, along with modernist hints of gels, powders, and other items used for effect.  In the end, all the dishes have connections to the earth and enough for Regan to earn a coveted Michelin star for two years running.  (Of course I noticed the surrounding cookbooks, and asked Regan if she really used them.  She has and does.  Girl after my own cookbook-loving heart).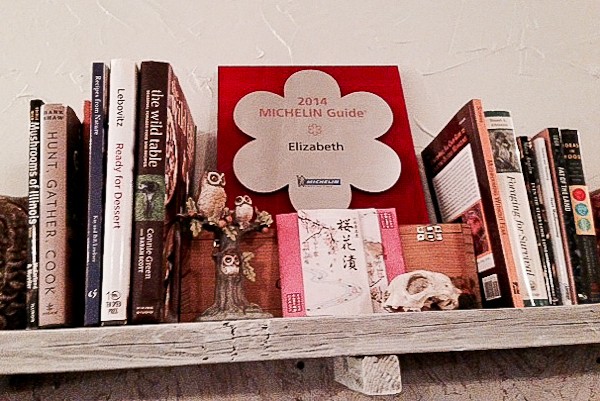 The table awaited our intimate gathering, all of us anxiously anticipating what would come out of the tiny kitchen that smelled like heaven.  Yes, that table took up the entire seating area and it was all ours for the night!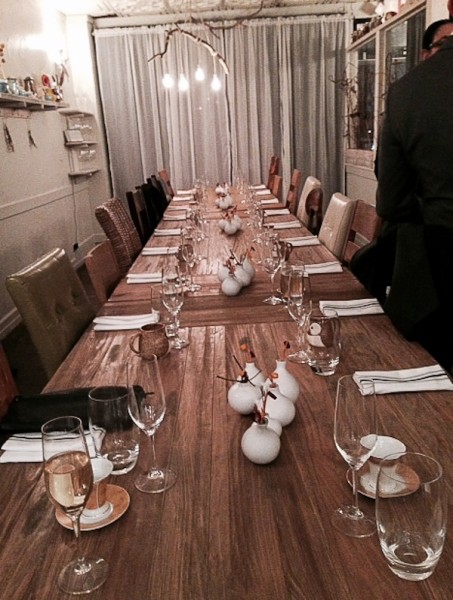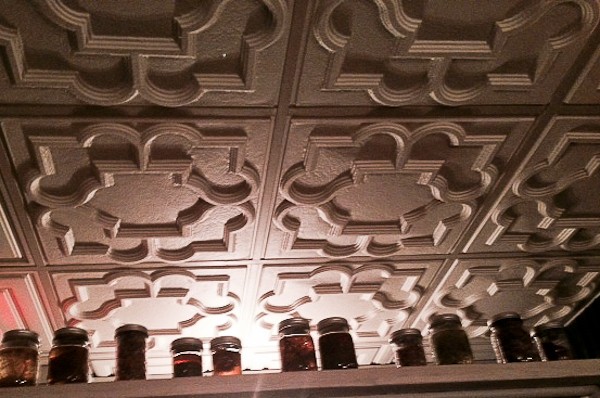 The ceiling!
The chefs were busy in the kitchen.  Not much room to move around!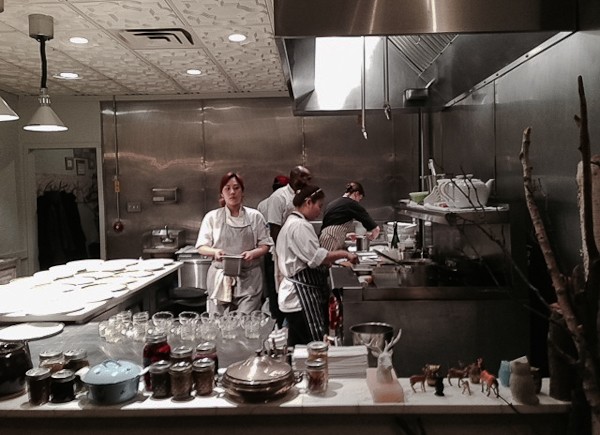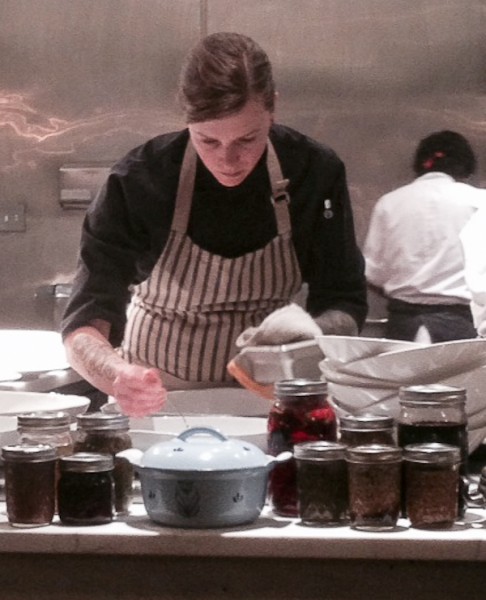 Chef Iliana Regan
We loved the antique cabinet off to the side of the kitchen.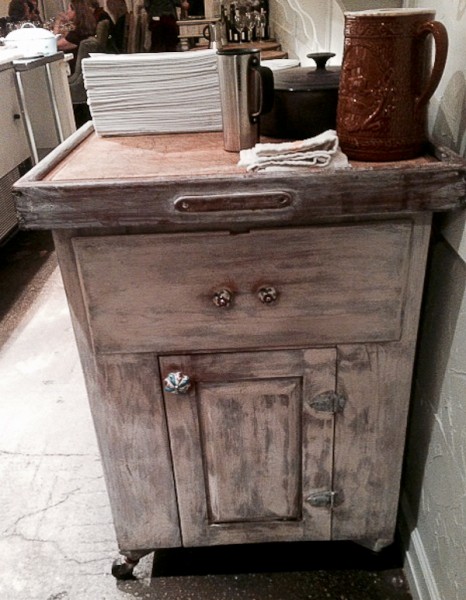 We sat down for some wine and were greeted by a friendly little owl.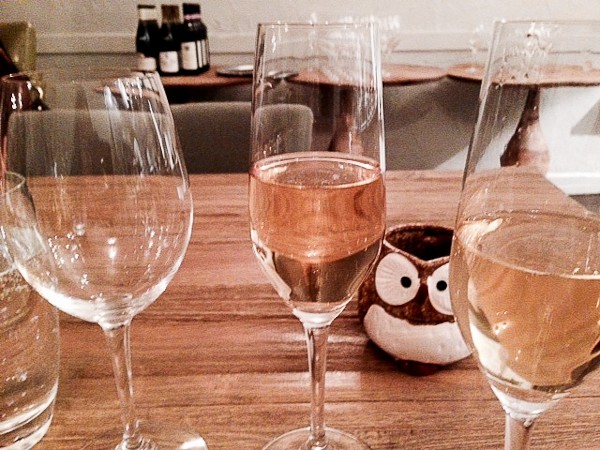 Now it was time to actually go "into the woods" for our meal.  We started with "Snacks from the Farms, Woodlands, and Seas."  It consisted of "carrots" that popped with a filling when bitten, and crackers and liver with a vegetable tartare and rose vinegar.  Wine was Serge Faust/Brut/Champagne/Vandiere, France.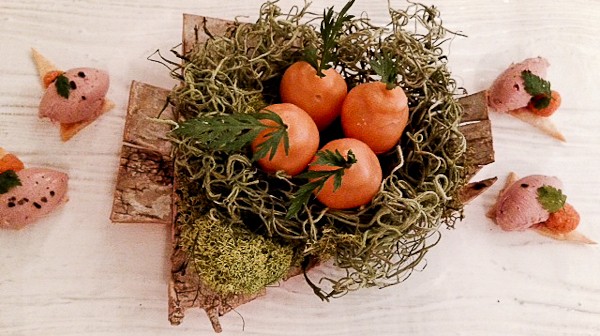 The "Rock Courses" consisted of wild rice and bear meat!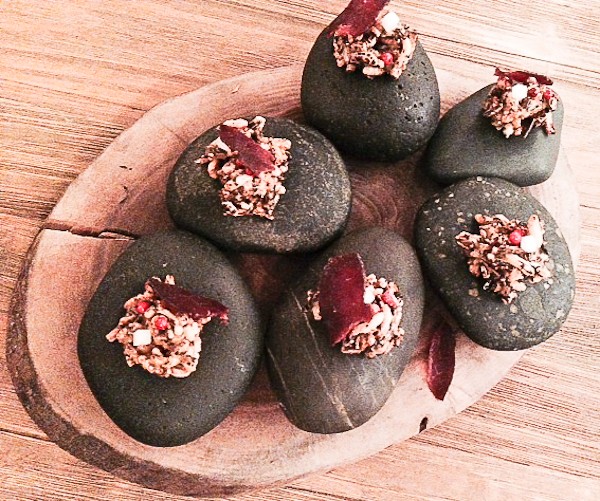 The "Caviar" course was an aerated potato topped with caviar, and served with 2011 Regis Cruchet/Vouvary/Noizay, France.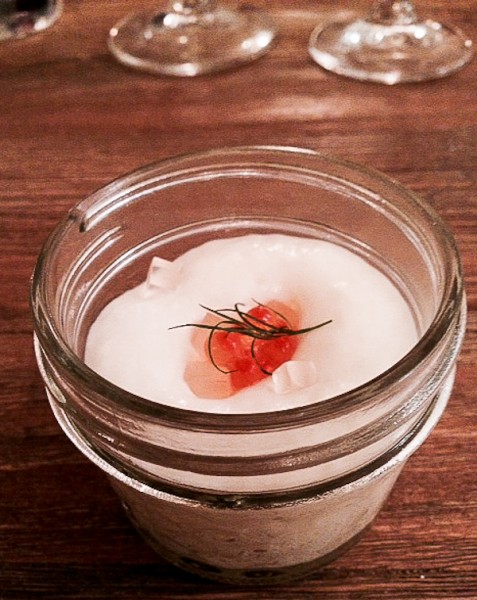 The next three items are considered "Elizabeth Staples."  Served with 2010 Westrey/Pinot Noir/McMinnville, Oregon.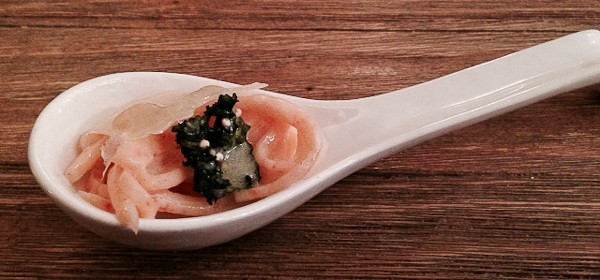 Shrimp Noodles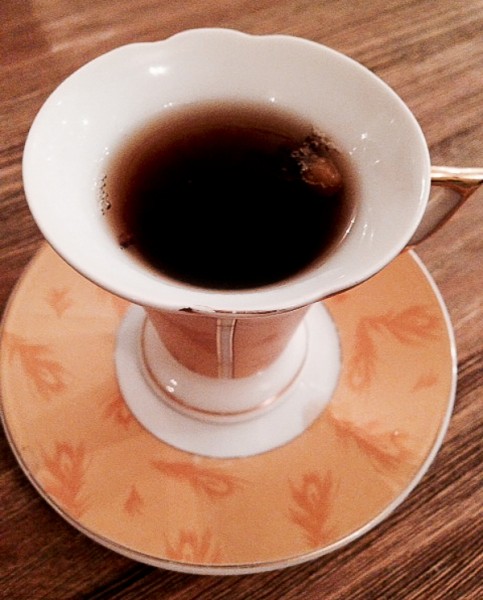 Mushroom Tea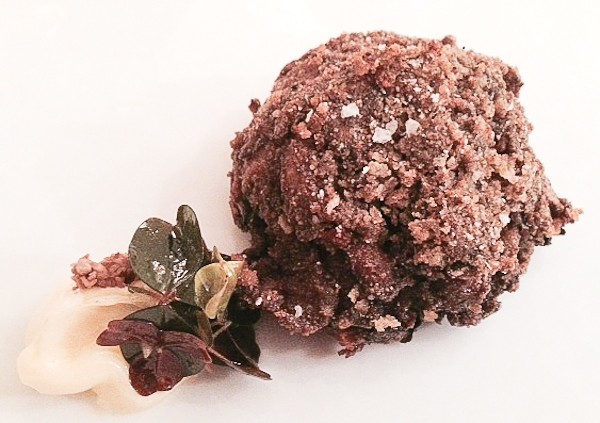 Fried Woodland Mushroom
The "Bread and Soup" included sunchoke, cattail, and elderflower vinegar.  Served with 2012 Lieu Dit/Cabernet Franc/Santa Ynez, California.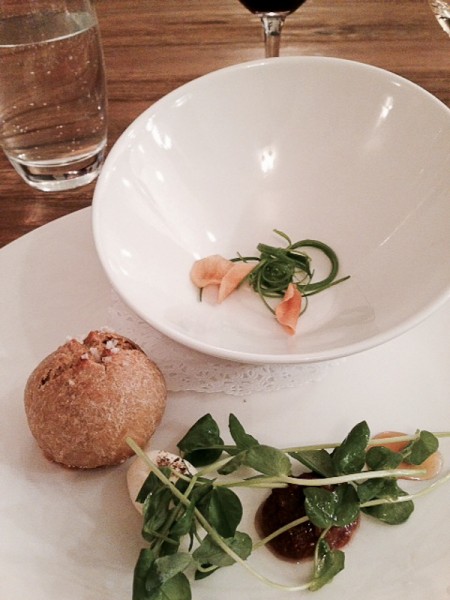 The chef poured in the broth.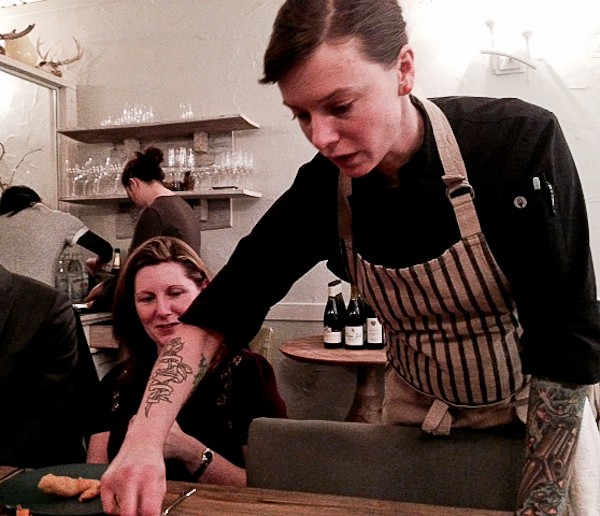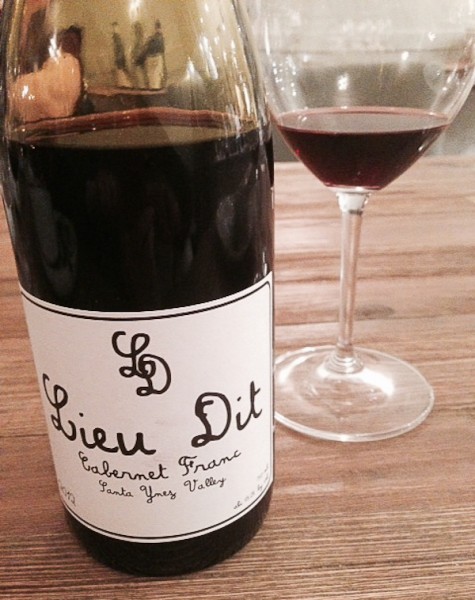 Now comes the fun part of the evening, what was called "Silly." It was "Cheerios" but of course not as we know them.  They looked exactly like Cheerios but tasted like mushrooms and other flavors.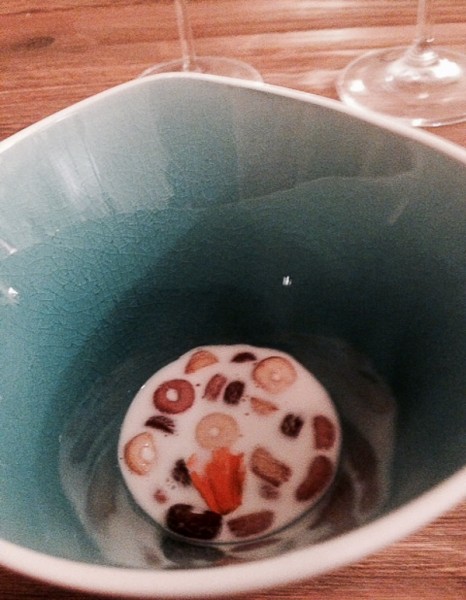 We asked the chef who made the Cheerios how he made them…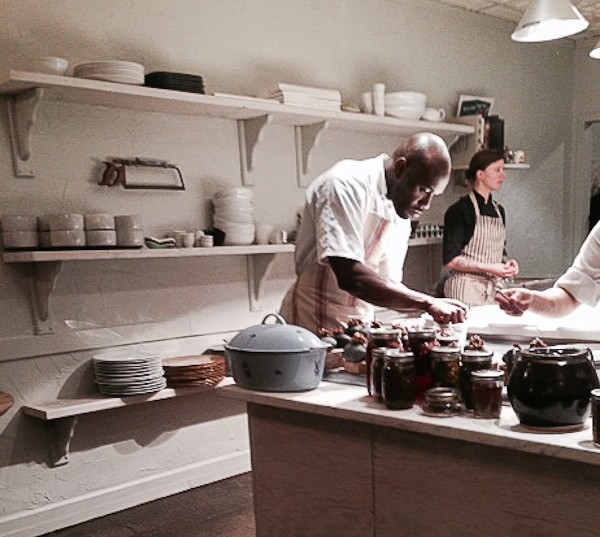 And he went into the back room and came out with these:
Frosting tubes, aka Cheerio cutters!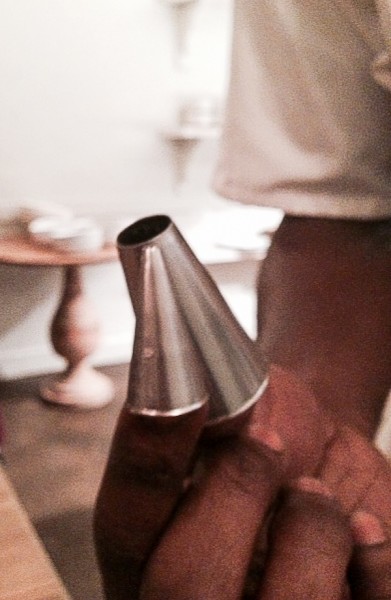 Next up was "Kampachi and Foraged Greens"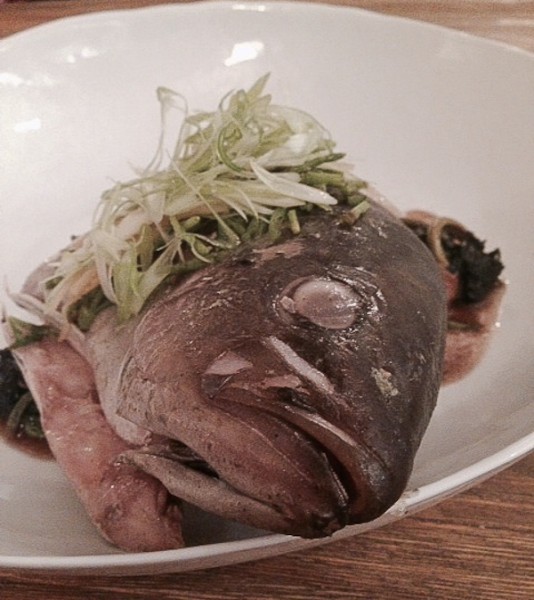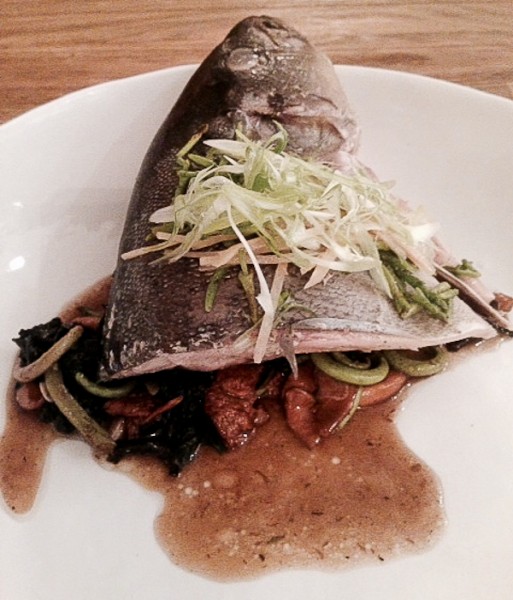 The last of the entrees was a "Ribeye and End of Summer Vegetables," served with 2008 Casalone Bricco Morlantino/Barbera del Monferrato/Piedmont, Italy.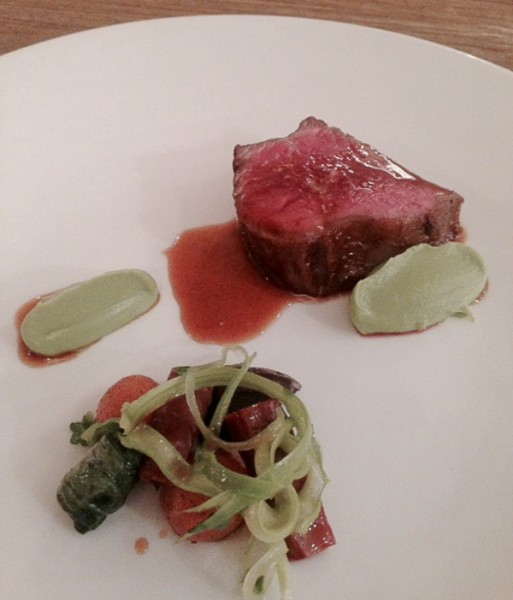 At last come the "Sweets."  The "Late Summer Berries, Yolks, and Preserved Rose" were almost too beautiful to eat.  Served with 2011 Matin/Cuvee Reserve/Gewürztraminer/Alsace, France.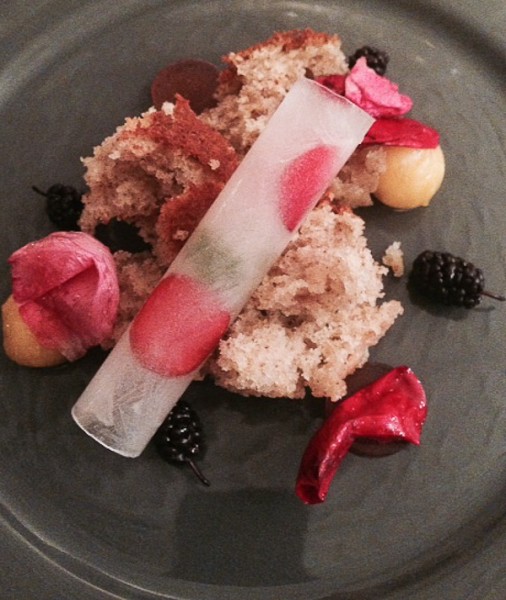 And just when the table was cleared and we thought it was over, there was more.  What they called "Bites."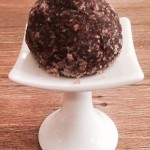 A bite of chocolate,
and a bite of jelly.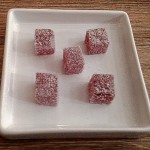 We really didn't want this night to end.  I don't know when we have had so much fun.
Oh, wait; the food hasn't stopped yet.  On the way out, we were handed these as a take home gift: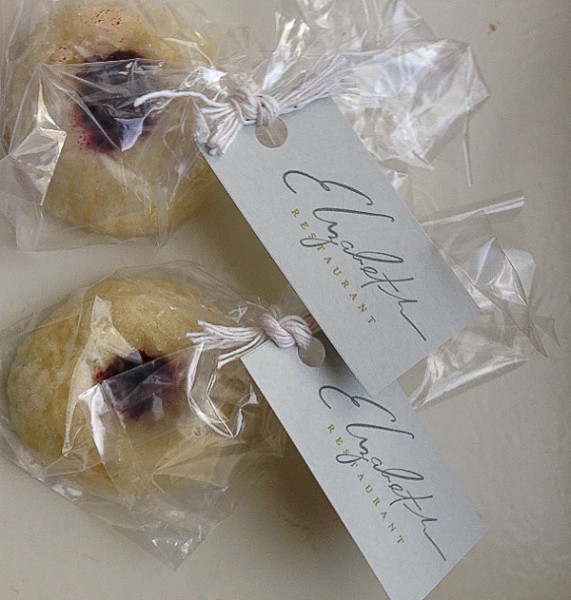 With apologies to Sondheim, and the last word on Elizabeth:
Tell your friends about it.
People will listen.