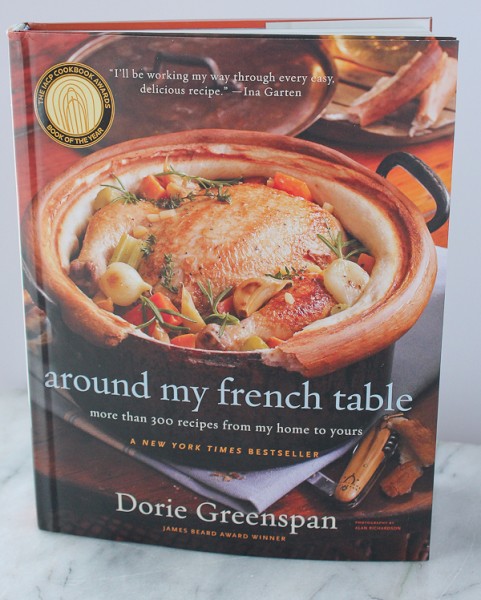 I already feel sorry for my Dorie Greenspan books because they are going to be splattered, scribbled in, and loved to death.  There is not yet one recipe of hers that I wouldn't want to try.  The problem is, where to begin!
Since it is the New Year and everyone seems to make the diet resolution, imagine my surprise when I can across a recipe called "Dieter's Tartine."  This Tartine Regime or Dieter's Tartine, is very popular among the ladies-who-lunch in Paris. It is filling yet not fattening, and so simple to make.  And I can tell you that it tastes divine.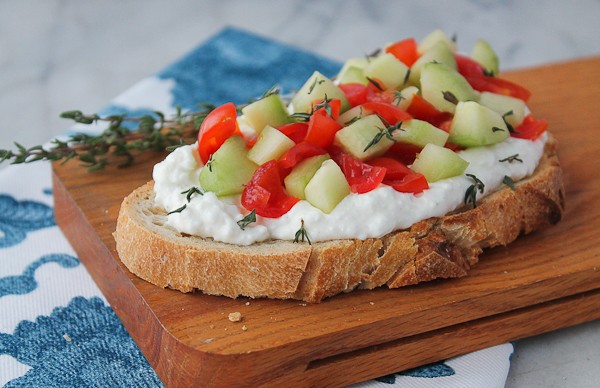 In Paris, it is made with a fresh slice of toasted country bread, spread with nonfat fromage blanc, which is a creamy cheese slightly more fluid than our sour cream. It can be found here in the USA, but if you can't find it, no worries.  All you have to do is make a mix of cottage cheese and sour cream, both nonfat of course.  The tartine is topped with cubes of cucumbers, tomatoes, or whatever is in season or in your vegetable bin at the moment.  Sprinkle with some fresh herbs and even drizzle with some olive oil, although it will make it less dietetic but taste delightful.  Go with what you've got; it's what the French do.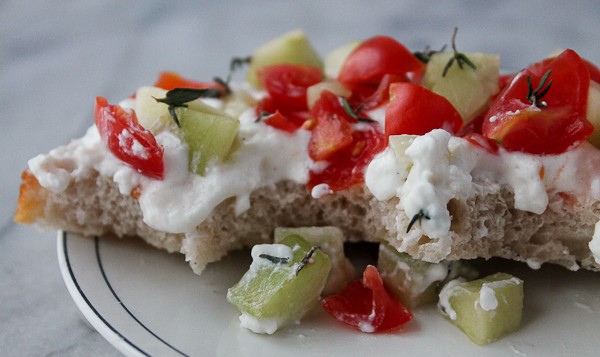 Oh, yes… it was wonderful..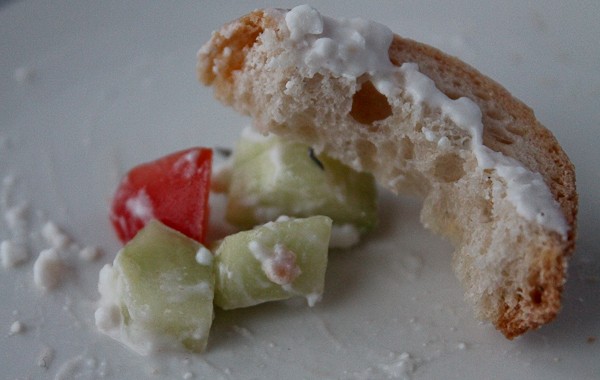 I should have made two.  But I bet the Paris ladies stop at one..
I sat with this book Christmas day snuggled up in a chair and making mental notes of everything I wanted to make in the New Year.  The recipes start with nibbles and hors d'oeuvres that were perfect for a New Year's party.  The other chapters include soups, small plates, chicken, duck, beef, veal, pork, lamb, fish, shellfish, vegetables, grains, and desserts.  You can bet I have my eye on something decadent and chocolate for Valentine's Day.  You'll be seeing this book again throughout the year.  If you don't have it yet, change your culinary life and go get it.  Now.

Dieter's Tartine
Ingredients
1 large slice country bread, about ⅓-inch thick
½ cup nonfat fromage blanc or nonfat cottage cheese thinned with nonfat sour cream (about 6 Tablespoons cottage cheese to 2 Tablespoons sour cream)
Salt and freshly ground white pepper, to taste
⅓ seedless cucumber, peeled and diced
1 small tomato, preferably peeled and seeded, diced
Chopped fresh chives or favorite herb
Instructions
Lightly grill one side of the bread or toast it on one side in a toaster oven. Place the bread toasted side up on a large plate; spread with the fromage blanc, then season with salt and pepper. (or whisk together the cottage cheese and sour cream together vigorously. Toss the cucumbers with some salt and white pepper and spoon over the tartine. Sprinkle with chives and your favorite herb. (I used fresh thyme). Serve immediately.
Sorry… this is not my usual Monday cookbook giveaway.  I only have one copy of Around my French Table and I'm keeping this one!  Watch for the giveaways to start again soon.