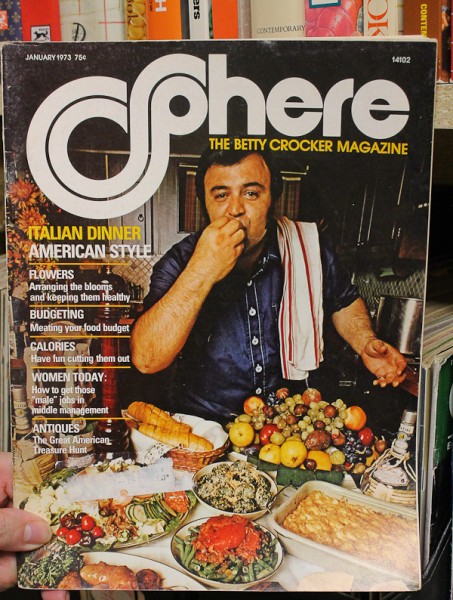 As the cover indicates, this issue of vintage Sphere magazine from January of 1973 is big on an Italian theme.  It begins with an article titled "Entusiasmo" which is the Italian way of saying glad you could join us, dig right in! Italian cooking is all about how you make it, how you feel about it, and who you eat it with.  It's all good and nothing but enjoyable.  When I was in Sicily, that's exactly how I felt.  Italy is an adventure.
You will get a taste of Italy in this issue.  There is a dinner menu that starts with Negroni cocktails and continues with Antipasto di Funghi Crudi (appetizer of raw mushrooms), grissini (breadsticks) and fettucine al forno, followed by Saltimbocca alla Romana (veal or beef rolls), Fagiolini alla Marinara (green beans with tomato sauce), Gnocchi Verdi (Spinach Dumplings), Insalata Mista, Pane Caldo, Frutta E Formaggio, and finally a warm cup of Cafe Espresso.
I chose to make the Gnocchi Verdi because I didn't know gnocchi could be rolled into rather large balls, as I always thought of them as those tiny cute dumplings that you rolled on a gnocchi board like the one I bought in Tuscany.  I knew I had to make them and also have the excuse to use my beautiful Italian serving dish.
The gnocchi are very easy to make and so delicious!  First you melt some butter and saute a little onion, add some spinach, then ricotta.  It is cooled slightly and mixed with flour, Parmesan, seasonings, and eggs, formed into balls, rolled in flour, and dropped into a simmering broth.  To serve, pile the hot gnocchi into a bowl, drizzle with melted butter and sprinkle with more Parmesan.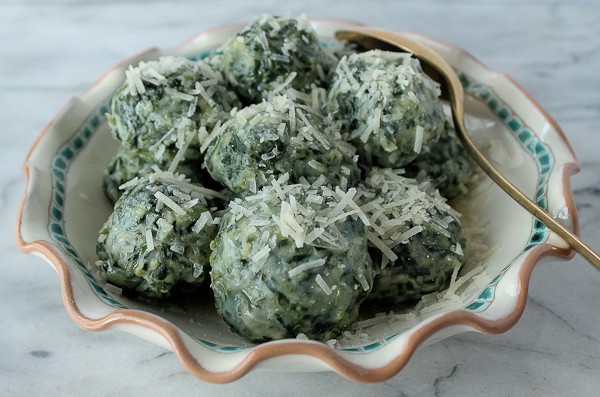 Instead of serving in a bowl, you could also make small plates with a salad and bread.  And some wine.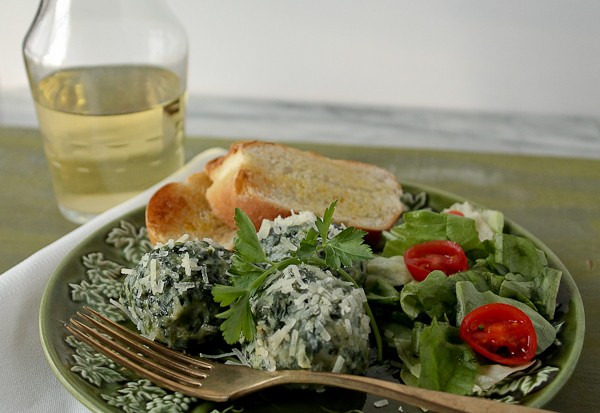 There were other items of interest besides the Italian angle such as how to search for authentic antiques, planning a special dinner for two, how to make your own exercise mat complete with a pattern, serving nutritious meat meals on a budget, and the most amusing article on how a woman of the '70's can enter job fields once marked "for men only." Here are the first words:  "Most women in the U.S. labor market are in secretarial and clerical jobs, and it is true that typing skills are still the key to an easy re-entry to the world of work."  It goes on to say that "Both business and government are slowly but surely letting women in."  Good grief.  We've come a long way since 1973.  But we still love Italian food!  Go make those gnocchi.  They really are good.

Gnocchi Verdi (Spinach Dumplings)
Author:
Sphere Magazine, January 1973
Ingredients
6 Tablespoons butter
1 Tablespoon finely chopped onion
3 packages (10 ounces each) frozen chopped spinach, thawed, drained
1 cup ricotta cheese
¾ cup all-purpose flour
½ cup grated Parmesan cheese
¾ teaspoon salt
½ teaspoon pepper
¼ teaspoon garlic powder
¼ teaspoon ground nutmeg
2 Tablespoons chopped flat leaf parsley
2 eggs, slightly beaten
12 cups water
3 Tablespoons instant chicken bouillon
4 Tablespoons butter, melted
½ cup grated Parmesan cheese
Instructions
Melt the 6 Tablespoons butter in a large skillet; add onion and cook until tender. Add spinach; cook and stir over medium heat until spinach is quite dry, 4-5 minutes. Mix in ricotta cheese; cook and stir 3 minutes. Transfer to a large bowl. Mix in flour, ½ cup Parmesan, salt, pepper, garlic powder, nutmeg, and parsley. Cool mixture for 5 minutes, then stir in eggs. Drop spinach mixture, about 2 Tablespoons at a time, into a small bowl of flour. Roll to coat with flour, then shape into balls and set aside. (at this point you can place the floured balls on a baking sheet, cover with plastic and refrigerate up to one day, if desired). Recipe will make about 18-23 balls.
Place the water and chicken bouillon in a large pot or Dutch oven and heat to boiling. Reduce heat to simmer and stir to distribute bouillon. Drop balls into broth and cook uncovered until gnocchi are quite firm and rise to the top of broth, about 10 minutes. Avoid overcrowding; cook in several batches if necessary. Remove from broth with slotted spoon and set aside. Repeat with remaining gnocchi.
Place gnocchi in serving dish. Drizzle with the melted butter and sprinkle with ½ cup grated Parmesan.
I almost forgot to tell you some 
Sphere
news.  Those of you who love the old 
Sphere
as I do, know my story of how I have every issue but one, August 1972, and I've been looking for years and several of you have been looking for me and no one has found it.  Well… I heard from one of the 
Sphere
-loving readers, Judi, who told me to get out my September 1972 issue and look at the left upper corner: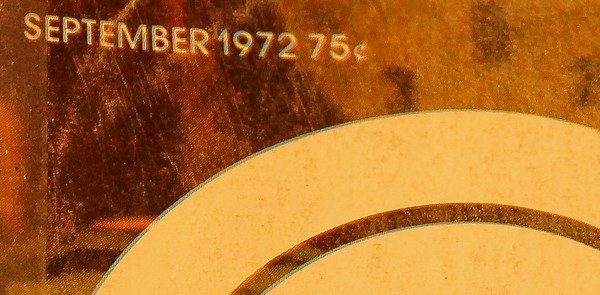 Then Judi told me to open up the issue and look at the first page: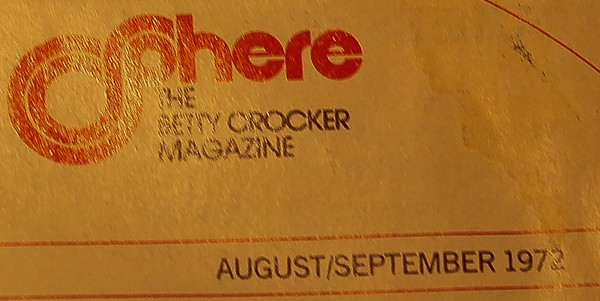 Apparently, it is the only misprint in all of the magazines!  It was supposed to have August/September 1972 on the cover, but only has it on the inside.  When the magazine first began it was bi-monthly and changed near the end of the year and somehow August/September just got messed up.  So you know what that means?  I can quit looking for that elusive August 1972 issue because I had it all along, and now I actually do have every single issue of the old wonderful Sphere Magazine and can help everyone find their long-lost favorite recipes.  Thank you, Judi!  I love my readers…