Just as I await the announcements of the James Beard and Michelin Awards each year, my husband Bill awaits the Super Bowl competitors.  Now that we know the Seattle Seahawks and the New England Patriots will be playing a week from Sunday, it's time to start thinking about the food; at least that's what Bill does.  People go crazy for Super Bowl food and drink, and of course it's always a good excuse to have a loud party.
Like many football fans, Bill likes hearty fare, so I thought I would start with a stick-to-the-ribs chowder, which I suppose seems more New England even though Bill is hoping for a Seattle win.  I have been making this corn, sausage, and potato chowder for years.  It was even selected as a feature in Midwest Living magazine sometime back in the '80's about Midwest soups, and is also one of my mom's favorites.  Hope you like it, too!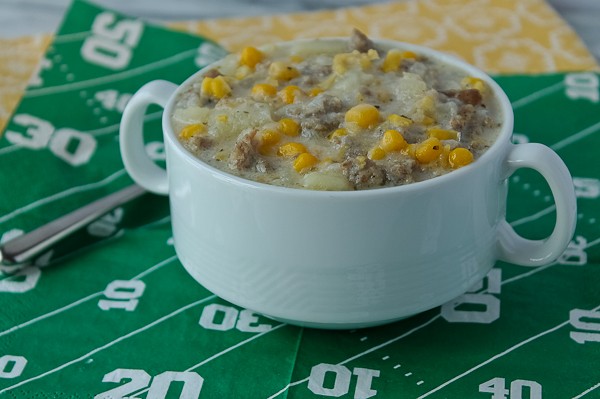 Corn, Sausage, and Potato Chowder
A good and hearty chowder to enjoy while watching the Super Bowl!
Ingredients
1 pound bulk pork sausage*
1 cup chopped onion
4 cups peeled diced potatoes
2 teaspoons salt, or to taste**
½ teaspoon dried marjoram
⅛ teaspoon pepper
2 cups water
16 ounce can cream-style corn
16 ounce can whole kernel corn, drained
14 ounce can evaporated milk
*Use your favorite bulk pork breakfast sausage. My favorite is Jones Sausage, which is 12 ounces and it works fine. It doesn't have to be a full pound.
**Since different sausages have different levels of salt, start with a teaspoon of salt and add up to 2 teaspoons if it needs it.
Instructions
In a Dutch oven, crumble in the bulk sausage; cook and stir until no pink remains. Remove cooked sausage with a slotted spoon and transfer to a paper towel-lined plate to drain; set aside. Drain off all but about a tablespoon of drippings and add onion. Saute onion until softened. Add potatoes, salt, marjoram, pepper, water, and drained sausage to pot. Bring to a boil, then reduce heat to simmer and cook for 20-25 minutes or until potatoes are just tender. Add both corns and evaporated milk to pot and heat until just hot.