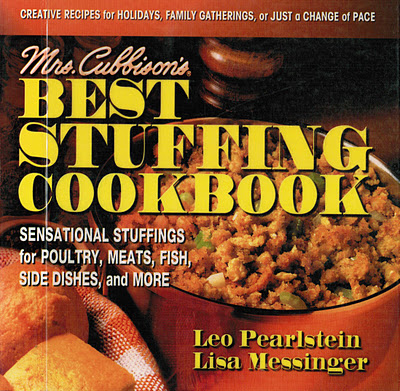 Guess how many days it is until Thanksgiving? Twenty-Three.  Guess how many days until Christmas?  You don't want to know.  Let's take them one at a time and start with Thanksgiving.  Even though I have a traditional Midwest stuffing I make every year, I also make another stuffing on the side just for fun.  It's always one I have never tried, so it's a surprise even to me.  This year I am thinking about trying a cornbread stuffing with smoked paprika and bulk chorizo.  One year I made a homemade loaf of prosciutto, fennel seed, and olive oil bread and cubed it for the stuffing base.  I love stuffing –  I might even like it more than the turkey. 
It's time to add a little pizzazz to your stuffing!  This cookbook has more than 100 ideas to make your Thanksgiving meal special.  Stuffing doesn't even have to be in the turkey or even in a casserole dish.  It can be formed into balls and baked, or placed in muffin tins.  My mom used to make stuffing balls with cranberries added.  After Thanksgiving, I like to fill mushroom caps with leftover stuffing, drizzle with a little turkey gravy and bake.  So good.  Here are a few of the stuffing ideas from the book:  Chinese Ginger and Sesame Stuffing; Mediterranean-Style; Texas-Style Bourbon Stuffing; Tropical Hawaiian; Fig and Bacon; and German Apple and Sausage Stuffing.  There is even stuffing for seafood such as a salmon with a dill stuffing and a dill mustard sauce; Snapper Teriyaki with an Asian stuffing;  Parmesan and White Wine-Stuffed Sea Bass; or an Italian scampi stuffing in halibut. 
Even if you family insists on your own traditional stuffing, be a little daring and make a second one just for fun.  As far as I'm concerned, a Thanksgiving table can never have too much stuffing.  With this book and your imagination, the possibilities are endless!
For more Thanksgiving ideas, check out my great giveaways below for today!