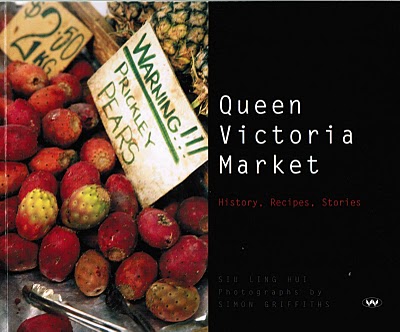 It's always exciting when Farmer's Markets start opening in the spring and early summer.  Many cities with good weather have markets open year round, but around here in the Chicago area, no one wants to set up food stands in the snow.  About this time every year, the Chicago and suburban newspapers print where to find the local markets, and thankfully there are many from which to choose.  Here in my hometown, the market is open from June to October.  I look forward to every week during this time, finding every kind of fresh produce, delectable homemade jams, popcorn, cheeses, homemade pet treats, and even croissants and other breads baked by local nuns. 
My daughters picked up the Queen Victoria Market cookbook for me when they were in Melbourne, Australia.  They have been to Farmer's Markets all over the world, and both agree that the Queen Victoria is their favorite.  The market began in 1869 and has always been a vital part of Melbourne's social and cultural fabric.  With each new wave of immigrants, areas of the large market came to be known as "Little Italy" and "Little Budapest."   Many could not speak English, but they introduced new and strange foods that Aussies had never seen before.  Markets have been the food ways of a city since antiquity.  In Imperial Rome, the emperor Trajan established a vast multi-level market building where each type of food was housed in its own section.  In the Middle Ages, practically all the cities grew up around a market or a fair.  A market is about people and the social exchange, which are what sets a market apart from other forms of shopping.  I have yet to see very unhappy people at a Farmer's Market.  Food just gets people excited and brings us all together in ways other forms of communication cannot.  It's thrilling to walk into a market and feel like everyone belongs.  When I enter a market, it's like a whole new world opens up for dinner tonight – should we have Italian, Vietnamese, Greek, Chinese, Middle Eastern?  The possibilities are endless.
Last year, my daughter Kristina and I were in Des Moines, Iowa where Kristina was shooting cooking videos for Better Homes and Gardens.  I also had the chance to visit my friend and former neighbor, Roxanne, who now lives in Des Moines.  She told us we could not miss the Des Moines Farmer's Market.  Kristina and I had no idea what we were in for when we found our way to the downtown area.  We completely and happily wore ourselves out exploring the market.  It was street after street of the most incredible food and goods, that we could not even see it all before it closed.  Even though Des Moines is almost a 6 hour drive from my home, I would drive there just for the chance to walk around the market.  Kristina even said it runs a close second to the Queen Victoria Market. 
Since buying local and green seem to be the buzzwords of the day, there are many cookbooks available about cooking with fresh, local produce and other goods.  The Queen Victoria Market cookbook is only one of many.  It has some amazing recipes for things like a fragrant Thai steamed fish, a tuna nicoise sandwich, a mushroom dish for breakfast, chicken with morels and cream, and carpaccio of salmon with Sicilian capers.  But I'm afraid I will have to skip the recipes for kangaroo. 
Kristina and Kara in their "Crocodile Dundee" hats from the Queen Victoria Market in Melbourne, Australia: