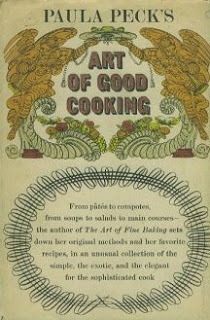 Google Paula Peck and you will find endless comments of admiration for her cookbooks, this one included.   Many are more familiar with Paula's book, "The Art of Fine Baking," which is considered one of the best cookbooks of all time, and will be included in a future blog.  I had to search for a cover photo of the above book,  as I don't know what happened to mine.  It probably fell apart with overuse.  I really hate missing covers on books because many of them can be works of art in themselves. I may be left with a bare book, but one filled with culinary treasures.   
Paula Peck had no formal training in cooking growing up, and actually had no interest in it until she was around twenty years old, when she went to work at a Quaker work camp in a Mexican village.  Even though there was no running water, fruits and vegetables had to be scrubbed well before eating, and meats were scarce, Paula learned to love the marketing and cooking for large groups of people. She had but one cookbook for her use, but she decided to resort to her imagination instead.  After she returned home from the camp, Paula soon married a man who loved foreign foods, and she wanted to impress her new husband by cooking dishes that he had loved in restaurants – so she began to collect cookbooks and recipes (a girl after my own heart!).  She was also lucky to have a friend whose husband was a well-known French chef, and a neighbor who used to run a fine hotel in Poland.  Between learning from the two friends, Paula flourished in her cooking interests and skills.  Paula then decided to enroll in a cooking class run by none other than James Beard.  And the rest, as they say, is history.  At the end of Paula's class with James Beard, he was so impressed with her enthusiasm and skills, he asked her to be his assistant, and Paula eventually began teaching baking classes. 
This book feels like a gift of love from Paula Peck.  It is filled with her favorite recipes collected over time, but she also loves telling the reader how to select kitchen tools, how to shop for the freshest ingredients, and even will tell you about stoves and cabinets, and how to arrange your kitchen to be the most efficient and  pleasant place to work.  The book has many Mexican recipes, presumably from her memories of living in Mexico.  One of my favorite recipes is Paula's lemon curd.  It doesn't even have to be used in a recipe; scooping it up with a spoon is just fine with me.  Her mocha butter cream with cognac is most delectable, and smoother than silk.  Paula's "Best Ever Fried Chicken" starts with soaking chicken pieces in a milk and cream combination, then coated in a flour mixture with celery salt, pepper, allspice, and cinnamon!  It is fried in either pure lard, or a combination of clarified butter and peanut oil. 
Written in 1961, this book was way ahead of its time.  Paula Peck was amazing and her contributions to the culinary world are extraordinary.  We should all be so lucky to own her books.. even without covers.