If you ask people what comes to mind when describing the Midwest, many would say small towns, friendly people, county fairs, and hearty foods.  Even though this is correct, there is much more to America's Heartland.  The Midwest may have sleepy little farm towns, but it also has vibrant cities and a wonderful diversity in its cultures and customs.  The states of the Heartland are comprised of Illinois, Iowa, Wisconsin, Indiana, Ohio, Michigan, Minnesota, Missouri, Kansas, Nebraska, North Dakota, and South Dakota.  Each of these states is unique in its own way.
Corn and State Fairs go together like mom and apple pie.  The Heartland grows more sweet corn than anywhere else in the country.  There are corn festivals in abundance, but no where more than Illinois.  At every Midwest state fair, you can buy ears of corn dripping in butter.  Corn is made into everything including soups, breads, salads, and even corn ice cream.  Midwesterners love good food, and they like to show off their cooking at state fair competitions.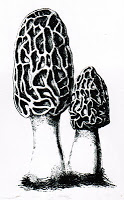 One of the true delicacies found in the Midwest is the morel mushroom, which rivals the prices of caviar and truffles.  Every spring, morel hunters, or "shroomers," begin their passionate hunt for this elusive fungi.  Black morels spring up in late April and early May, followed by white morels a couple weeks later.  The giant white ones appear in June – and that's the whole season, which is why veteran shroomers are very secretive about where they find the best hunting ground.  Morels like burned-over areas, dead elms, old apple orchards, and groves of maple and ash.  They sprout in  sweet, loamy soil and require just the right combination of night and day-time temperatures.  Morels are masters of disguise and hard to spot.  No wonder they are so expensive!
Other popular Midwest-grown foods include blueberries, strawberries, cranberries, and wild rice.  Specialty  items such as kringle and other baked goods, smoked meats and fish, cheese, and stone-ground grains are abundant in the Midwest.  Recipes using all of these wonderful items are in the cookbook, published by the Meredith Corporation (from Iowa!) and Midwest Living Magazine.  If you have never seen Midwest Living, then find a copy.  It is filled with great recipes and things to do and see in the Midwest.  We're a friendly bunch, I promise!  And while you are at it – make a kringle like they do in Racine, Wisconsin.  It's one of my favorite Midwestern foods.
Kringle!!