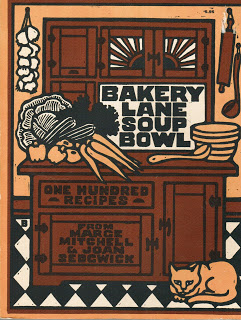 Bakery Lane Soup Bowl was a small restaurant in Middlebury, Vermont many years ago.  I have loved this book since I bought it in 1976, but I'm not sure what years the restaurant was open.  When I googled it, I found many comments from people who remember the restaurant with great fondness.  Most said how they loved that it was a cozy place specializing in soups and breads that all tasted like they were from a grandmother's kitchen.  I can highly recommend the fresh tomato bisque.  It's one of my favorite soups to make when I have my summer garden tomatoes.
The book contains only about one hundred recipes, but as you turn each page, all you want to do is go into the kitchen and start cooking.  One of the reviewers mentioned that he still makes the dark wheat bread, which I don't know why I haven't made yet – it sounds heavenly!  It uses almost all coffee as the liquid, and includes cornmeal, honey, and stone-ground whole wheat flour.  I love breads that you can really sink your teeth into, and this one sounds like a winner.  There is also "Mary Murphy's Swedish Rye Bread" with anise and fennel seeds, grated orange rind, and molasses – and it makes 3 loaves!
At the beginning of the dessert chapter, the authors claim their desserts are worth the calories.  Believe them!  From the reviews I read online, the fresh apple cake with caramel icing was mentioned as a favorite, as was the French chocolate cake.  I have made several of the cookies, which were wonderful.  I was happy to read that their recipe for pie crust is made with part lard, which makes the best pie crust.  I recently read in one of the food magazines that lard is making a comeback in modern kitchens.  Apparently, it's now available from many organic farms and is supposed to be very desirable to serious cooks.
You can find this book online for various prices, so check it out.  Who can resist good homemade food?  I think you will love this charming book.  How can you resist a cookbook cover with hanging garlic, a large-looking ceramic bowl, and a little kitty in the corner?!  To get you started, the following recipe is actually the back cover of the book.  Let me know if you make it!