The end of this month will mark the six-year anniversary of my first blog post of The Culinary Cellar.  There has not been one day when I have tired of it, in fact, my love and enthusiasm for writing the blog has grown even stronger since day one.  Since the beginning, I have had only one goal for the blog and that's to have fun and enjoy life with it.  I have never had a desire to have it filled with ads, or go crazy with how many followers I have, or any of the other things I read that I should be worried about.  My blog started for two reasons: my love of cooking and cookbooks, and a way of keeping in touch with family and friends.  But somehow along the way, people from all across the globe have found me, and it's simply because people who love cooking and cookbooks have a way of somehow finding each other.  I love hearing from my new friends and what they are cooking in Australia, New Zealand, England, France, Italy, and many more.  They send me recipes, cookbooks, photos of their family, and have extended open invitations to come and visit them.  This is why I write my blog.  It's a wonderful connection with the world, and my own backyard.
So here it is a brand new year once again, and like everyone else I love setting new goals for myself and The Culinary Cellar.  For myself, I haven't finished making a list of all I want to do in the new year, but I will tell you one thing that will be happening.  I will be turning 64 years old.  Wow – that is hard to believe since I don't think of myself as that old.  Sixty-four is how I remember my grandmother.  Sixty-four is a Beatles song, "When I'm 64," you know – "Will you still need me, will you still feed me, when I'm 64?"  Ha!  Now I am there.  Well, I am going to make the best of it.  I decided to start a blog within my blog called, what else, "When I'm 64," talking about what life is like at 64, but I have decided it is definitely not going to be all about aches and pains, and what I can't do anymore.  It's going to be about what I can do.  I refuse to be one of those old people who is going to do nothing but complain about body aches, the weather, politics, terrorists, and anything else that could get the blood pressure up.  One of my goals is to become more positive about the future, not afraid of it.  In my new "When I'm 64" blog which will be starting soon, I'll be making lots of "64 Lists," such as my 64 favorite cookbooks, 64 places I want to visit, 64 new recipes to try, and so much more.  I'll take suggestions from you, my readers, too!  I would love to hear because I'll need a lot of ideas for the entire year.
Now let me introduce you to the cute little elf on the intro page.  I decided a mascot was needed on my blog and my friend Patrice surprised me by dropping it right in my lap.  Patrice is a multi-talented wonder, with cooking, sewing, and being your all-around superwoman.  Patrice is a person everyone should wish they had for a friend.  She had seen a photo on one of my previous blogs of a little elf I bought on a trip to Finland (Patrice is part Finnish), and she made her own version just for my blog.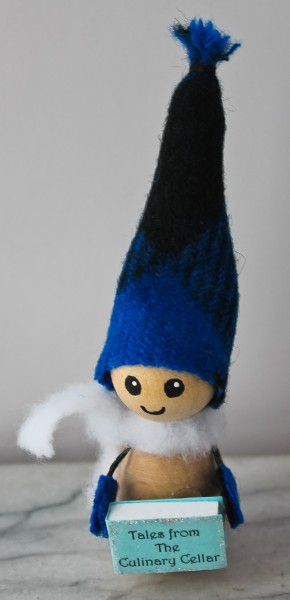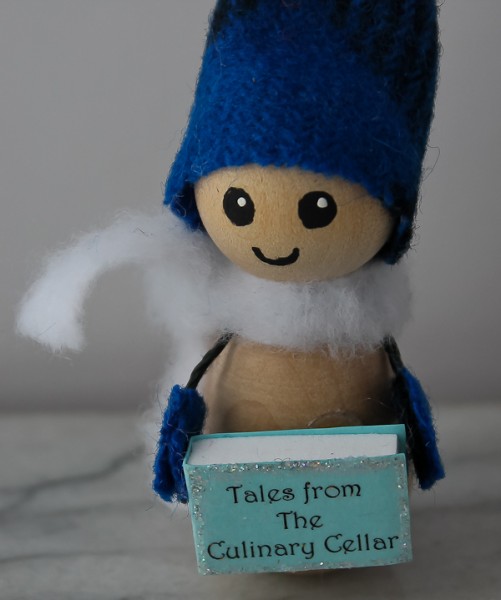 So how cute is this little elf?  I am working on a name, something Finnish, but I need to ask some of my Finnish relatives for how to translate and spell certain words.  I'll let you know her name soon.
Here's to a brand new year for all of us, full of hope, joy, and positive thoughts for the future.  And along the way, I hope you will join me back at the blog and let me know how you are doing because I love you all.  Thank you for being my faithful readers.