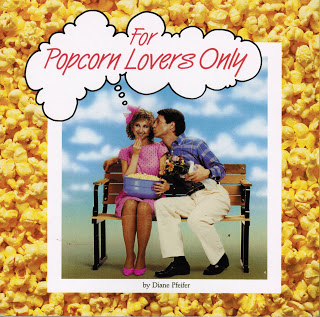 The best popcorn I remember eating was in 7th grade watching "Ferry Across the Mercy" at the York movie theatre in Elmhurst, Illinois.  It was there that my boyfriend, Gary, held my hand for the first time.  We ate our popcorn, then he slowly reached for my buttery, messy hand and held it like it was some priceless treasure.  Ahh.. youth.  It is probably why today, I love romantic chick flicks while eating popcorn and wonder if Gary remembers me. 
Popcorn apparently has come a long way from your average movie theatre popcorn, at least according to this fun cookbook.  The first chapter consists of popcorn around the world with Irish coffee crunch, French onion, Mexi-corn, Szachuan, sweet 'n sour, Swiss mocha-almond, and Indian curry.  The African jungle popcorn adds animal crackers.  Next is American-Style popcorn with flavors such as Alaskan snowball, Hawaiian tropical, Chicago Pizza, Wisconsin cheese, California health nut, key lime, and Southern pecan pie.  For some patriotic popcorn try George Washington cherry popcorn, St. Patrick's Day mint, holiday eggnog flavor, or Pilgrim Pop which uses all the spices you would put in your Thanksgiving stuffing!   The ideas go on and on.  You can probably find every way possible to make popcorn more interesting in this book.  
In the end, I will stick to my buttered popcorn along with a chick flick.  When my husband goes out of town, that is exactly what I do.  I will make the popcorn, plop on the couch, and watch a double feature, usually of two movies, The Holiday and Love, Actually.  Then my mind wanders to Gary, my first experience of having a boy hold my hand, and wonder if he grew up to be a nice dad who played Mr. Napkin-Head with his kids.  Sorry, you will have to watch The Holiday to find out what I mean.  But make some popcorn first.