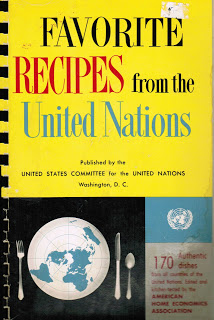 This unique cookbook from 1956 was published when there were only 76 member nations.  Today, I believe there are 192 represented.  According to the goal of this cookbook, a UN committee wanted to share the "fundamental elements common in the life of all of us, everywhere," and demonstrate how knowledge of things like cooking is one way for us to see another's way of life, "unencumbered by political difficulties or the pressure of problems."  In other words, let's all gather around the table with good food and conversation and solve the world's problems.  Sounds good to me.  
The Department of State helped in translating the recipes which were kitchen-tested by the American Home Economics Association.  The recipes from each country are coupled with facts such as the country's size and population, which has certainly changed since 1956.  And some countries no longer even exist!  When I saw this book on my shelf, the first thing I thought of was my daughter Kara's best friend Nergis, from Turkey, who also happens to work at the UN as a policy analyst for the United Nations Development Programme.  Kara and Nergis met in one of their graduate classes at NYU and later became roommates and best friends.  Nergis introduced Kara to the delights of Turkish food.  Their favorite Turkish restaurant in New York City was Beyoglu on the Upper East Side at 3rd Avenue and 81st.  Kara's favorite dessert is a pastry called kadaif, and was thrilled that it is one of the recipes featured in the UN cookbook. 

Even though Kara has moved from New York City, she and Nergis are still best friends.  When Nergis came to Chicago for a visit recently, she brought Kara some kadaif.  See?  We can all become friends through the sharing of food and culture!  If only the whole world could work that way.  The power of food.