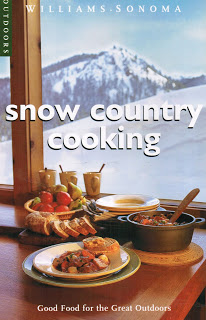 No fair.  My husband was in Canada this past weekend and it was snowing.  Our cousin, Jouni, said it snowed in his hometown in Finland, and my girls are visiting Alaska this week where it is snowing.  But none here yet.  I am probably in the minority, but I love living in snow.  The crisp, cold air seems cleaner, sounds are hushed, and gentle snow falls and catches in the tree branches.  What could be better?  Granted, maybe not 300 inches per year snowfall, and not 50 degrees below zero, but I love snow and cold for the most part.  One of the best parts of cold weather is cold weather food!  When you return back inside a warm house after being out in the cold, you are ready for some stick-to-the-ribs food.  This 1999 cookbook is from Williams-Sonoma/Time-Life Books with recipes from Diane Rossen Worthington.  The recipes promise warmth and comfort after time spent in a winter wonderland.
Living in a snowy area, one must always be ready in case there is no way to make it to the store during a blizzard.   Many times, when I hear on the news that a storm is brewing, I will immediately make a trip to the store for essentials and to stock up the pantry.  This is the first part of the book, on how to keep a stocked pantry ready for anything.  It continues onto great recipes for breakfast and brunch like omelets, french toast, waffles, oatmeal, muffins, breakfast potatoes, and hash.  Or for lunch, how about a loaded vegetable soup, black bean chili, or hot sandwiches.  The dinner recipes are pure comfort foods like roast chicken, beef stew, risotto, Coq au Vin, pork stuffed with apples and apricots, braised short ribs, or a chicken and sausage ragu.  And not to forget desserts.  Who could resist roasted pears with a cranberry-wine glaze, ginger applesauce cake, banana chocolate bread pudding, or rice pudding with dried apricots and golden raisins. 
All of these great winter foods makes me wish I could jump into a pile of snow.  But I can't because we don't have any yet.  So for now, I will just look at photos of our property in the Upper Peninsula of Michigan, where they actually can get those 300 inches of snow.  That is my Bill and daughter Kara in the bottom photo, snowshoeing through our woods.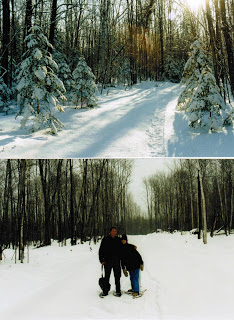 The photo below is of several of my husband's cousins when they were young.  As you can see, the snow is up to the rooftops.  The kids could not climb up that big pile; instead they had to climb out of an upstairs window and crawl out a window onto the roof!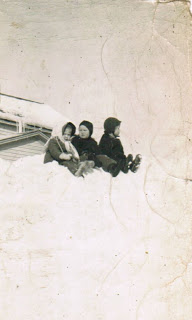 Okay, I must admit.  That's almost too much snow!  But for now, I will just settle for a little frost on the pumpkins!  And maybe a hearty beef stew.