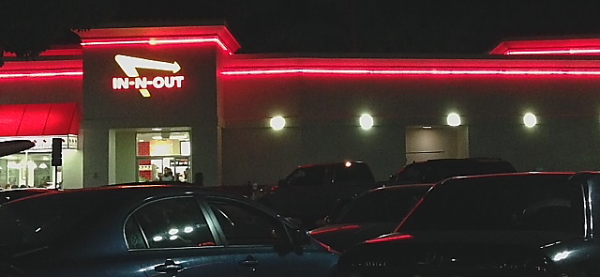 A couple of months ago while helping my daughter Kristina pack up and move from Los Angeles to New York City, we sometimes found ourselves too tired to cook, or sometimes we simply couldn't find the pots and pans.  On those nights, we had to go out and pick something up, because we were also too tired to get dressed up and go to a restaurant.  So what do Angelenos do?  Go to In-N-Out burger, of course!  However, we still wanted something that would not make us feel too guilty for eating it, which is when we found out about a "secret" burger at In-N-Out that is not on the menu.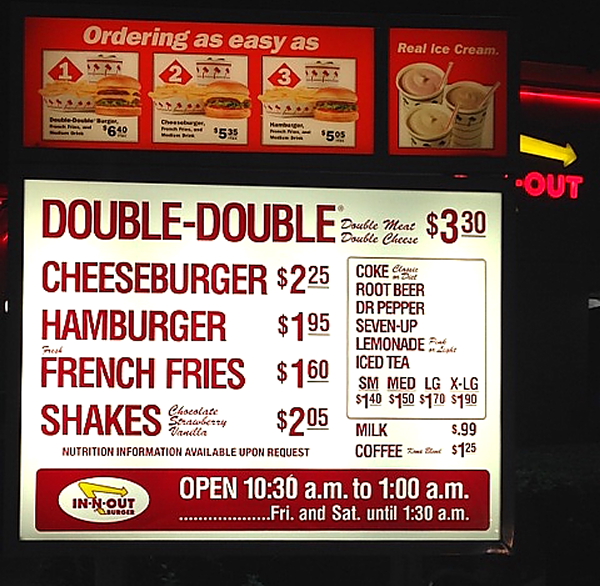 This is what you see at In-N-Out when you pull up to the drive-thru.  The burgers are legendary in Los Angeles, just as a Vienna hot dog or deep-dish pizza is in Chicago.   We knew we didn't want French Fries or a shake, or a juicy double-double.  That's when Kristina informed me of the secret burger that you can ask for called the "Protein-Style," which means no bun; instead the burger is encased in lettuce.  You can still get a tomato, onions, cheese, and their special sauce, but without the carbs of a bun.  Sounded good to me.  We ordered ours with just tomato and a little sauce.
The burgers were so good.  So good, in fact, that we decided to make our own version.  We came to the conclusion that ours tasted the same as the original.  Kristina can now have her In-N-Out fix anytime without going back to Los Angeles.  She may have had to exchange the Pacific Ocean for the Atlantic, Spago for Per Se, Hollywood for Times Square, but the burger is the same.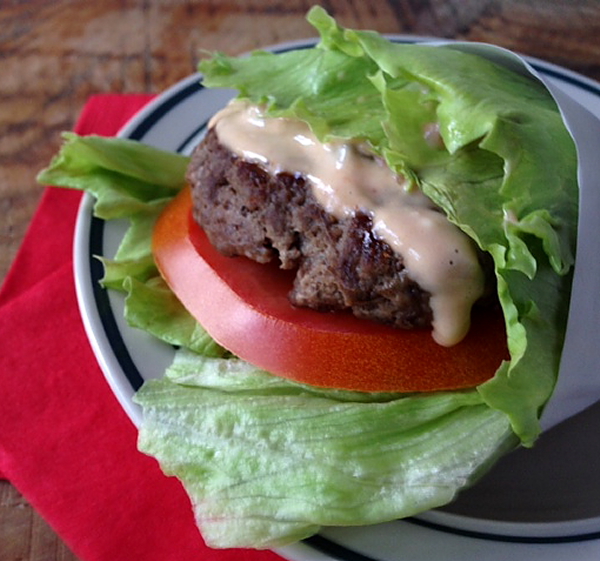 Copycat In-N-Out Protein-Style Burger
Patties:
1-1/2 pounds lean ground beef
2 teaspoons seasoned salt (I use Lawry's)
1/4 teaspoon ground black pepper
2 Tablespoons canola oil
Sauce:
1/2 cup regular or reduced fat mayonnaise
2 Tablespoons chili sauce (I like a brand called "Homade")
1 Tablespoon finely minced onion
1 Tablespoon sweet pickle relish
1/2 teaspoon white vinegar
Iceberg lettuce pieces, for "buns"
Sliced tomatoes
Sliced American cheese (optional)
Caramelized onions (optional)
For patties:  In a bowl using your hands, combine beef, salt, and pepper; gently combine and form into 6 equal-sized patties without too much handling, making them more on the flat side, not big and round patties.  Heat the oil in a skillet and cook the patties about 4 minutes per side, or until desired doneness.  If you are adding a cheese slice, place on top of the patty after it has been flipped once.
For sauce:  Combine all sauce ingredients and stir to blend.  Cover and refrigerate until ready to use.
To serve:  Pull off pieces of whole lettuce leaves to form the buns.  Place a patty into each lettuce bun and top with a tomato slice and sauce, adding caramelized onions, if desired.  Makes 6 burgers.