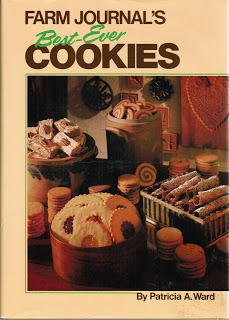 Is there anyone who really hates cookies?  Do I want to know someone who really hates cookies?  I don't think so.  My first recollection of a cookie is my Great-Aunt Margery's floury, soft sugar cookies.  She made them with pure lard, as did many women back then from small farm towns in Iowa.  I can still see her in her tiny kitchen with the tiny table that could only seat two people.  On that table, she would place a cut-up brown paper grocery bag and cover it with her freshly baked sugar cookies.  She had a parakeet named "Pretty Pat," and she would take a little piece of cookie, go to Pretty Pat's cage and feed her a cookie.  I think that's why Pretty Pat lived so long – she was loved.  What is it about homemade cookies that just makes you feel loved?
So I am obviously a sucker for a good cookie, and also a sucker for any cookbook from Farm Journal – and they have many.  But this one is special.  There are no super-fancy cookies, just good basic ones.  The book begins with the explanation of cookie varieties that you learned in 7th grade Home Ec classes – bar cookies, drop cookies, molded, pressed, refrigerator and rolled.  The chapters include cookies from grandmother's kitchen, especially for kids, bake sale sell-outs, gift cookies, and cookies to tuck in a lunchbox.  If you are a cookie lover, you can't lose with this cookbook. 
What I wouldn't give for an Aunt Margery sugar cookie right now.  Her cookies were the ultimate comfort food, but it wasn't just the cookie itself.  It was her tiny, but efficient kitchen that always smelled heavenly.  Aunt Margery always seemed to have flour all over the front of her apron, and she always had a smile and time to sit and chat at the tiny table. You could do no wrong with her.  I have many of her recipes, but not for the cookies, because there was no recipe.  It was just something natural that she did.  I gave up trying to duplicate them because I finally realized I never could.  Aunt Margery's cookies were just part of who she was, and she was one of a kind.  Pretty Pat and I both knew that for sure.