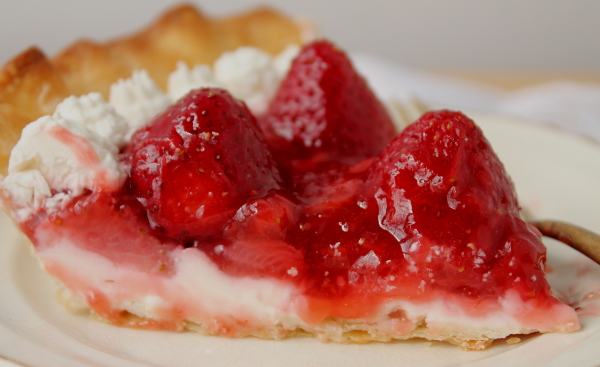 This has always been one of my husband's favorite pies that I have been making since we were first married.  It's easy, beautiful, and tastes great.  I also love displaying it on my vintage dessert stand which was a wedding gift of my mom's from the 1940's.  It's one of my favorite things in the china cabinet.
You can make your own 1-crust pie or use a refrigerated crust if you are strapped for time.  There is a cream cheese layer on the bottom, which is then covered with mashed sweetened strawberries, whole strawberries, and garnished with sweetened whipped cream.  Feel free to pass more whipped cream.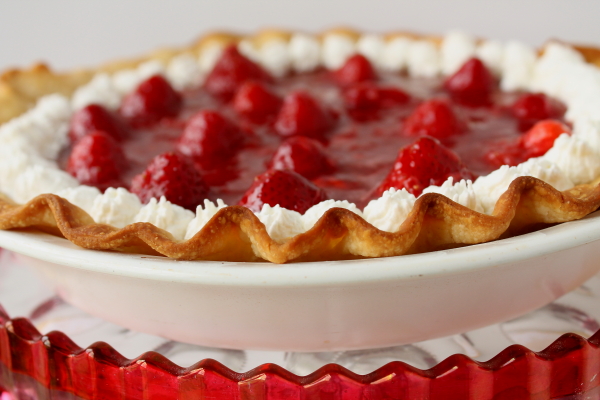 Fresh Strawberry Pie
1 baked 9-inch pie shell
1 small package (3 ounces) block-style cream cheese, room temperature
3 Tablespoons whipping cream
1 quart strawberries
1 cup granulated white sugar
2 Tablespoons cornstarch
few drops of lemon juice
1 cup whipping cream
Bake and completely cool pie shell, either a homemade crust or refrigerated crust  following instructions on box.
Blend cream cheese and 3 Tablespoons cream in a bowl until soft and smooth.  Spread over cooled pie shell.
Wash and hull berries.  Select half of the best ones and set aside.  Add sugar to remaining berries in a bowl and let stand until juicy.  Mash with a potato masher.  Stir in the cornstarch and lemon juice.  Transfer to a saucepan and cook over medium high heat until thick and transparent, stirring constantly.  Cool.
Spoon half of the cooked and cooled mixture over cream cheese in pie shell and spread evenly.  Arrange the whole berries on top of the pie, then spoon remaining cooled mixture over the berries.  Cover pie loosely with tented foil and chill at least several hours.  When ready to serve, whip the cream, adding about a tablespoon of powered sugar, if desired.  Whip to stiff peaks, then fill a pastry bag with the cream and pipe cream decoratively around the edges. Pass any remaining whipped cream.  Refrigerate any leftover pie.