It's probably a good thing I have waited to write this blog until now.  I started it many times since the flood literally washed away my Culinary Cellar, but had I written this a couple weeks ago in the extreme intensity of it all, this would be a different blog.  I think it was a good idea to wait, to wrap my brain around all that was lost and the massive clean-up.  It's not over yet, but it's strange and wonderful how new perspectives have developed.
In the early morning of July 12th after a huge Chicago storm overnight, I woke up to Bill gently shaking my shoulder.  Before he opened his mouth, it was easy to tell something was very wrong.  At first he couldn't speak and his face was ashen.  Then he said, "I don't know how to tell you this." My first thought was that someone had died.  "You have to come with me," he said.  I was not prepared for the moment when he opened the door to the basement to find water almost at my toes.  Seven feet of water almost up to the ceiling and hitting the top step, inches from getting into the house was before us.  It looked like the Titanic in the movie when all the furniture was floating around.  My 600 pound card catalog filled with thousands of recipes gathered over fifty years was on its side and rocking side to side, next to my thousands of cookbooks, all floating and covered in muddy water.  It was a sight I hope to never see again.
We have had many intense storms in the Chicago area over our 38 years of living in this house.  We have even had water in the basement before, but never ever anything like this.  It seems that during this particular storm, the retention pond near our subdivision failed and the water poured out, flooding our area and giving us the worst of it because we are the low spot on the street.  The strength of the flowing water was like a river.  One could have retrieved a canoe from the garage and had a grand old time paddling around.  It exploded our window well and all came into the basement filling it to capacity.  I am going to skip lots of details here simply because I don't want to relive them with the week of no gas, no hot water and no air conditioning in 90 degree weather.  I think you get the picture.  The before and after tells it all.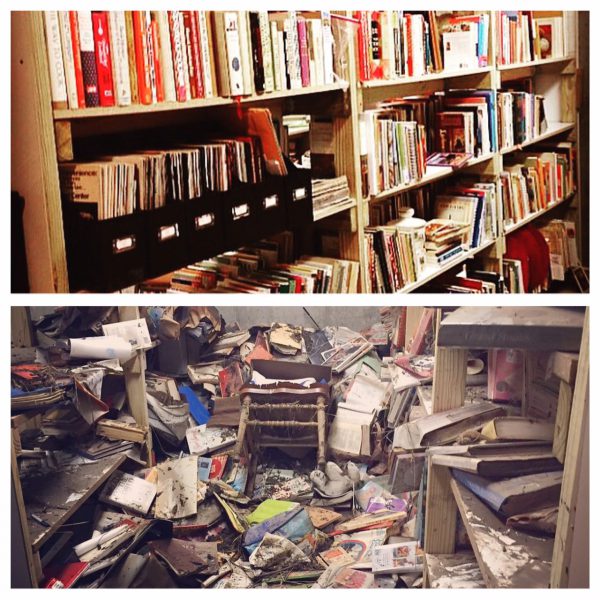 The bottom photo is after the water had been pumped out.  You can't see the even more piles of books, broken glass, and the foot of mud underneath all this.  Now it is time for me to mention this:  Did you know I married Superman and gave birth to Wonder Woman?  Here's why.  That's because my Superman of a husband dove right in, with the help of his contractor friend Del to pump out the initial water which took more than a day, made dozens of phone calls, never slept or ate, and had to deal with shell-shocked me.  During that time, my daughter Kristina was so devastated that she didn't know what to do at first.  She called and said she was catching the next flight home, which left in 1-1/2 hours.  Kristina lives in New York City, she was leaving in rush hour traffic to La Guardia which is under massive construction, then had to go through security and rush to the gate.  We never ever thought in a million years she would make that flight.  She did.  That never happens in New York traffic.  All she had time to toss in her suitcase were her high top work boots and work clothes.  No PJ's, no toothbrush, no make-up, no nothing.  When Kristina arrived, she walked straight to the basement door, opened it, had to catch herself for a second as I don't think she anticipated the carnage, then said, "I'm going to change my clothes, put on my boots and get to work."  She didn't stop for a week, and I mean from morning until night, sometimes not even eating until 10:00 at night.  I have never in my life seen her with that kind of fire in her eyes and nonstop energy which I knew she always had, but never like this.  I don't know how she did it.  That's why I call her my Wonder Woman.  Bill has two strong nephews, Nick and Paul, who we also could not have survived without in those first few days.  They were lifesavers.  The four of them had to do so much work because the work crews we hired from ServPro (BEST ever!) were overloaded with work and couldn't get here right away.  They were amazing and were here for almost two weeks.
Now let's leave all that behind us and get into the new life of the Culinary Cellar.  During the worst of it at the beginning, the outpouring of encouragement, love, and support from family, friends, and complete strangers was overwhelming.  Cookbooks started coming in boxes from all over the country, emails, calls, letters, and three wonderful friends even started a Facebook page called "Rebuilding the Culinary Cellar," which I didn't even know about for a few days at first.  Church ladies brought in food, friends came by and took bags of cookbooks to help in seeing if they might survive as they were on the tippy top shelves.  Some did, many didn't.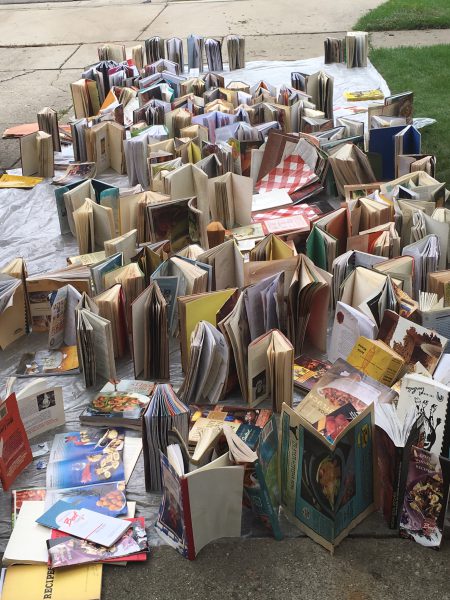 There is no doubt that my original Culinary Cellar will be sorely missed forever, but here is what I have not forgotten.  No one died.  Many items can be replaced.  Yes, it was very sad to lose all those memories and items such as my great aunt's 1940's church cookbooks from rural Iowa that can never be replaced, but now new memories are going to make the new Culinary Cellar.  As I gaze at this sampling of boxes and boxes of beautiful cookbooks that people have already sent me, I have renewed energy and am filled with enormous gratitude.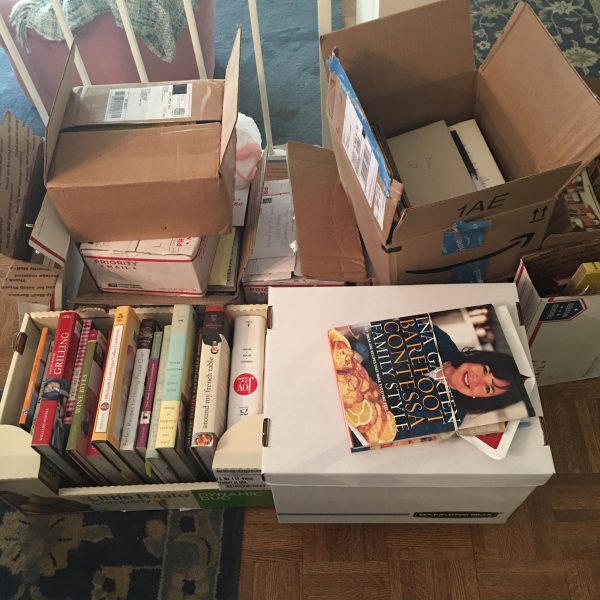 One question I am constantly asked is, what cookbooks can I send you?  Can I replace certain favorites?  Can you give us a list of what you want?  Here is my answer to all you amazing friends, readers, and cookbook lovers-  All I want you to do is what is in your heart because that is how I want to start my new Culinary Cellar, knowing that the new Cellar is being built anew completely out of love, encouragement and concern.  I don't want to make "a list" of which books I want to replace because that sounds like I am making a Christmas Wish List and I don't want to do it that way.  Every time I have opened one of these boxes there is always a card with a heartfelt message saying that they wanted to help replenish the new Cellar and hope I will like these cookbooks because they were ones that particular person also liked, or the books were from a relative who passed away.  That's what I mean!  With every box, I learn something about that person and feel so honored that their books and their spirit will now be in the new Cellar.  It doesn't even have to be a cookbook either!  One lovely friend, along with a few books, sent a box of chocolate turtles from her hometown candy store.  I can't even tell you how good those tasted on days when we had no time to eat!  Another friend brought over aromatic Williams-Sonoma lemon cleaning products to make the house feel fresher when all it felt was icky and muddy.  I would be thrilled if people sent me their favorite family recipe so I can add it to my new filing cabinet (which I don't have yet, but will!) or you know what else is just as wonderful?  Just send me a message and tell me a great cooking story or a story of relative you remember who made the best pie, cake, roast chicken, etc., because I truly believe cookbooks and recipes with all the memories they contain, tell our stories.  They are all filled with memories that will live on.  I know my old Cellar was filled with them, and the new Cellar will be too.
Here is what to expect for many months to come:  I am going to do my best to keep up with my Monday-Wednesday-Friday postings.  I am going to be taking photos of the boxes of books people have sent and make a recipe from one of the books for each blog.  Then in future blogs, the other books contained within those same boxes will be featured one-by-one with a recipe.  There are so many, some weeks I may even have a new blog on a daily basis – who knows!?  Also, every Friday I am going to call the blogs "Friday Flood Survivors," which will feature the cookbooks that survived, or maybe not even a cookbook.  It could also be items that survived like dish ware, cookie cutters, or gadgets; anything that survived is worth seeing, right?
And so it begins.  Time to rebuild.  Thank you all for everything you have done.  I could not be going on without you.  Please follow me on this journey as you will be a part of it always.
Let's open the door to a new beginning.