Happy Thanksgiving, everyone!
If you are looking for an alternative to pumpkin pie, you just found it!  This pumpkin dessert is so good you might change your mind about pie.  I wrote about this recipe seven or eight years ago but it is worth posting again.  It's that good!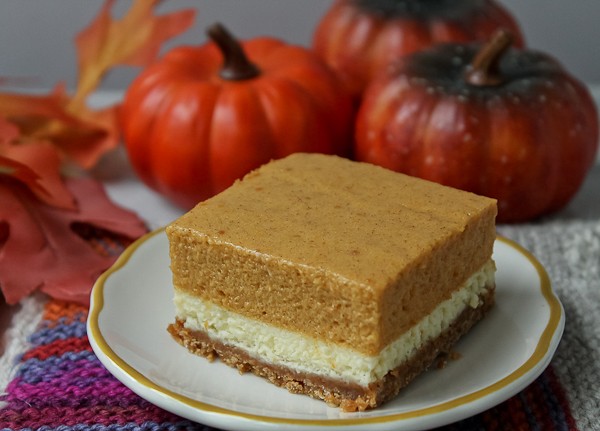 A rich and buttery graham cracker crust is topped with a cream cheese layer and baked.  When cooled, a creamy yet light pumpkin layer is spread over the cream cheese layer and chilled.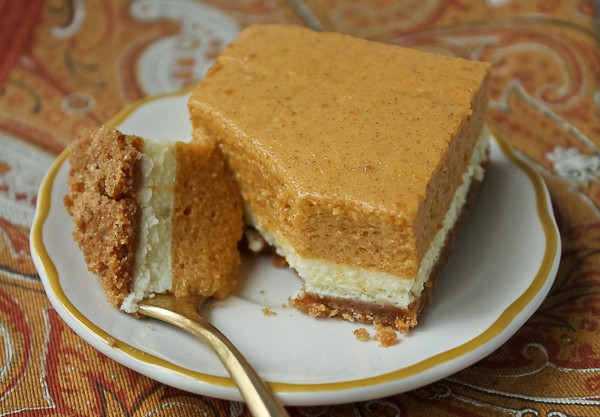 I can't tell you how delicious this is!  Give it a try.  Make it today and refrigerate overnight, then it's ready for Thanksgiving tomorrow.

A Special Pumpkin Dessert
Ingredients
For Crust:
1-3/4 cup graham cracker crumbs (about 24 single graham crackers)
⅓ cup sugar
½ cup butter, melted
For Cream Cheese Layer:
2 eggs
¾ cup sugar
1 package block-style cream cheese (8 ounces), softened
For Pumpkin Layer:
1 can (15 ounces) 100% pure Pumpkin (not pie filling)
3 egg yolks
½ cup sugar
½ cup whole milk
½ teaspoon salt
2 teaspoons ground cinnamon
1 envelope unflavored gelatin
¼ cup cold water
3 egg whites
¼ cup sugar
Garnish:
1 cup chilled whipping cream
1 Tablespoon sugar
1 teaspoon vanilla
Instructions
Heat oven to 350 degrees. Butter a 9-by-13-inch baking pan.
For crust:
Mix graham cracker crumbs and ⅓ cup sugar. Stir in melted butter. Pat into the bottom of prepared baking pan; set aside.
For cream cheese layer:
Beat the 2 eggs, ¾ cup sugar, and cream cheese until light and fluffy. Pour over the graham cracker crust and smooth out evenly. Bake for 20 minutes. Set on wire rack to cool.
For pumpkin layer:
Beat pumpkin, egg yolks, ½ cup sugar, the milk, salt, and cinnamon in top of a double boiler. Cook over boiling water, stirring frequently until thick, about 5 minutes. In a small saucepan, sprinkle gelatin on cold water. Stir over low heat just until dissolved; stir into pumpkin mixture. Set aside to cool.
When cooled, beat the egg whites in electric mixer until foamy. Gradually beat in the ¼ cup sugar and beat until stiff and glossy. Gently fold beaten egg whites into cooled pumpkin mixture. Pour over the cream cheese layer in pan and refrigerate until very cold and set, at least 3 hours.
To serve: Beat whipping cream and 1 Tablespoon sugar until stiff. During last minute of beating, add vanilla. To serve, cut dessert into squares and garnish with whipped cream. Note: It's also great without whipped cream! Makes 15 squares.