The very first meal I make the day after Thanksgiving is our family favorite of homemade turkey and noodles in a turkey broth that starts simmering first thing in the morning.  I learned to make these noodles from my great aunt Margie from Iowa when I was a young girl.  You don't need a pasta machine, just a rolling pin.  The noodles are thick and chewy and wonderful.  No worrying about al dente or cutting perfectly.  Just good 'ole Iowa goodness.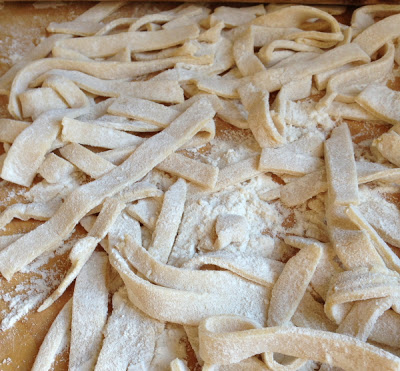 For turkey stock, I pick off any leftover meat from the bones and save to put in with the noodles, then place the bones in a stockpot.  I'll throw in a halved onion, a few carrots, several celery stalks with the attached leaves, a small handful of parsley, a bay leaf or two, and a few sprigs of fresh thyme.  I'll add a couple containers of chicken broth, then add enough water to cover the bones.  Bring to a boil and let it simmer for at least several hours.  I taste for salt or pepper when it's done.  Sometimes it doesn't need any.
To make the turkey and noodles, strain the broth into a Dutch oven or large pot and bring to a boil.  Add noodles that have been made earlier in the day and simmer until done.  Add pieces of leftover turkey meat and some leftover gravy if you have any.  It adds a lot of flavor and will thicken it too.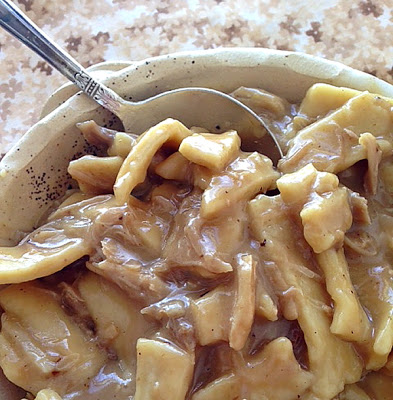 Remember you can also make chicken and noodles from a leftover roast chicken, or beef and noodles if you make a stock from meaty beef bones.  Homemade broth is always the way to go with homemade noodles.

Turkey and Noodles
Author:
My Great-Aunt Margie
Ingredients
2 large eggs
4 Tablespoons milk
1 teaspoon salt
2 cups all-purpose flour
Additional flour for rolling out noodles
Instructions
In a mixer bowl using paddle attachment, combine eggs, milk, and salt. Add flour and mix until it forms a ball. Divide dough in half and place on a heavily floured work surface. Roll out dough, one ball at a time, to desired thickness. Let dough rest for 20 minutes before cutting into noodles.
Toss all cut noodles together with flour and spread into one layer, not letting noodles clump together in a pile. Allow noodles to dry at least several hours, or they can sit for the day until you use them. I usually make the noodles mid-morning and let sit until dinnertime, occasionally tossing the noodles during the day.
Heat a large pot of homemade turkey broth to boiling, add noodles, reduce heat to medium and cook until noodles are done, having a bite to them, but still soft and somewhat chewy. Add pieces of cooked leftover turkey and heat through. Add some leftover turkey gravy if you have any.