Making caramel corn with my grandmother when I was young was a joy.  I loved watching and helping her while we waited for the candy thermometer to reach the correct temperature, which seemed to take forever.  To pass the time, we would play game after game of Backgammon.  I treasure those memories.
Last year the week of Thanksgiving I decided to try something new.  I added a 12 ounce container of lightly salted cocktail peanuts.  It was such a huge hit my husband Bill asked me if I would make it that same way this year so he and my son-in-law Joe could munch on it while watching the Thanksgiving Day football games.  It keeps for weeks covered in an airtight container so I made some last week to save for Thanksgiving.  Well.. it didn't last long.  It was devoured before I could blink an eye.  Now I'll have to make more, but that's okay because I barely got to have any for myself.
I know my grandmother would approve.  I only wish she was still here to play Backgammon with me.  Here's to you, Gram.  I miss you.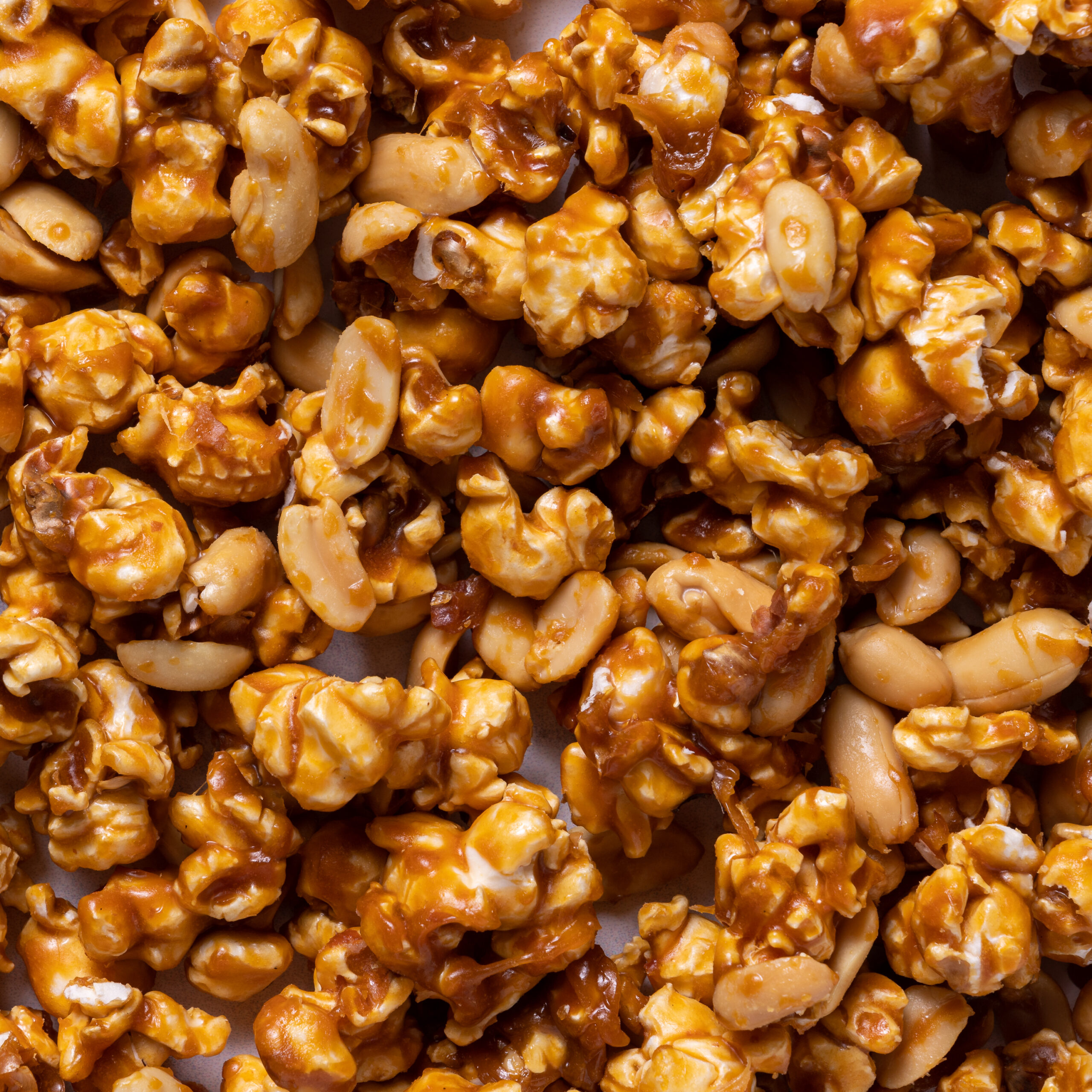 Peanut Caramel Corn
Ingredients
12 cups popped plain corn (not microwave popcorn)
½ pound unsalted butter (no substitutes!)
2 cups packed light brown sugar
1 teaspoon table salt
8 Tablespoons light corn syrup (it's slightly over ⅓ cup)
½ teaspoon baking soda
1 teaspoon vanilla extract
One 12-ounce container lightly salted cocktail peanuts (I use Planters)
Instructions
Place the popcorn in a large shallow roasting pan; set aside. (You can use two 9-by13-inch pans but I found using the large roasting pan easier.)
Melt the butter in a large (about 4-quart) heavy saucepan over low heat. Stir in brown sugar, salt, and corn syrup. Bring to a boil, stirring constantly. Insert a candy thermometer on the side of the pan and boil, without stirring, until the thermometer reaches the soft crack stage (285 degrees F.)
While mixture is boiling, heat oven to 250 degrees F.
When the mixture reaches the soft crack stage, immediately remove from heat and stir in the baking soda and vanilla. It will bubble up and become frothy.
Pour over the popped corn in the pan and using 2 wooden spoons, quickly stir to coat the popcorn.
Bake at 250 degrees for 15 minutes. Remove from oven, stir well, and bake another 15 minutes.
Remove from oven and stir in the entire container of peanuts; mix well. Bake for another 30 minutes, stirring well every 10 minutes.
Turn out the mixture and spread onto a large piece of waxed paper or parchment paper. Cool completely, then break apart into pieces. (Wait until you taste it! It's worth the work)