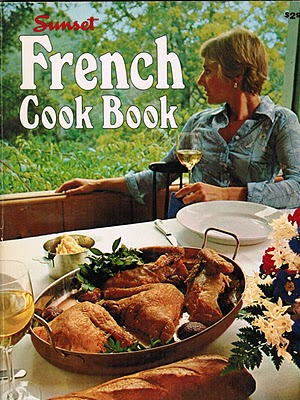 Don't be fooled by an American cookbook of French cooking.  The editors of Sunset Magazine traveled over a period of years to French homes, marketplaces, city restaurants, country inns, and riverbank picnic sites to bring you the best of French cooking.  They gathered dishes that would be easy to duplicate in American kitchens without sacrificing flavor or authenticity, and at the same time realizing American home cooks do not have easy access to luxuries such as truffles, but the basic recipes stand securely with other dishes.  Most ingredients can be found in American supermarkets, local farmer's markets, or home gardens.  
The recipes are the best of French classic cooking.  Appetizers include a country terrine with aspic, potted pork, fish terrine, escargots, and Provencal anchovy sauce.  The soup chapter has instructions for stock-making, classic onion soup, and watercress soup.  When cooking fish, the French approach is to use gentle restraint so the basic flavor is not overburdened.  Favorite partners are wine, cream, butter, lemon, shallots, parsley, and herbs; but by contrast, some fish is used boldly such as in a bouillabaisse with the earthy zest of saffron, scallops, clams, and shrimp, with lots of garlic.  One fish dish that I enjoyed making years ago (why haven't I done it again??) is quenelles.  They are delicate fish dumplings shaped into ovals or cylinders and poached in water to firm.  Gentle handling is imperative – but they are so worth it!  Other favorites of mine include trout amandine and poached salmon.  The French enjoy salmon simply served, perhaps with only lemon or melted butter, but it can also be served with hollandaise, or watercress mayonnaise, or a mayonnaise flavored with mustard, horseradish, green peppercorns, or capers.  One of the great culinary skills to learn from the French is how to handle meats.  Skilled as they are at showing off premium cuts, they are equally adept at turning the least costly cuts into masterpieces.  Vegetables change their role, though not their color, into different niches of the menu.  They can appear in appetizers, soups, fish, and meats.  Eggs and cheese are treasured foods and are put to use in every conceivable way, such as custards, omelets, sauces, meringues, and souffles. 
For the most part, you probably have the basic utensils needed for French cooking, such as good knives, pots, and pans.  Some tools, while not essential, are fun to have to make classic dishes.  Fancy molds such as coeur a la creme mold, brioche mold, terrine, quiche dishes, scallop shells, or fish poacher are available at specialty kitchen stores, and will give your dishes an authentic French appearance.  The special kitchen tools below are some that can be used.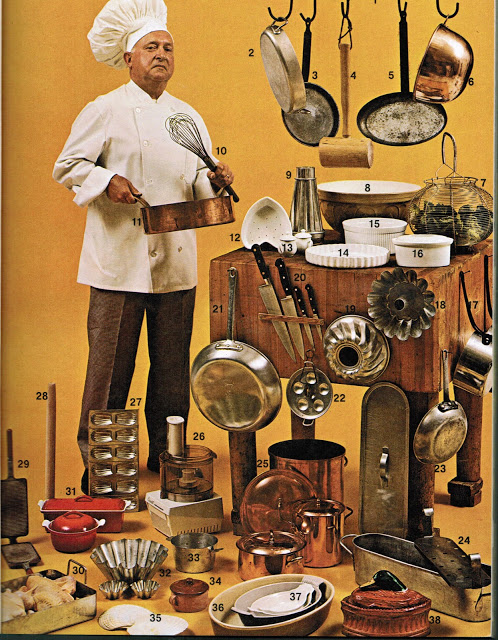 This cookbook demonstrates that it can be easy to learn French cooking, with a little practice and the use of fresh ingredients. You will find the traditional dishes stripped of excessive steps, but without the sacrifice of quality.  The recipes can be made a frequent part of your dinner planning because they do not require hours of labor – and you will impress your family with your French culinary skills!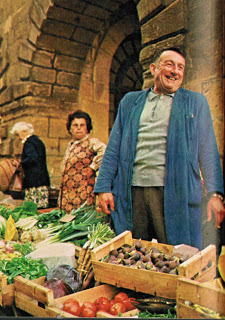 Here is a happy vendor in Sarlat, France, offering produce from his own farm.