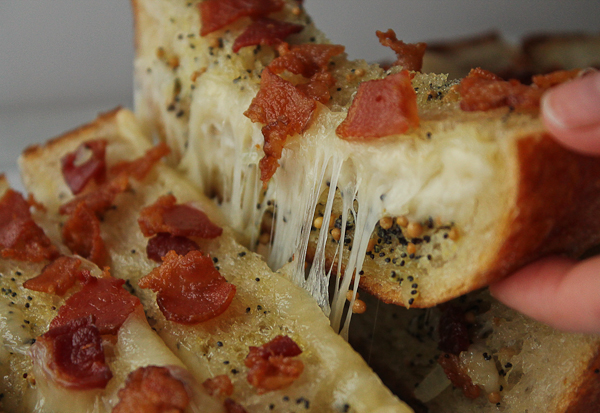 Oh, yes.  You will want a bite of this.  A buttery onion mixture with poppy seeds, mustard seeds, and mustard is spread between slices of French bread along with Swiss cheese and baked.  The bread becomes crusty and irresistible, is sliced and pulled apart in long cheesy sticks of deliciousness.
It's so easy to make!  First slice a loaf of French bread in half lengthwise, then make crosswise slices in each, cutting almost through to the bottom.  Spoon in the buttery onion poppy seed/mustard seed mixture between slices: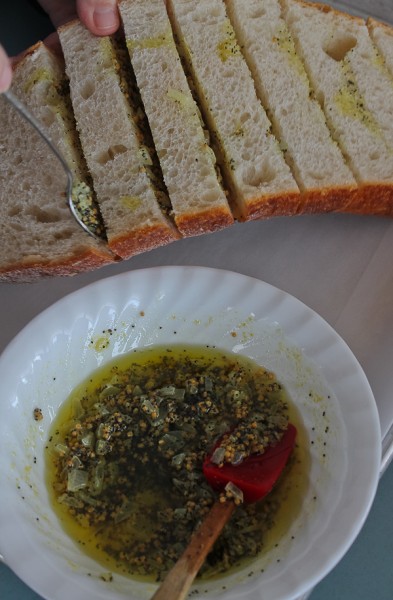 Insert slices of Swiss cheese between cuts of bread: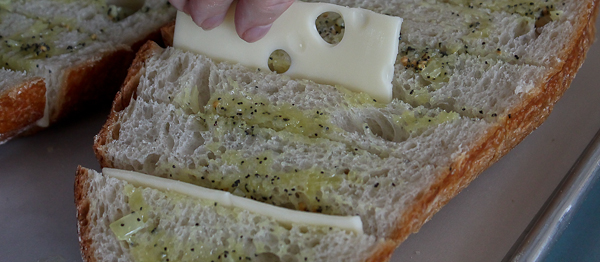 Sprinkle bacon pieces on top and bake: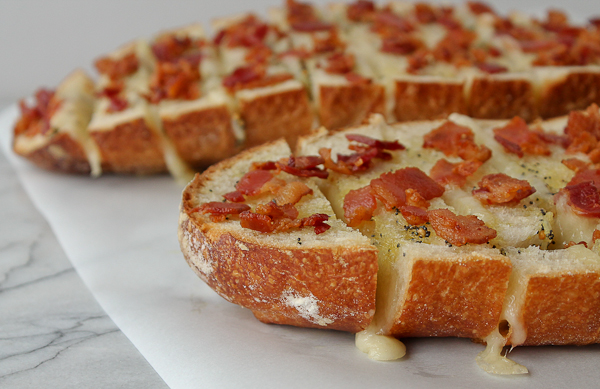 I have yet to meet anyone who does not swoon over this bread.  It can be a light meal served with a salad, a brunch offering, or an appetizer.  Any way you serve it, be prepared for it to be devoured.
Bacon and Cheese Pull-Apart Bread
Ingredients
8 slices bacon
1 long loaf French bread (not a huge long loaf; I like the ones that are about 14 ounces. A baguette will not work)
½ cup butter (1 stick of the real thing - no margarine or the fake stuff!)
¼ cup finely chopped onion
1 Tablespoon mustard seed
1 Tablespoon poppy seed
1 Tablespoon prepared mustard (yes, the yellow one; others don't work)
8 ounces sliced Swiss cheese
Instructions
Heat oven to 350 degrees. Line a large baking sheet with parchment paper.
Cook the bacon until the fat is rendered out, but not until it is browned and crispy. It will crisp up when it bakes; set aside.
Slice the bread evenly in half lengthwise along the sides and place both cut side up on the prepared baking sheet. Slice each into crosswise pieces at about 1-inch intervals, cutting almost to the bottom crust.
Melt butter in a frying pan over medium heat. Add onion and saute until softened. Stir in the mustard seed and poppy seed and cook, stirring constantly for another minute. Remove from heat and stir in mustard. Spread mixture between cut slices of bread. Insert the cheese slices (cut as needed to fit) between slices. Scatter bacon evenly over tops of loaves. Bake at 350 degrees until cheese melts and bacon is crisp, about 10-12 minutes. Serve hot.