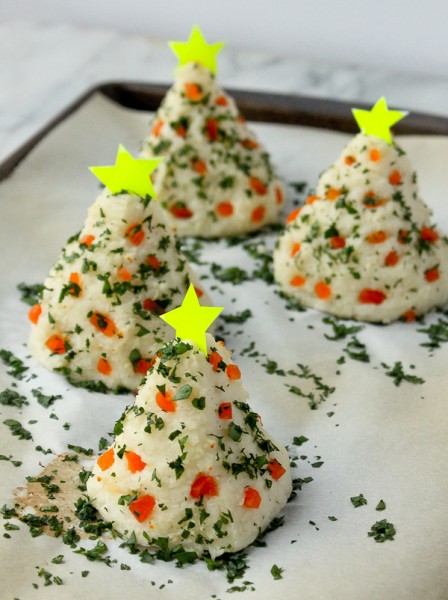 Yes, I  still play with food.  When my girls were young, we were always making something fun out of just about anything in the refrigerator.  They used to make homemade pizzas and put faces on them, or decorate cakes into shapes.  So why not mashed potatoes?  Richard Dreyfus made mashed potatoes into Devil's Tower in Close Encounters of the Third Kind, so a little Christmas tree doesn't seem too far-fetched.
All you need is some mashed potatoes, newly made or leftover, spoon into a pastry bag fitted with a star tip and start piping.  Test out the consistency first, as too soft won't work, and too stiff will not come out of the bag with ease.  You can also add ingredients like some grated Parmesan, minced onion or garlic, and even beat in an egg if you like.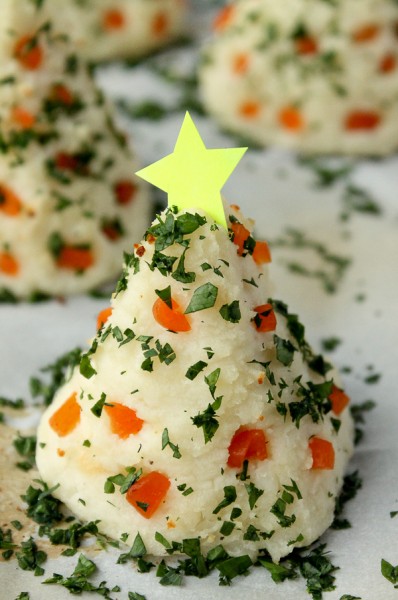 Heat the oven to 450 degrees.  Line a baking sheet with parchment paper.  Place slightly warm or room temperature mashed potatoes in a pastry bag fitted with a large star tip and pipe the little trees onto the paper.  Bake them for about 10 minutes, remove and immediately toss some chopped parsley over each tree and press little pieces of pimento or red bell pepper into the potatoes.  Top with a star cut out of a yellow bell pepper, or make a cardboard one like I did because I didn't have the pepper.  Just remind the kids not to eat the paper.
If you have leftover trees, you can pat them down into disks, dust with some cornmeal, and make potato pancakes.  See how much fun it is to play with food?