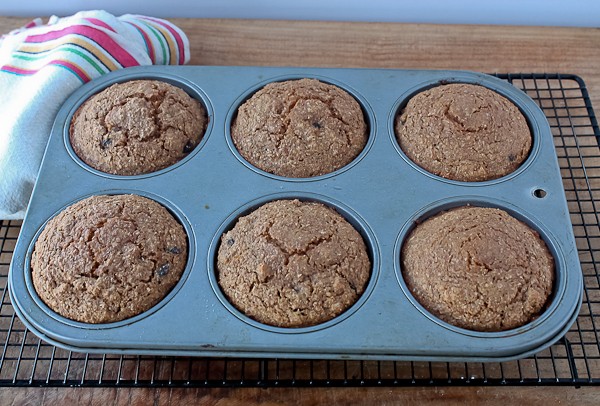 A hot muffin with a cup of coffee are always welcome on a cold day.  These moist and delicious muffins are made with unprocessed wheat bran, whole wheat flour, raisins, buttermilk, cinnamon, a little molasses and honey for sweetener, and orange peel to brighten them up.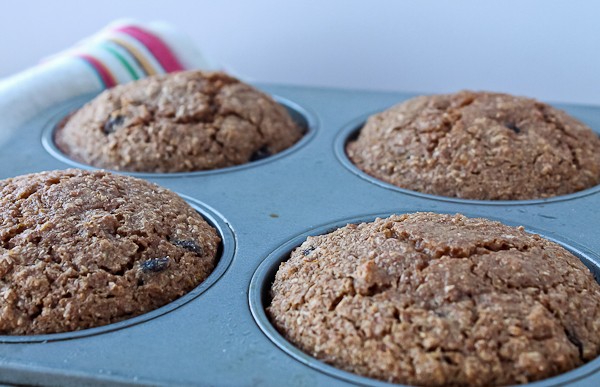 The recipe will make 6 jumbo-sized muffins or about 15 regular-sized muffins.  My husband prefers these giant-sized ones.  Either way, they are wholesome and filling.  I love the addition of orange zest for the extra kick of interest.  Sometimes bran muffins can be boring or bland, but with the orange, cinnamon, honey, and molasses, these are delightfully flavorful.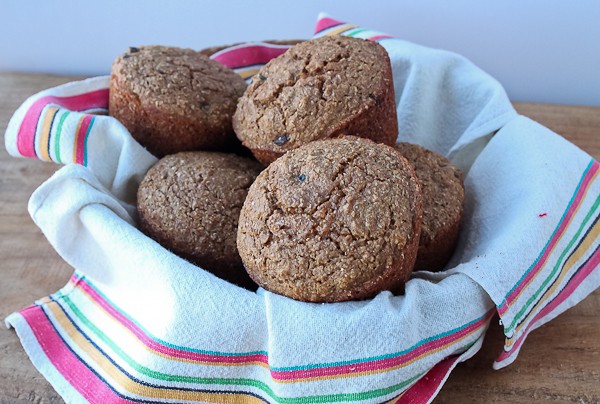 The muffins keep nice and moist for a couple days if placed in zip-loc bags or they can be frozen.  Serve plain, with butter, with honey or a citrus butter, or just brush the tops with some melted butter when then come out of the oven.  My favorite way is just plain, hot out of the oven, split and smothered in some butter.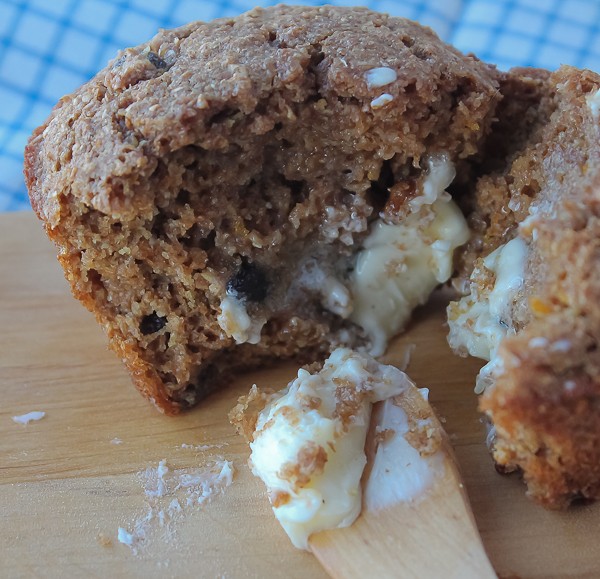 Bran Buttermilk Raisin Muffins
Ingredients
½ cup unprocessed wheat bran
½ cup boiling water
2 teaspoons grated orange peel
1 large egg
¼ cup canola oil
2 Tablespoons molasses
2 Tablespoons honey
1 cup buttermilk
1 cup unprocessed wheat bran
½ cup dark raisins
1-1/4 cups whole wheat flour
1 teaspoon ground cinnamon
¾ teaspoon baking soda
¾ teaspoons baking powder
¼ teaspoon salt
Instructions
Heat oven to 375 degrees. Grease a 6-cup jumbo muffin pan, or 15 regular-sized muffin cups; set aside.
In a medium bowl, combine the ½ cup bran, the boiling water, and orange zest. Let stand for 5 minutes.
Meanwhile, in a large mixing bowl combine, egg, oil, molasses, and honey; mix until blended. Add buttermilk and mix well. Add the 1 cup bran, the bran-water-orange zest mixture, and raisins; set aside.
In another medium bowl, stir together the whole wheat flour, cinnamon, baking soda, baking powder, and salt. Add this mixture to the bran mixture and stir just until blended. Spoon batter into prepared muffin pan, filling them about ¾ full. Bake for about 15-18 minutes, depending on what size pan you are using. Let muffins sit in pan for a minute or two, then remove from pan and serve hot.