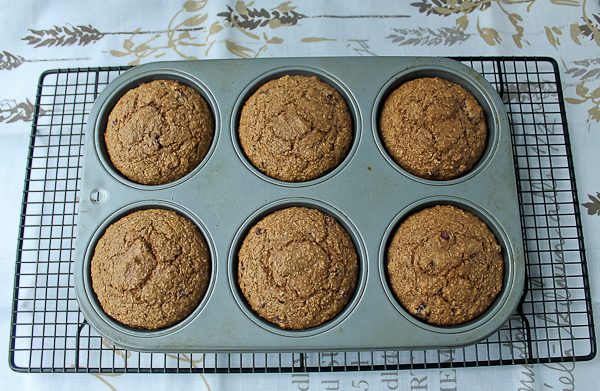 My husband Bill and I are big fans of bran muffins.  Bill prefers the jumbo-sized ones and he got his wish for breakfast yesterday.  The recipe makes about 15 standard size or 6 jumbo.  I usually add dark raisins but wanted to try something new this time.  Another item we are a big fan of is lingonberries.  They grow wild in Finland but are fairly difficult to find, much less grow, in this country.  However, that problem has now been solved since my daughter Kristina discovered an amazing company in Washington state called Northwest Wild Foods.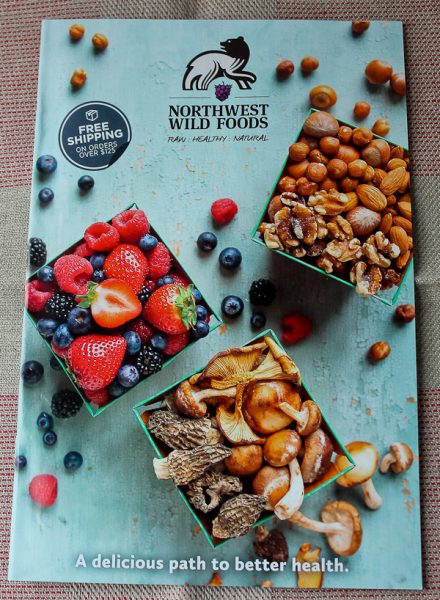 Founded in 1988, the small, family owned company is located between the Puget Sound and the Cascade Mountains of the Pacific Northwest.  The wild berries and mushrooms are hand-gathered, sometimes while having to compete with bears and cougars for these treats!  They also offer wild seafood harvested by the finest Alaskan fishermen.  These are rare items to be cherished and enjoyed.  I have only made one order and am already hooked!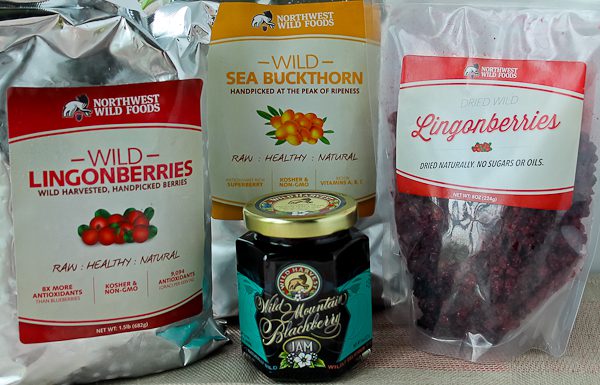 I ordered wild lingonberries, both fresh and dried, wild sea buckthorn berries, and a couple different jams.  All fresh berries are frozen and arrive packed in dry ice.  Other wild berries include Mount St. Helen huckleberries, blackberries, strawberries, elderberries, Cascade blend, bilberries, and SuperBerrry Antioxidant Blend.  Gourmet berries available include black raspberries, marionberries, red gooseberries, boysenberries, goji berries, and pomegranate arils. Organic berries and other fruit include tart cherries, cranberries, raspberries, red currants, blueberries, rhubarb, gooseberries, aronia berries, black currants, peaches, and pineapple.  Many of the berries are also offered dried.  There are delicious jams, homemade pies that come frozen and you bake them, raw organic nuts, dried wild mushrooms, and all kinds of wild Alaskan seafood.
Let's get back to the lingonberries since they were the ones used in the muffins.  The dried variety will keep in the refrigerator for 6 months.  I guarantee mine will never last that long.  Next I am going to use them in banana bread and granola.  I have read that lingonberries are considered the new "super fruit," and if you look at this chart, it is obvious why this is so.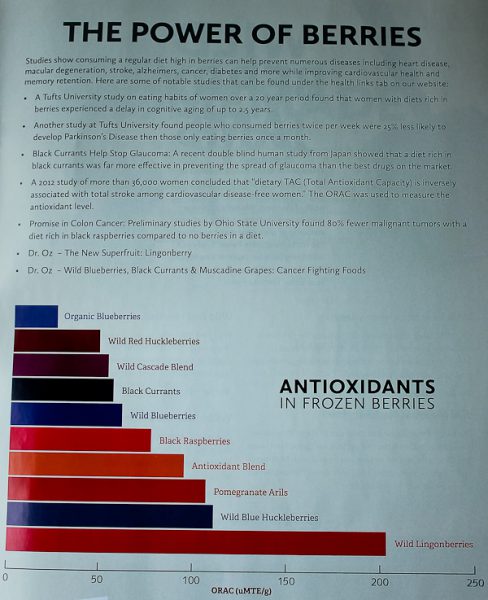 Lingonberries are way ahead of everything else, but all berries are so good for you in many ways.  I think I will be coming up with my next shopping list soon.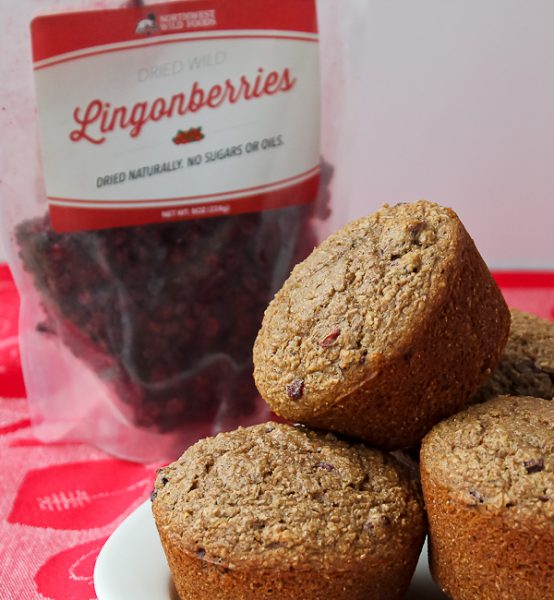 Below is the recipe for the bran muffins.  As I mentioned, the original recipe calls for raisins so you can still use them if you like.  They are great with raisins too.  The recipe also calls for 2 Tablespoons of molasses, but I substituted the Finnish Dark Syrup that I have blogged about several times earlier, or just use molasses.  The only sweetness in the muffins is the molasses, honey, raisins, and a touch of orange peel.  No added granulated or brown sugar.  I serve them warm with butter. They are delicious, hearty, and so good for you!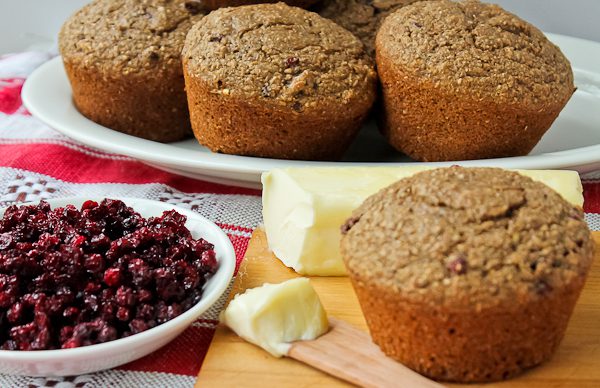 Bran Muffins with Dried Lingonberries
Ingredients
½ cup unprocessed wheat bran
½ cup boiling water
2 teaspoons grated orange peel
1 beaten egg
¼ cup cooking oil
2 Tablespoons molasses (or Finnish Dark Syrup, if you have it!)
2 Tablespoons honey
1 cup buttermilk
1 cup unprocessed wheat bran
½ cup dark raisins (or dried lingonberries, if you have them!)
1-1/4 cups whole wheat flour
1 teaspoon ground cinnamon
¾ teaspoon baking soda
¾ teaspoon baking powder
¼ teaspoon salt
Instructions
Heat oven to 375 degrees. Grease (or coat with cooking spray) 15 standard size muffin pan cups, or 6 jumbo size muffin pan cups; set aside.
In a medium bowl, combine the ½ cup bran, the boiling water, and orange peel. Let stand for 5 minutes.
Meanwhile, in a large mixing bowl combine egg, oil, molasses (or Finnish Dark Syrup), and honey; mix until blended. Add buttermilk and mix well. Add the 1 cup bran, the bran-water mixture, and the raisins (or lingonberries).
Stir together the whole wheat flour, cinnamon, baking soda, baking powder, and salt. Add to the bran mixture and stir just until blended. Spoon batter into prepared muffin cups. Bake at 375 degrees F for about 18 minutes. Remove from oven and let sit for a minute, then remove carefully and transfer to wire rack. Serve warm.