Have you ever tasted a delicious recipe of something made by a friend, relative, or neighbor and asked for the recipe? Happens all the time, but how do you feel when the person responds, "I never give out my recipes.  It's a secret that will go with me to the grave!" Let me first state that I despise this snotty response, but at the same time I would understand a gentle response only from a person who is entering the recipe in a contest and can't give it out until the contest is over or they could be disqualified, or if a person is opening a restaurant and that recipe will be their signature dish.  Those are circumstances I can understand.  But for someone just to say, "I never give out my recipes," well, you lost me.  And if the next response out of their mouth is, "I'll take it to my grave," then I feel sorry for the world because now the recipe is gone forever, with no one to ever enjoy it again.
I started thinking about this subject more and more this past week after I read an article in our local paper.  The author passed on the story that she and a few others were enjoying a game seated at a table.  She asked the group if anyone had a good dessert recipe, and all eyes turned to one woman.  Mrs. X has a great apple cake recipe, they all said, but she won't give us the recipe.  She doesn't share.  We've all asked.  Mrs. X stopped playing, looked up at the group and said it was her mother's recipe and she won't share.  Ever.  Case closed.  Okay, so here is a case where someone loves their mother's recipes.  I love my mother's and grandmother's recipes too, and treasure the old recipe box with the yellowed cards.  But what if I never shared them with anyone?  No one else but our family would ever know them.  What if the box was lost or damaged and the recipes were gone forever because they were never given out to anyone else.  Now that would be a tragedy.  Thank goodness my grandmother was, and my mother is, generous with their recipes, giving them out to everyone to love and enjoy.  I love the thought of dozens and dozens of people making those recipes over decades and they became favorites in their own families, and so on and so on.  Recipes have a life of their own and need to be carried on.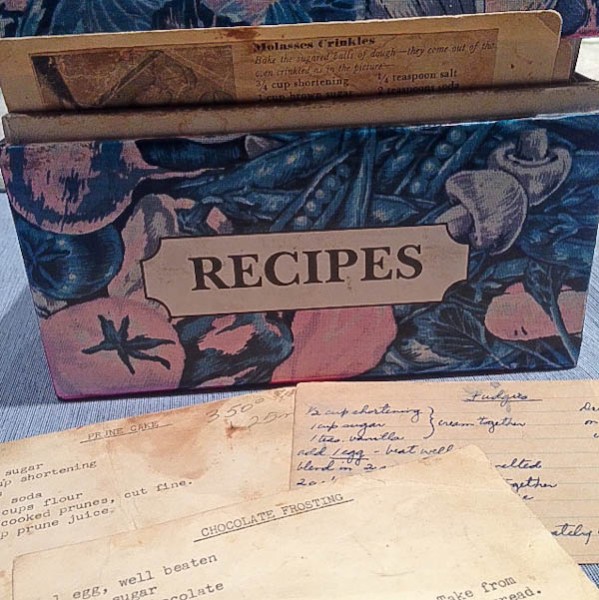 My mom's recipe box.
What would the culinary world be like if Julia Child decided not to share her knowledge of French cooking to an American audience?  There would have been no James Beard Awards this past weekend to honor chefs and cookbook authors who grace our tables with their recipes.  For me, with a basement (The Culinary Cellar) filled with cookbooks and recipes, along with my mother's recipe box and an envelope filled with my great-aunt Margie's recipes, the whole point of cooking is to share the love.  A good recipe brings people joy, keeps up traditions, and helps us learn about different cultures and food history.  Who wants all that to "go to the grave?" What good does a wonderful recipe do if it's turned to dust or even worse, if it was never even written down anywhere and literally does die with the person.
My husband Bill had an older Finnish-American cousin who lived in the Upper Peninsula of Michigan.  I met Esther before we were married when she invited us over for lunch on a Saturday, but with the stipulation that we had to arrive at noon sharp.  Every Saturday Esther would make her famous pasty, but not in individual pies as they are normally made, but she made hers whole in a pie plate with the same kind of filling and with a double crust and cut into wedges.  Everyone loved Esther's pasty pie.  Of course I had to have the recipe and asked Esther if she would share it with me.  Esther had the best hearty laugh, and she let out one of those laughs as she said, "What recipe?  It's all in my head!"  She said no one had ever asked her for it before which I found horrifying.  I asked some other family members why they never asked for the recipe, and everyone gave the same response – because they could have it every Saturday at noon at Esther's so why would they need the recipe?  I knew what my job was going to be the next Saturday morning.   I asked Esther if I could come over as she was making the pasty for the noon meal and measure everything before she tossed it into the bowl.  There was that laugh again.  Esther found this highly amusing but said she would love to have me come and learn.  We had the best time that morning, with Esther grabbing handfuls of this and that and me running to measure every little thing and writing it down.  I am happy to say it worked and I have Esther's precious recipe for all the family and anyone else to enjoy.  I would like to add that I will never forget that day and am so grateful I spent that lovely morning with Esther figuring out that recipe because sadly, Esther later developed Alzheimer's and never would have remembered that treasured family recipe.  It really would have died with her.  And yes, in case you are wondering, I will make Esther's pasty soon for a blog and all of you can have the recipe too.  Esther would have loved that.  I can hear her laughing with glee.
I love the story of Esther's pasty recipe but I also have a new one for you, one that happened just as I was writing this blog.  As I was sitting here earlier typing away, Bill walked in with the mail.  He handed me an overstuffed letter with a return address I didn't recognize.  When I read the contents, my heart melted a little, but first I need to back up.  One of my readers had written me recently that her mother had collected all of the Pillsbury Bake-Off books since the first contest in 1949.  She was missing contest book #46 and wondered if I knew where she could find one to complete her mother's collection.  After the contest the books are only sold for a short period of time then go out of print.  The only hope is used book stores or finding one online.  Or ask me.  I told my reader that I had an extra and I would gladly mail one for her mother to complete her collection.  She offered to pay for it, but I explained to her that this is what I love to do –  find cookbooks and recipes for people and then give them away.  I mailed it and was glad that I could help.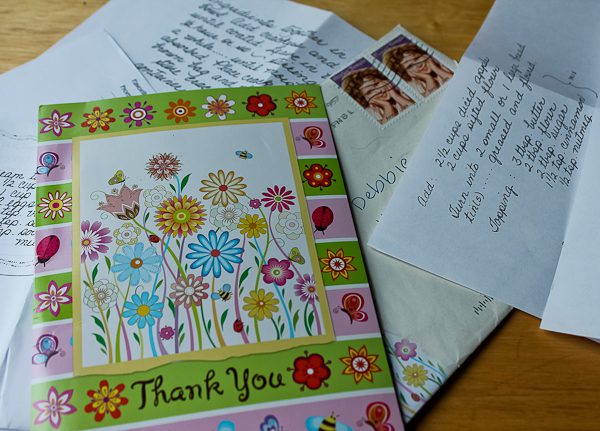 This lovely woman wrote the sweetest note to thank me for sending her the Bake-Off book.  What warmed my heart was that she also had made copies of a few of her favorite recipes to share with me.  I am so honored to have those recipes.  They were obviously some she cared about and wanted to share.  This is what I am talking about.  Recipes are meant to be shared, between family, friends, and strangers.  But this wonderful woman is no longer a stranger because we share something precious between us – recipes to share and carry on and now they will never die.  I don't mean just the recipes, but also the connection we made across the country through the love of cooking and recipes.
Think back of a favorite thing someone gave you once that meant so much to you.  My guess is that you are not thinking of a designer handbag or an expensive car, but something that was from the heart.  That's the kind of gift everyone remembers.  Things can be replaced, but sharing a recipe or giving someone a warm meal when they are ill, something done especially for you, that's what you will remember.
So next time you ask someone for a recipe and the response is, "I never give out my recipes," then look them in the eye and say, "Well then, the joy of that recipe will die with you and then what good is it?"