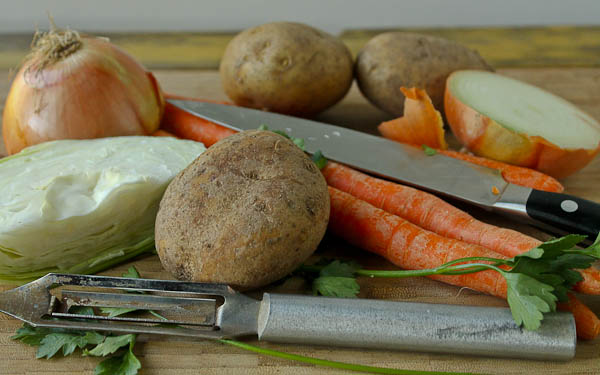 Soup is one of the all-time comfort foods.  Hardly a week goes by when I don't enjoy some kind of soup.  My mom remembers when she was growing up during the Depression, my grandmother would save every scrap of leftovers from the week and whatever it was would become "Saturday Soup."
There are endless ways to make soup, but sometimes the best ones develop from what you have in your refrigerator or pantry.  That's how this one came to be.  It's one of those soups that you can do almost anything with and add your favorite spices, more vegetables, or add leftover bits of meat.  Scanning my refrigerator, German food was on my mind because I found cabbage, carrots, and some rye bread.  The only thing I wished I had found was some smoked sausage or bacon.  My pantry revealed some caraway seeds and I was done.  Well, except for a cold beer for my husband.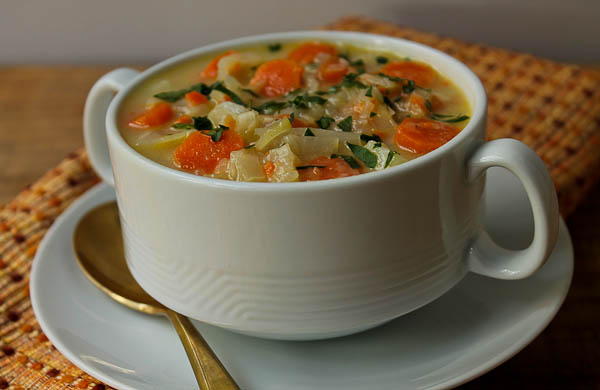 Cabbage-Potato Soup
Ingredients
4 Tablespoons butter
4 cups thinly sliced yellow onion
2-1/2 pounds green cabbage, shredded
2 quarts water
1 Tablespoon caraway seed
2-1/2 teaspoons salt
½ teaspoon white pepper
3 cups peeled, cubed potatoes
3 cups sliced carrots (1/4-inch thick)
1 cup shredded Havarti cheese with dill
¼ cup heavy cream or half-and-half
¾ teaspoon mace
⅛ teaspoon nutmeg
Instructions
Melt the butter in a large pot or Dutch oven over very low heat. Add the sliced onions, stir well, and cover pot with lid. Sweat the onions, stirring occasionally, for about 15-20 minutes or until they are soft, but do not let them brown. Turn up heat and add cabbage, water, caraway seed, salt, and pepper. Bring to a boil, add potatoes, and bring to a boil again. Add carrots and bring to a boil. Reduce heat and let simmer, covered for 10 minutes, stirring occasionally.
Place half of the mixture in a blender and blend until almost smooth. Return to pot and stir in along with the cheese, cream, mace, and nutmeg. Stir until cheese melts and adjust seasonings. Serve with some warm rye bread on the side.