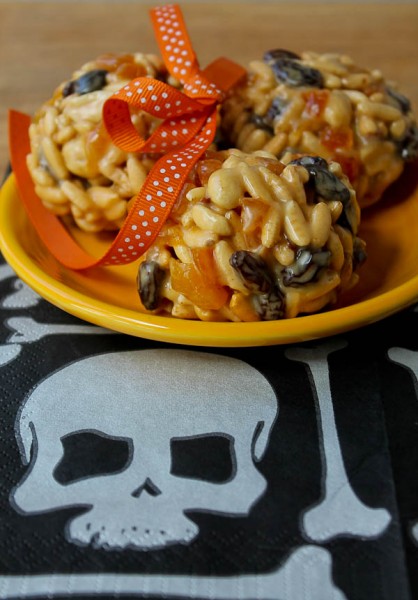 When my girls were young, they always loved to make Halloween treats about a week before trick-or-treat to start the fun early.  They would have loved these.  Made of puffed rice cereal, dried apricots, peanuts, peanut butter, raisins, and marshmallows, these treats can be pressed into a baking pan and cut into squares or rolled into balls.  After they have cooled, wrap in plastic wrap to keep them nice and moist.  A little festive ribbon would look cute, too, if kids want to give a Halloween treat to their friends.
Have a safe and fun Halloween next week.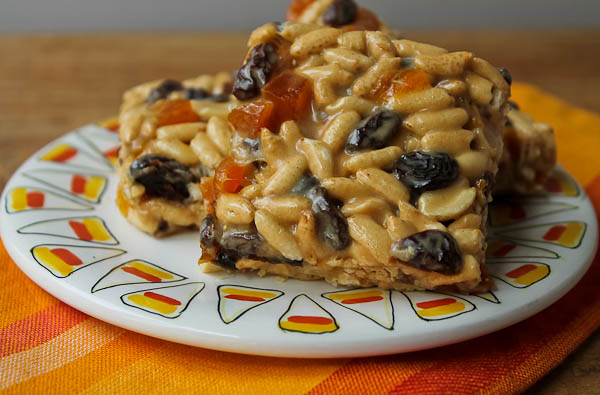 Monster Munch Treats for Halloween
Ingredients
Softened butter for greasing pan and hands
3 cups puffed rice cereal
1 cup chopped dried apricots (6 ounce package)
1 cup dark raisins
1 cup dry-roasted unsalted peanuts
⅓ cup butter
1 pound package large marshmallows
½ cup peanut butter
Instructions
Grease a 9-by-13-inch baking pan with some softened butter if you are making squares; set aside. In a large bowl, place cereal, apricots, raisins, and peanuts; toss together and set aside. In a large saucepan or Dutch oven over medium heat, melt butter and marshmallows, stirring constantly. When just melted, stir in peanut butter until melted. Quickly stir in cereal mixture and mix with a heavy wooden spoon to combine well. Remove from heat and spoon into prepared pan if making squares. Using buttered hands, pat mixture evenly into pan. If making balls, butter hands and form into desired size balls and place on waxed paper to set. You can also make half in an 8-by-8-inch pan and form the other half into balls.