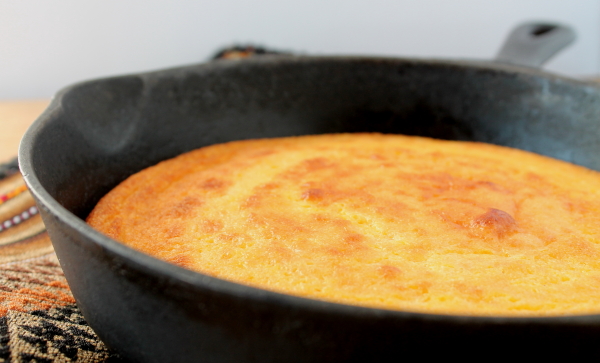 When the air is cool, it's time for some chili, soup, or stew.  And what goes better with those than some fresh cornbread? This version is made in a cast iron skillet and it comes out tender yet deliciously crispy around the edges.  The added bonus is that there is no flour, no sugar, and it's gluten-free!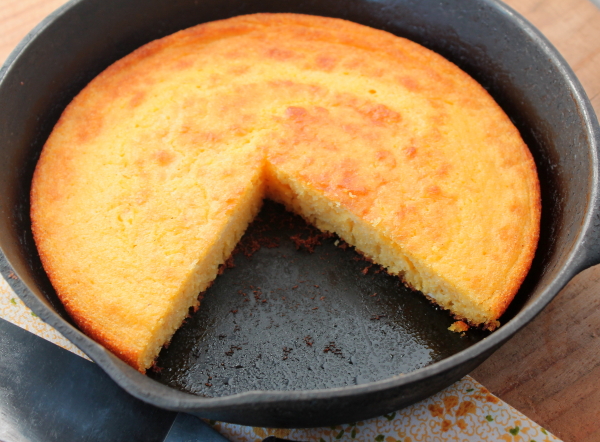 Serve it hot right from the skillet with butter, or as my husband likes it, with maple syrup.  We love to have it with a spicy chili, or a hearty bean soup.  Be sure and use a cast iron skillet, as no other kind of pan will produce the same results.
Cast Iron Skillet Cornbread
No flour, no sugar, and gluten-free! This cornbread baked in a cast iron skillet goes together in a snap.
Ingredients
4 Tablespoons canola or vegetable oil, divided
⅔ cup cornmeal
1 teaspoon baking powder
½ teaspoon salt
¼ teaspoon baking soda
1 cup buttermilk
1 egg
Instructions
Preheat oven to 425 degrees. Place 2 Tablespoons of the oil in a 9-inch cast iron skillet. Place the skillet in the preheated oven for 5 minutes. While pan is heating, combine cornmeal, baking powder, salt, and baking soda in a mixing bowl; set aside. Whisk together buttermilk, egg, and remaining 2 Tablespoons of the oil; stir into dry ingredients. Remove skillet from oven and immediately pour in the cornmeal batter. Return to oven and bake for 20 to 25 minutes or until golden brown and crispy on the edges. Remove, cut into wedges and serve.