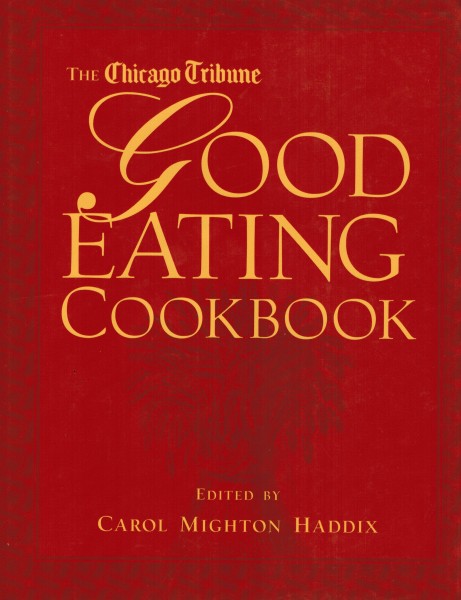 I would buy any cookbook associated with Carol Mighton Haddix.  As the editor for thirty-four years of the "Good Eating" section of the Chicago Tribune, Carol has a lot of recipes under her belt, and some of them are compiled in this great cookbook that you can win in today's giveaway.  I wrote a blog about Carol when she retired that you can read here.
The Chicago Tribune test kitchen dates back to 1948.  When putting the book together, Carol and her staff tasted every recipe and would ask themselves, "Would I make this recipe at home?" The over 500 recipes in the book are from local and national chefs, readers, some from cookbooks, and all the rest developed right in the Tribune test kitchen.  You can count on them being special.  You will find recipes for Chicago staples such as deep dish pizza and Eli's cheesecake along with more elaborate dishes like a roast rack of lamb with figs and herbs, or chipotle shrimp with corn cakes.
Giving away this cookbook brings  to mind how many food sections of newspapers have disappeared due to cost-cutting or to more people finding recipes online.  To me, nothing will ever take the place of a newspaper food section.  I have found some of my all-time favorite recipes from weekly food sections.  So in that spirit, to enter this giveaway, (Continental USA only) all you have to do is leave me a comment on this blog about a favorite recipe you or someone in your family cut out of a newspaper.  Or maybe a neighbor gave you her favorite recipe from a food section and it is still sitting in your recipe box.  The winner is randomly selected using random.org and will be notified before the next Monday giveaway. Deadline to enter is this Saturday, October 4, 2014 at 11:59 pm CST.  Good luck, and Good Eating!
Congratulations to Lisa Keys, whose name was drawn as last weeks' winner of "The Berghoff Family Cookbook."