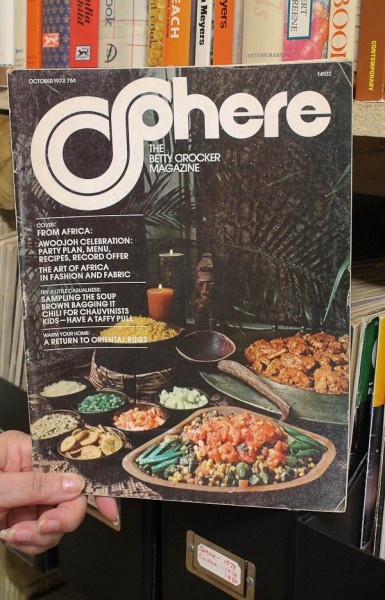 Continuing my monthly blogs of the late, great Sphere magazine, the October 1972 issue is filled with ideas such as fall meals, soups, school bag lunches, an African-themed dinner party, and of course Halloween costume ideas.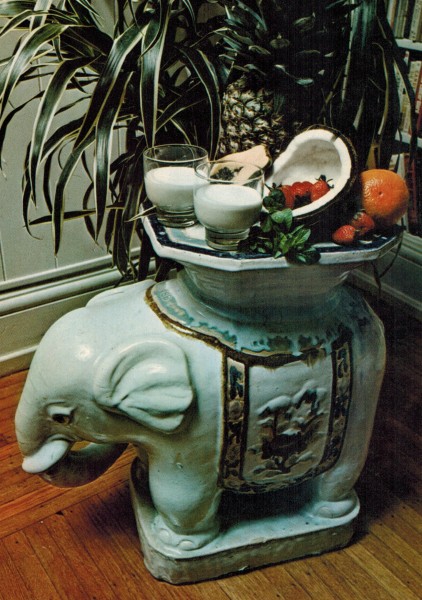 An "Awoojoh" is the African art of celebrating life with the foods of the country.  In Africa, it's considered a feast that can be about anything you want.  The exotic meal starts with a coconut cocktail, and shrimp with red and pink dips made from a red pepper paste.  It is followed by a buttermilk soup and avocado broth.  A spicy chicken and groundnut sauce has spicy chiles and candied ginger, accompanied by an okra-corn-tomato medley.  Dessert is honey-lime strawberries and spice nut cookies that have a boost from red wine.  The magazine even offers ways to decorate for the party and festive music to order by mail.
A soup party menu offers chicken soup with homemade tortellini, French-style vegetable soup, and a cheesy clam chowder, accompanied by dinner rolls, a blueberry-pear compote, and spicy triangle cookies with cardamom.
Some VIP's (very important pies) are classic pecan, an airy pumpkin chiffon, a cheesecake pie with a layer of mincemeat, and a red-bottom pie using cranberry relish as a bottom layer on a no-bake refrigerated pie.
The kid's section is how to help make saltwater taffy for a Halloween treat.  And speaking of Halloween, there are patterns in the magazine on how to make these three easy costumes, using many items you probably already have around the house.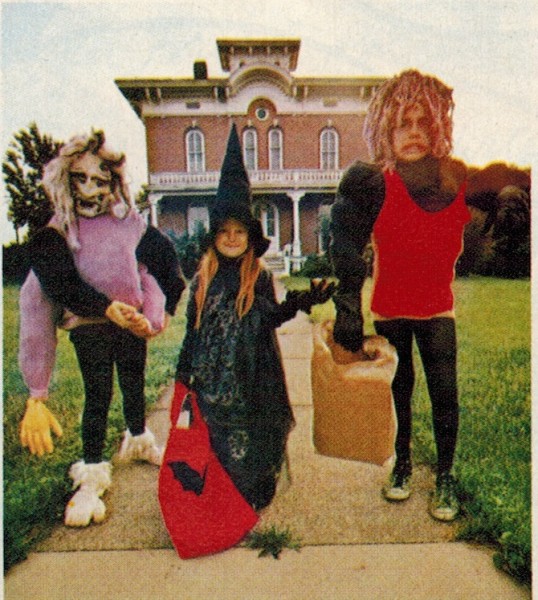 The stand-out recipe in this month's issue has the amusing title of "Male Chauvinist Chili."  Ignore the title and make the chili; it's really good.  It has three kinds of meat and three varieties of beans and is the chunkiest chili I have ever made. It's also great football food.  Here's a hint-  make it the day before and let it sit overnight in the refrigerator.  The flavor gets even better.
But here's my question for Sphere:  Where is the Women's Liberation Chili?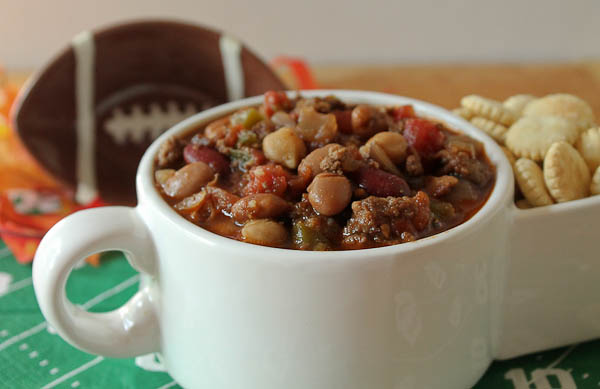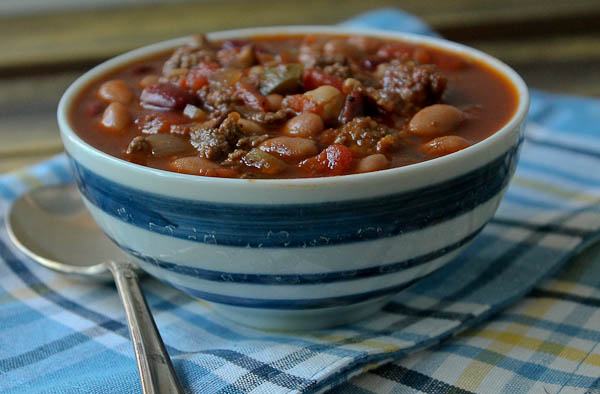 Sphere Magazine, October 1972
Author:
Allan Jaklich for Sphere Magazine
"Male Chauvinist Chili" is filled with three kinds of meat and three kinds of beans.
Ingredients
6 slices bacon
10 ounces hot Italian sausage, cut into 1-inch slices
10 ounces lean ground beef
1 large Spanish onion, chopped in large pieces
1 green bell pepper, chopped in large pieces
2 cloves garlic, minced
½ Jalapeno pepper, diced
1 cup red wine
½ cup Worcestershire sauce
1 teaspoon hot dry mustard
1 teaspoon celery seeds
1-1/2 teaspoons chili powder
½ teaspoon salt
1-1/2 teaspoons freshly ground black pepper
6 cups Italian pear-shaped tomatoes, liquid in can included
1 can (15 ounces) pinto beans, undrained
1 can (15 ounces) kidney beans, undrained
1 can (15-1/2 ounces) garbanzo beans, undrained
Instructions
Brown bacon in large chili pot or Dutch oven. Drain; crumble bacon and set aside. Pour bacon fat from pot, leaving only a film. Brown sausage; set aside with bacon. Pour sausage fat from pot, again leaving only a film. Fry ground beef; drain and set aside with other meats. Pour excess fat from pot.
Cook onion, bell pepper, garlic, and chili pepper in the pot over low heat for 2-3 minutes. Stir in wine and Worcestershire sauce; simmer uncovered for 10 minutes. Stir in mustard, celery seeds, chili powder, salt, and pepper; simmer 10 minutes. Mash tomatoes; add with liquid and meats to onion mixture. Heat to boiling; reduce heat and simmer gently, covered, for ½ hour, stirring occasionally.
Stir in beans (with liquid) into chili; heat to boiling. Reduce heat; cover and simmer for 1 hour, stirring occasionally.
The chili is best made a day or two ahead and reheated.