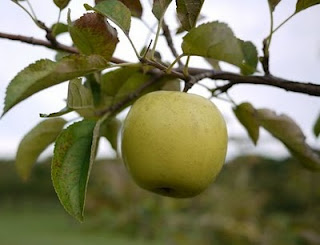 Apple pie and autumn go hand-in-hand.  Apple-picking is very popular here in the Midwest and I have fond childhood memories of picking apples in the cool air.  There is nothing like a fresh crispy apple.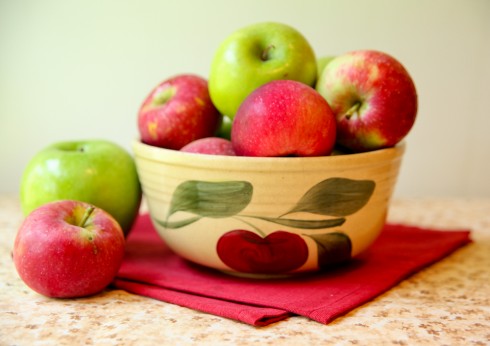 Experimenting with different apple recipes is part of the joy of autumn.  I have files of apple pie and other apple recipes.  One of my favorites is this Taffy Apple Pie from a now-closed establishment in a nearby village.  It was called the "Apple Haus" and they were famous for their apple cider doughnuts (wish I had that recipe) and of course their apple pies.  Many years ago, the recipe for the famous pie was printed in the food section of a Chicago newspaper.  Back in 1985, I decided to enter this pie in our county fair.  It won the Grand Champion of all the pies, and went on to win the Best of Show.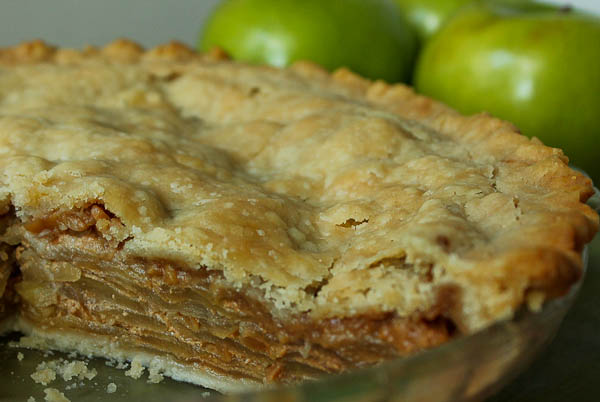 The flaky crust holds a layered filling of sliced Granny Smith apples, partially melted caramels, chopped peanuts, followed by a buttery brown sugar-cinnamon streusel, and then a top crust.  The pie is best served warm with a scoop of vanilla ice cream that is sprinkled with a little nutmeg.  Apple heaven.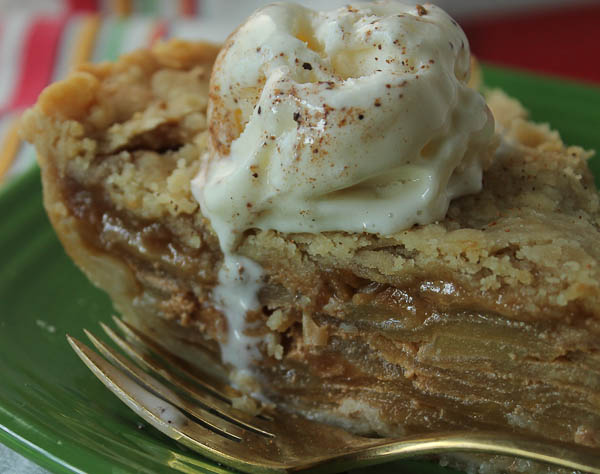 You can see the warm caramel oozing out the sides and little sprinkles of peanuts.  Don't you want to sink your teeth into this?  You know you do..
Taffy Apple Pie
Author:
Apple Haus, Long Grove, IL
Ingredients
Pie Crust:
2 cups all purpose flour
1 teaspoon salt
1 cup solid Crisco (1 stick; original, not butter-flavored)
¼ cup cold water
Streusel Topping:
½ cup packed light brown sugar
⅓ cup all purpose flour
¼ teaspoon cinnamon
¼ cup cold butter, cut into pieces
Pie Filling:
6-8 apples, cored, peeled, and thinly sliced
1 package (11 ounces) caramels, unwrapped
½ cup chopped Spanish salted peanuts
Powdered sugar (optional)
Vanilla ice cream
Sprinkle of nutmeg
Instructions
For Pie Crust:
Using a pastry blender or two forks, combine the flour, salt, and Crisco until crumbly. Add the water and stir with a fork until the mixture comes together. Form into a ball, then divide in half and pat each half into a disk. Wrap each disk in plastic wrap and refrigerate while preparing rest of pie ingredients. (dough can be made a day ahead, if desired).
For Streusel Topping:
In a medium mixing bowl, combine brown sugar, flour, and cinnamon. Cut in butter and mix until crumbly; set aside.
For Pie:
Heat oven to 350 degrees. Line a 9-inch pie pan with one of the refrigerated dough disks, rolled out to fit with some overhang. Place ⅓ of apples in the prepared pan. Heat the caramels over low heat in a small skillet or in the top of a double boiler until caramels are softened, but not completely melted. Drizzle ⅓ of warm caramels over apples. Sprinkle ⅓ of chopped peanuts over caramels. Repeat layers, ending with peanuts. Scatter the reserved streusel topping over peanuts. Roll out remaining refrigerated crust and place on top of pie; tuck under and flute edges. Make several slits on top crust using a sharp knife. Bake pie at 350 degrees for 1 hour, or until pie is golden and flaky. Let pie cool a little before cutting. If desired, you can sprinkle the pie with some powdered sugar. The pie is best served warm with a scoop of vanilla ice cream with some nutmeg sprinkled on the ice cream.