Trader Joe's is a place I shop frequently and sometimes spend too much money, but I always find something new there that I would like to try.  When the popular store opened in my little hometown, I quickly found some favorite frozen items that I can grab at anytime and make something from them.  I love mushrooms, and when I discovered the 12 ounce package of Mushroom Medley, I knew it was something I would use over and over.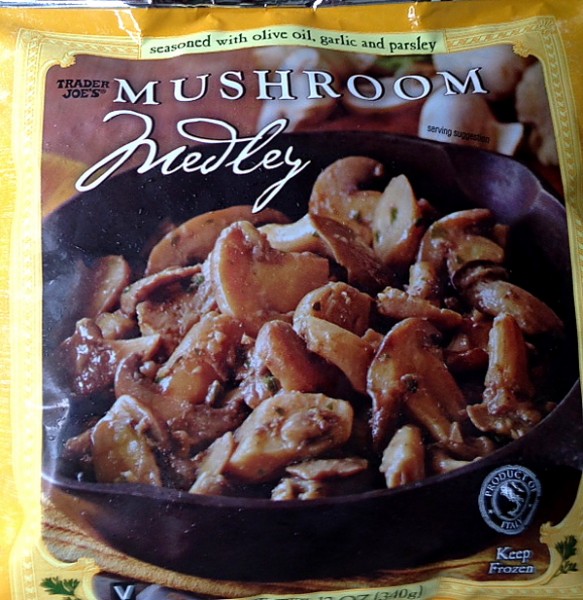 I always prefer fresh mushrooms, but there are times when I don't have them and can't make it to the store.  This is when I grab my trusty bag of mushroom medley.  This happened over the weekend when I wanted to have some mushrooms with a roast beef for dinner.  When the roast was done and resting for ten minutes before slicing, I got out the mushroom medley and had something ready in minutes.  All I needed was some onion, garlic, thyme, and a little red wine.  Done. The mushroom medley goes from freezer to pan; no need to even thaw.  The result was delicious.  Just add some garlic mashed potatoes, and  maybe an apple pie or tart for dessert, and a beautiful autumn dinner is served.   Now wasn't that easy?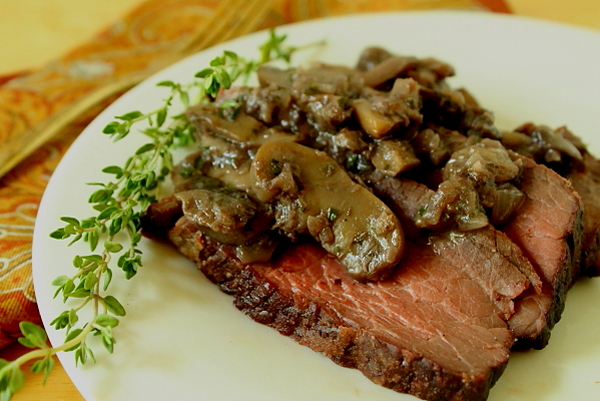 Roast Beef with a Mushroom Medley
Ingredients
For the roast:
One 2-pound eye round beef roast
½ teaspoon salt
½ teaspoon freshly ground pepper
For the mushroom medley:
1 Tablespoon olive oil
½ cup chopped onion
1 clove garlic, minced
1 package (12 ounces) Trader Joe's frozen Mushroom Medley*
¼ cup red wine
1 teaspoon fresh thyme leaves
Salt and pepper, to taste
Instructions
Preheat oven to 325 degrees. Spray a rack with nonstick spray and place in a roasting pan. Season the beef with the salt and pepper. Roast beef for 1 hour, or until it reaches your desired doneness. Transfer roast to a cutting board and let stand for 10 minutes.
When roast is resting, prepare mushrooms. Heat the olive oil in a skillet. Saute the onion until softened. Add the garlic and frozen bag of mushrooms. Saute, stirring constantly, for another 5 minutes. Stir in the wine and thyme and cook, stirring constantly, until the mushrooms are softened, about 5-6 minutes. Slice the beef and serve with some mushrooms spooned over the top. Serve immediately. Serves 6-8.
*If you can't find the bag of mushroom medley at your Trader Joe's, or you don't have a Trader Joe's nearby, you can substitute about 3 cups of fresh mushrooms, preferably a mix of shiitake, cremini, and porcini, or your favorites.