Cauliflower "steaks" are all the rage at the moment.  I see them everywhere with all kinds of drizzles and toppings.  The steaks are made by cutting the cauliflower crosswise into large pieces, brushing with a little olive oil or spraying with nonstick coating, and grilling. The cauliflower gets nice and browned and tastes delicious, adding a whole new way to look at cauliflower!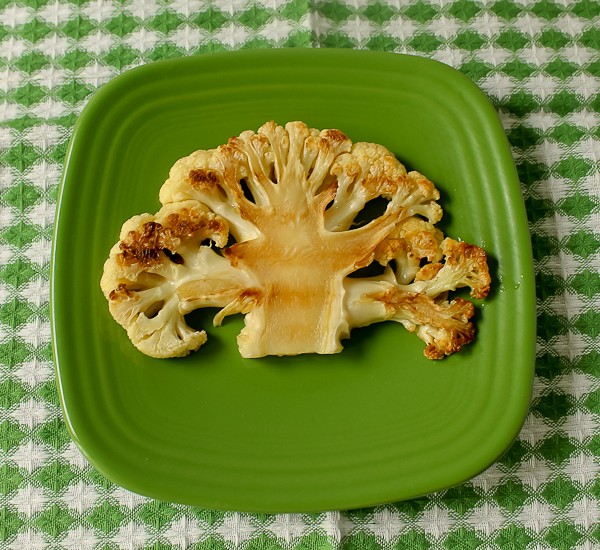 I love pesto on vegetables, and it's great on the cauliflower.  It's "skinny" because there is only 1 Tablespoon of olive oil in the whole batch!  The rest of the liquid is chicken broth, but it still tastes wonderful and has toasted pine nuts, Parmesan, fresh basil, and garlic, just like regular pesto with a fraction of the calories and fat.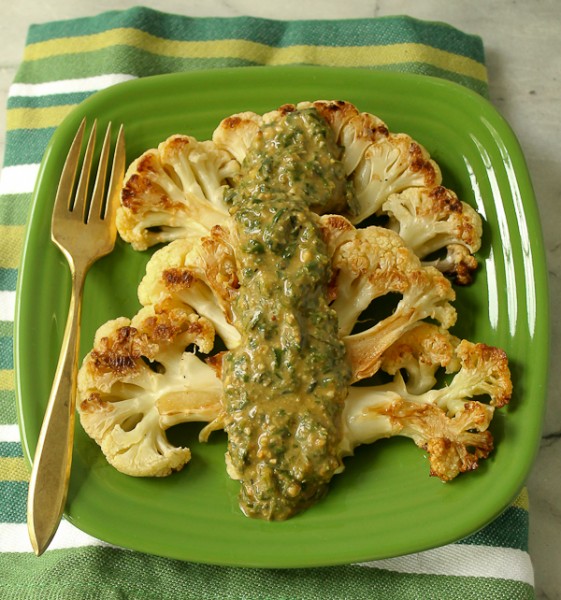 The cauliflower would be a great side dish this Fourth of July weekend if you are grilling steaks, chicken, pork, or just about anything.  You can even serve them plain if you don't want a topping.  The pesto can be made several days in advance and refrigerated; stir before using.

Cauliflower Steaks with Skinny Pesto
Ingredients
3 Tablespoons pine nuts
2 cups fresh basil leaves
½ cup reduced sodium chicken broth (homemade or canned)
¼ cup freshly grated Parmesan cheese
1 Tablespoon olive oil
2 cloves garlic, peeled and halved
½ teaspoon salt
About 1-1/2 to 2 pounds cauliflower, cut vertically into about eight ½-inch thick "steaks"
Instructions
Place the pine nuts in a small dry skillet and set over medium heat. Cook until nuts are golden and fragrant, shaking pan often to prevent burning, about 3 minutes. Transfer nuts to a plate to cool.
In a blender or food processor, combine cooled nuts, basil leaves, chicken broth, Parmesan, olive oil, garlic, and salt. Process until smooth and set aside.
Preheat grill to medium heat. Before grilling, coat cauliflower steaks lightly with olive oil or nonstick cooking spray. Set cauliflower directly on grill. Cover grill and cook cauliflower, turning once, until it is golden and tender, about 10 minutes total. Transfer to a serving platter or plates. Spoon pesto over each steak and serve. Makes 8 cauliflower steaks.