A cookie that is always fun to play around with is chocolate chip.  One can find endless versions of this iconic American cookie, but the latest issue (May-June) of Christopher Kimball's Milk Street magazine intrigued me because it contains rye flour that is toasted.  (Those are my cookies that I set on the magazine cover!)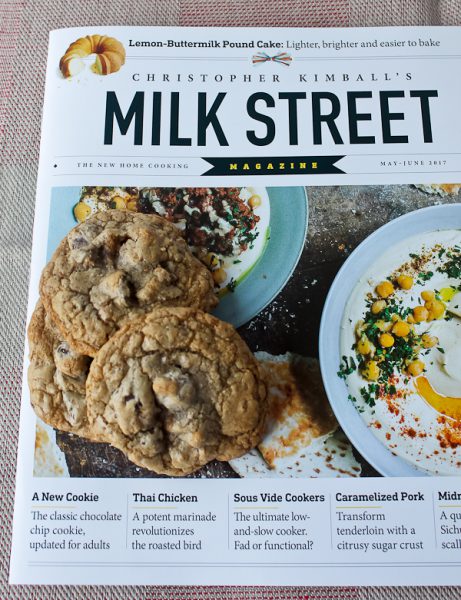 If you read my blog on Wednesday, you know that our cousin visiting from Finland brought us several licorice products for which Finland is famous.  In return, I wanted to make her something American but with a little Nordic twist.  Why not a chocolate chip cookie with rye flour?  Rye flour made sense as Finns use it extensively in baking.  The original recipe also called for a little molasses, but I decided to substitute a special Finnish dark syrup called Tumma Siirappi.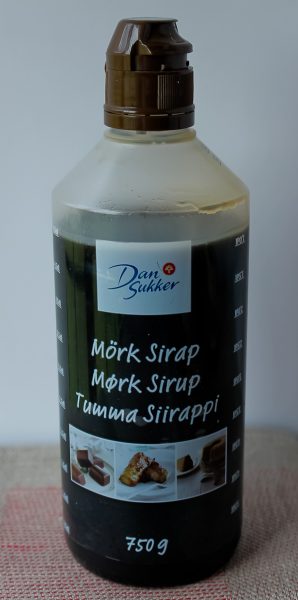 This wonderful syrup is available online and I can only describe it as a cross between molasses, honey, and maybe Lyle's Golden Syrup.  It has a lovely flavor all its own and really has no substitute.  It is a staple in Finnish cooking and baking for Slice Cookies and even for savory items such as root vegetable casseroles, especially those served at Christmas.  It was a good substitute for the molasses, although I'm sure the molasses is good too, since it's a Christopher Kimball recipe!
One cup of rye flour is toasted in a skillet until it becomes a bit darker and develops a nutty aroma.  It only takes about 7 minutes or so.  Butter is then stirred in and cooled before adding to other ingredients.  By the way, today is also National Pecan Day and the cookies include a cup of toasted and chopped pecans.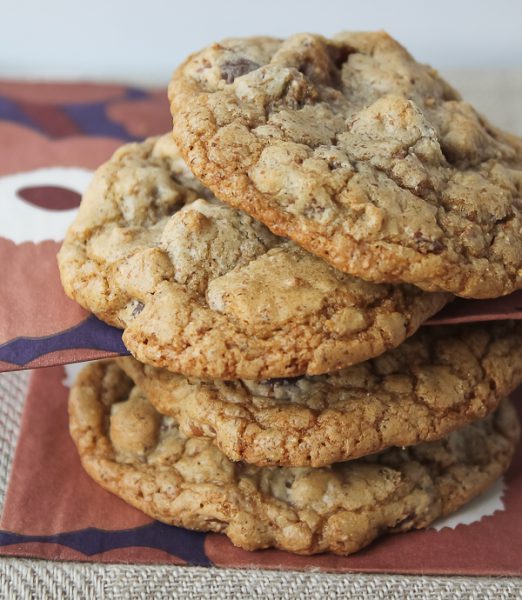 The cookies are crispy on the edges and softer in the middle.  We found that they tasted even better the second day.  I had stored them in an airtight container layered with plastic wrap.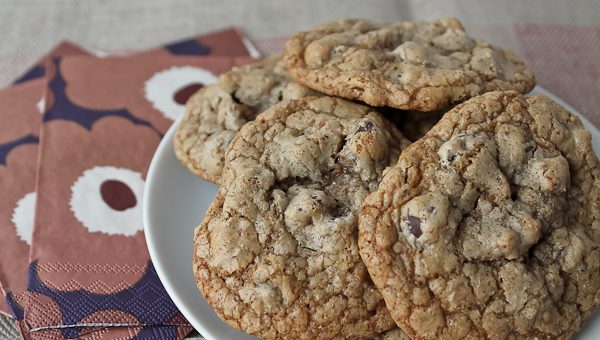 I hope you will enjoy these cookies either the original way or Nordic twist.  Or make up your own version!  I will be making these again for sure.

Chocolate Chip Cookies with a Nordic Twist
Author:
An adaptation of a Christopher Kimball Milk Street recipe
Ingredients
⅞ cup (124 grams) all-purpose flour
¾ teaspoon kosher salt
½ teaspoon baking soda
1 cup rye flour (140 grams)
12 Tablespoons (1-1/2 sticks) salted butter, cut into pieces and chilled
1-1/4 cups white sugar (248 grams)
2 large eggs
1 Tablespoon Dan Sukker Tumma Siirappi, Finnish Dark Syrup (or molasses)
1 Tablespoon vanilla extract
1 package (10 ounces) Dark Chocolate Morsels (or about 1-1/2 cups chopped bittersweet chocolate)
1 cup pecans, toasted and chopped (113 grams)
Instructions
Heat oven to 350 degrees with the rack in the middle position. Line 2 baking sheets with parchment.
In a medium bowl, whisk together the all-purpose flour, salt, and baking soda.
In a 12-inch skillet over medium-high heat, toast the rye flour until fragrant and shade or two darker, about 5-7 minutes, stirring frequently. Remove the skillet from the heat, then add the butter and stir until melted.
In a large bowl, mix together the sugar, eggs, dark syrup (or molasses) and vanilla. When the rye-butter mixture is cool to the touch, slowly stir it into the eggs. Add the dry ingredients and stir until combined. Stir in the chocolate chips and pecans.
Drop by 2 Tablespoon mounds of dough about 2-inches apart on the prepared baking sheets. One sheet at a time, bake until the edges are firm and the centers are soft, about 8-12 minutes, rotating the sheet halfway through. Cool on the sheet for 5 minutes then transfer to a wire rack to cool. Repeat with second sheet. Makes 24 cookies.