Tiramisu is a classic favorite dessert for many but filled with tons of whipped cream, liqueur, calories, and fat.  For Easter dessert Sunday, I thought I would try a lighter version using blueberries and Greek yogurt, but still using Italian ladyfingers.  For the syrup to brush on the ladyfingers, which is usually an almond or coffee liqueur, I used a fresh lemon syrup.  The ladyfingers are Italian and called Savoiardi.  They are longer and harder than the soft and short ladyfingers usually found in most grocery stores.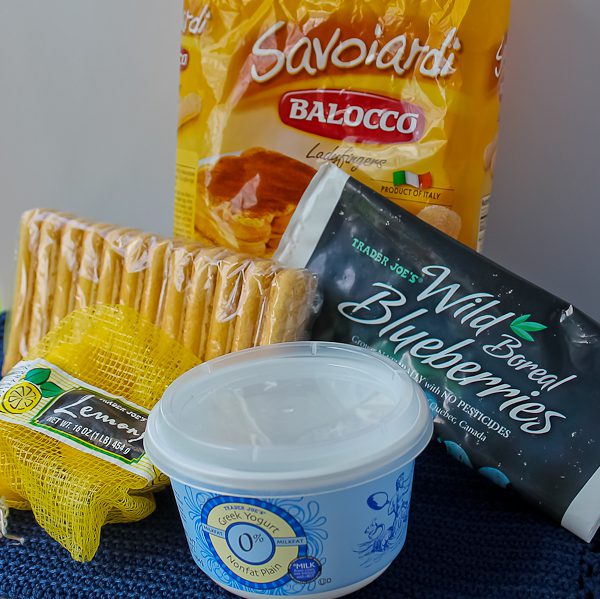 Being a fan of Trader Joe's, I decided to use their Wild Boreal Blueberries and nonfat plain Greek yogurt. (It has to be Greek yogurt; regular plain yogurt is too thin and it won't set).  This dessert can be made year round because the blueberries are used from the frozen state to easily make the filling. It must be made the day before just like authentic tiramisu, to give the ladyfingers time to soak up the syrup and all the flavors to blend.  It is made in an 8-inch glass or ceramic dish, covered and refrigerated overnight.  I was happy to have dessert taken care of for Easter dinner.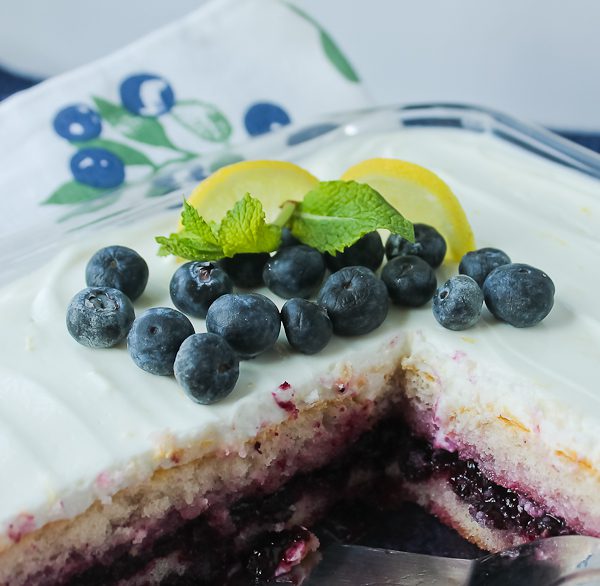 It can be cut into squares or if you prefer, just scoop out with a spoon.  Either way the pretty layers of ladyfingers and blueberry filling will be seen.  The yogurt topping mixed with a little sugar, lemon juice, and lemon peel give it a delicious cheesecake-like taste.  The combination of blueberry and lemon are made for each other.  The other plus is that it has zero saturated fat, 7 grams of protein, under 200 calories per serving, and even some fiber!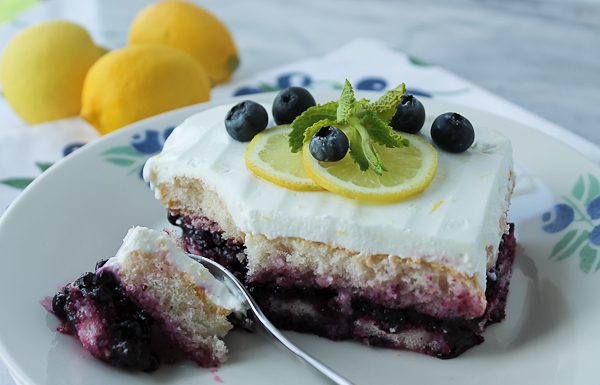 Now you can have a classic delicious dessert without all the guilt!

Blueberry Tiramisu with Greek Yogurt
Ingredients
1 package (16 ounces) frozen wild blueberries (I use Trader Joe's Wild Boreal Blueberries)
¾ cup granulated sugar, divided
1 Tablespoon cornstarch
½ teaspoon vanilla extract
24 hard Italian-style ladyfingers (called Savoiardi)
3 Tablespoons water
4 Tablespoons freshly squeezed lemon juice, divided
1-1/2 teaspoons freshly grated lemon rind, divided
1 container (16 ounces) nonfat plain Greek yogurt
For garnish: Fresh blueberries, mint sprigs, and lemon slices
Instructions
In a medium saucepan, place entire package of frozen blueberries, ¼ cup of the sugar, and the cornstarch. Over medium-high heat, cook and stir until sugar dissolves and mixture boils and thickens, about 5-7 minutes. Remove from heat and transfer mixture to a medium mixing bowl. Stir in vanilla extract. Set aside to cool while preparing other ingredients.
In an 8-by-8-inch glass or ceramic dish, arrange half of the ladyfingers. A few will have to be cut to fit the bottom of pan; set aside.
In a small saucepan, place ¼ cup granulated sugar and the 3 Tablespoons water. Bring to a boil, then simmer for about 2 minutes, stirring frequently, until sugar is dissolved and mixture is slightly syrupy. Remove from heat and stir in 3 Tablespoons of the lemon juice, and 1 teaspoon of the grated lemon rind. Pour into a glass measuring cup; there should be about ½ cup.
Using a pastry brush, brush half of the lemon syrup over the ladyfingers in the dish, flipping them over once.
Spoon all of the cooled blueberry mixture evenly over the coated ladyfingers in pan. Top the blueberry mixture with the remaining ladyfingers. Brush the ladyfingers with the remaining syrup.
In a small mixing bowl, stir together the Greek yogurt, the remaining ¼ cup of granulated sugar, the remaining 1 Tablespoon of lemon juice, and the remaining ½ teaspoon of grated lemon rind. Mix well, then spread evenly over ladyfingers.
Cover and refrigerate overnight. Any less than overnight and it won't set correctly.
To serve, garnish the tiramisu with some fresh blueberries, a mint sprig or two, and lemon slices. Keep covered and refrigerated if all is not eaten at once. Serves 8-10.