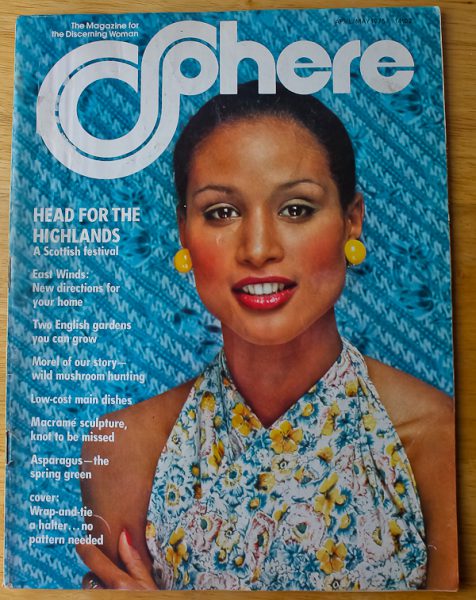 This issue made me smile when I opened it because it reminded of a time about a year ago when a reader wrote to me and asked if I had this particular issue because she wanted to recreate the Scottish dinner that was featured.  It had become a tradition to serve this meal in her family and then she somehow lost the magazine with all the great recipes.  I was more than happy to send copies to her, and a few weeks later, she sent photos of their Scottish party.  This is why I love writing about this great vintage magazine.  So many people remember it with fondness and have never forgotten the incredible recipes.  There is hardly a week that goes by when someone doesn't write me asking for a recipe.
If you love morels, there is an article of where and how to find them along with recipe ideas.  Lamb is also a very Spring-like meal, and a recipe for lamb shoulder steaks with fresh rosemary and vegetables sounds delicious.  But I am a sucker for asparagus and that's what I had to make.  Funny thing is, I used to detest asparagus when I was young, probably because I have memories of smelling the horrible asparagus that comes in a can! Now I can't seem to get enough.  I even bought an asparagus dish at Crate & Barrel years ago that I love.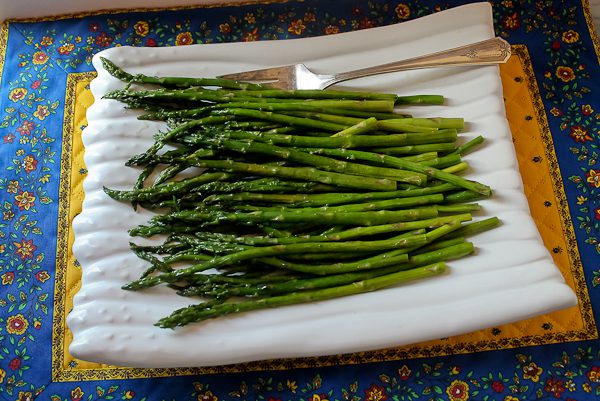 My favorite way to prepare asparagus is roasted with some garlic or shallot, olive oil, and fresh herbs.  One of our favorite meals is to roast it alongside fresh salmon pieces at the same time, and make lemon orzo while it is roasting.  The salmon and asparagus are both perfectly cooked in less than 15 minutes.  However, I am always willing to try new asparagus recipes and I had a selection from the article:  asparagus with a hot, herb vinaigrette; Italian rolls with prosciutto; asparagus with a yogurt-herb sauce; Au Gratin style with cheddar; Polonaise style; some with anchovy butter; and the one I decided to make, Asparagus with French Cheese Sauce made with shallots, white wine, Swiss, a little nutmeg, and Parmesan.  The asparagus is first cooked, they suggested steamed or boiled, but I decided on roasting just with a little olive oil.  The wine-cheese sauce is prepared separately, spooned over the asparagus, sprinkled with the Parmesan and then broiled.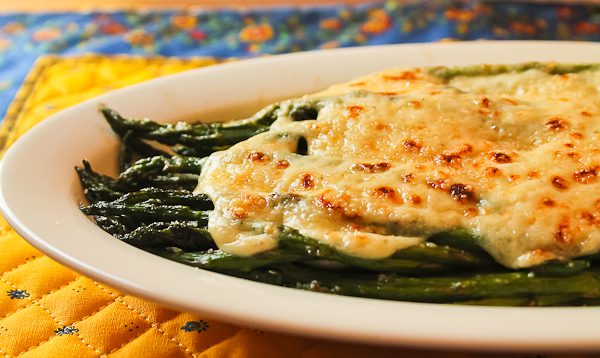 This was so good!  It's great with roast chicken, salmon or other fish, lamb, or ham.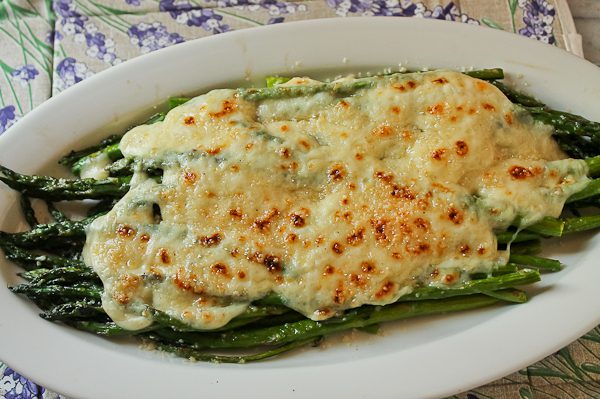 Celebrate Spring and this glorious vegetable!
Asparagus with French Cheese Sauce
Author:
Sphere Magazine, April/May 1975
Ingredients
1-1/2 pounds fresh asparagus
1 Tablespoon chopped shallot
3 Tablespoons butter
¼ cup all-purpose flour
1-1/4 cups milk
½ cup dry white wine (or chicken broth, but better with wine!)
1 egg yolk, beaten
⅓ cup shredded Swiss cheese
¼ to ½ teaspoon salt (I used the ½ teaspoon)
¼ teaspoon ground nutmeg
2 Tablespoons grated Parmesan cheese
Instructions
Cook asparagus until just tender. (steam, boil, or roast)
Cook and stir shallot in butter in medium saucepan 2 to 3 minutes; stir in flour. Cook and stir until mixture is smooth and bubbly. Remove from heat; stir in milk. Return to heat and heat to boiling, stirring constantly. Boil and stir for 2 minutes. Stir in wine; remove from heat.
Stir half the wine sauce gradually into beaten egg yolk; return to saucepan. Heat, stirring constantly, until hot. Stir in Swiss cheese, salt, and nutmeg; cook and stir until cheese is melted.
Heat oven to broil setting. Arrange cooked asparagus in lightly greased 1-1/2 quart au gratin dish or baking dish. Pour sauce over asparagus and sprinkle with Parmesan cheese. Broil until cheese lightly browns. Serves 4.