Fava beans are popping up at Farmer's Markets and grocery stores.  They are available in late spring and early summer and are wonderful in soups and salads, or on their own.  They blend well with this colorful and creamy carrot soup that also has a chopped apple, onion, garlic, and a little ground coriander.  I used homemade chicken broth for the base, but canned will do fine.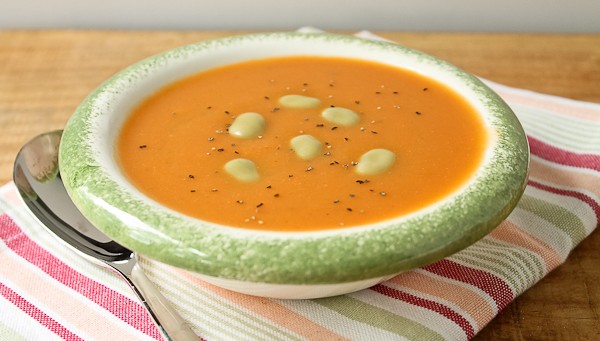 This is one soup where I love my Vita-Mix!  It makes the best creamy soups.  All the ingredients except the beans are cooked in the chicken broth, then pureed in a blender.  The beans are stirred in last.  The contrasting colors are beautiful.  Two cups of this luscious soup are only 147 calories, 1 gram of total fat, and 7 grams of protein!  I love topping mine with lots of freshly cracked pepper, but a dollop of Greek yogurt or some fresh herbs would be good too.  Try it with a nice salad and some fresh crusty whole grain bread.  Yum.

Creamy Carrot Soup with Fava Beans
Ingredients
2 cups fresh (or frozen) shelled Fava beans
6 cups chicken broth
1 pound bag carrots, peeled and sliced
1 sweet-tart apple, such as Fuji or Gala, peeled, cored, and diced
½ cup chopped onion
2 garlic cloves, chopped
½ teaspoon ground coriander
Freshly ground black pepper
Instructions
Cook fava beans and drain; set aside. (If the beans are encased in a thin white skin, pierce the outer skin on each one with your fingernail and remove it)
In a large saucepan, combine the broth, carrots, apple, onion, garlic, and coriander. Bring to a boil; reduce heat and simmer, uncovered, for about 25 minutes or until carrots are very tender.
Remove saucepan from heat and set aside for about 5-10 minutes. Pour soup into a blender in batches and puree until smooth. Return soup to saucepan and add fava beans. Simmer gently until heated through. Sprinkle each serving with cracked pepper and serve.