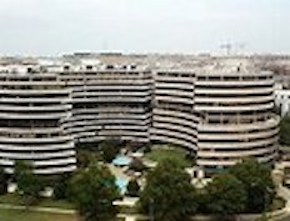 Today marks the 43rd anniversary of the Watergate Scandal that brought down the Presidency of Richard Nixon.  In this hotel in the early hours of June 17, 1972, several burglars connected to Nixon's reelection campaign were caught while attempting to wiretap phones and steal secret documents.  A Watergate security guard noticed that someone had taped the buildings locks and called the police, who arrived just in time to catch the thieves red-handed.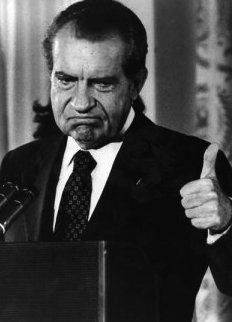 While it was not immediately clear that the burglars were connected to the president, detectives later found copies of the reelection committee's White House phone number among their belongings.  Nixon gave a speech where he declared that the White House staff was not involved in the break-in.  Most voters believed him and Nixon was reelected in a landslide.
But it wasn't over yet.  It was proven later that Nixon arranged to provide "hush money" and then constructed a plan with his aides to impede the FBI's investigation of the crime.  This was an obvious abuse of presidential power and obstruction of justice.  Seven conspirators were indicted on charges related to Watergate.  By this time, there were some, including Washington Post reporters Bob Woodward and Carl Bernstein, who suspected a larger scheme.  They received valuable information from a mysterious informant known as "Deep Throat," who was revealed years later (2005) to be W. Mark Felt, a former associate director of the FBI.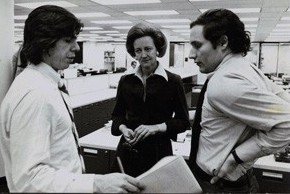 The duo deserves a great deal of credit for uncovering the details of the Watergate scandal, and their reporting earned them a Pulitzer Prize.  It was also the basis of their book (made into the movie) "All the President's Men." This is Watergate in a nutshell, but we all know the end result.  Nixon surrendered the tapes which provided proof of his complicity with the Watergate crimes.  The House voted to impeach him, and in the face of certain impeachment by the Senate, Nixon resigned on August 8, 1974.  Nixon never admitted to any criminal wrongdoing, although he said he used poor judgment.  His abuse of presidential power had a profound effect on American political life, creating even more dismay of the national climate of the times including the outcomes of the Vietnam war.  Not only did it mark changes in campaign finance reform and more aggressive attitudes by the media, but think of all the ways we now use the word "gate" to refer to scandals, controversies, and upsets. Think of "Deflategate," the controversy over the deflated footballs of the New England Patriots; or how about a couple of Clinton ones, "Monicagate" and "Whitewatergate."  The word even had far-reaching meaning around the world.  In the UK, there was "Camillagate" and "Dianagate." My favorite food-related one is "Pastygate."  It seems that a controversy in 2012 around the taxation by the UK government of hot snacks like pasties where conservative ministers were said to be out of touch with the eating habits of ordinary people!
With that in mind, let's move onto the cookbook.  The Watergate Cookbook was published in 1973 by N.Y Alplaus. Now does that sound like a real name to you, or is it the cookbook author version of "Deep Throat?"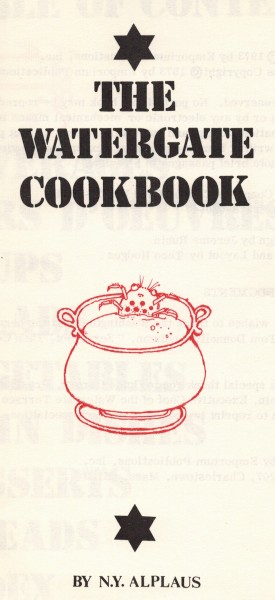 I did a little Woodward and Bernstein and found out that "N.Y. Alplaus" is actually cookbook authors Jerome and Cynthia Rubin, who have written some very nice cookbooks.  (Don't you love the "bug" in the pot?)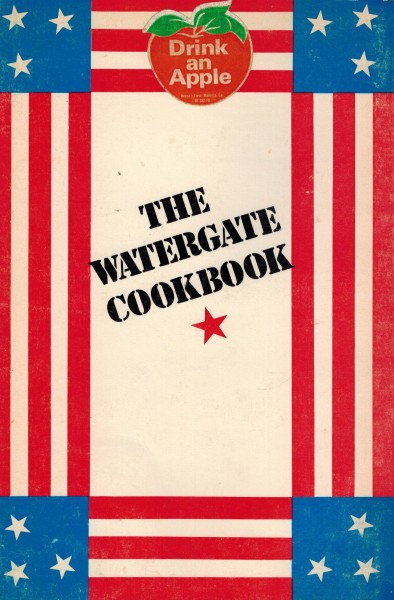 The cookbook only has two recipes from the Watergate Hotel restaurant, all the others are what you would expect.  Who could resist, right?  Inside you will find such dishes as Chili Con Colson; Buzhardt's Black-Listed Pea Soup; McCord's Clouded Consomme; Million Dollar Fruits; Nixon's Hot Potato Souffle; Odle's Shredded Casserole; Martha's Telephone Surprises; Mitchell's Sitting Duck; Ehrlichman's Cover-Up Casserole; Liddy's Fool-Proof Devil's Food Cake; Donkey Delights; McClusky's Impeach Torte; Magruder's Big Dreams; Connally's Split Party Rolls; and Nixon's Hot Cross Bread.
The only recipe I could bring myself to make was the shrimp scampi from the Watergate restaurant.  It was good, and a lot better than Odle's Shredded Casserole.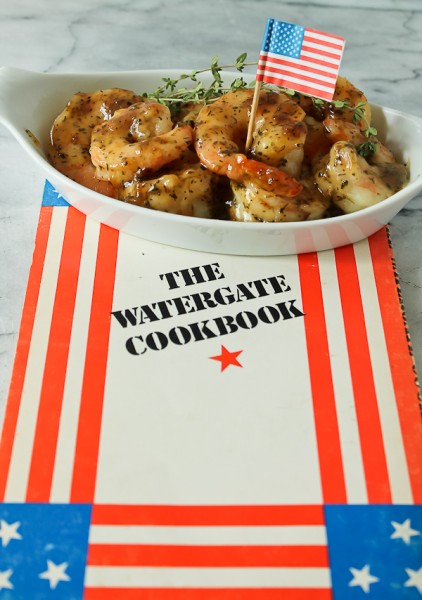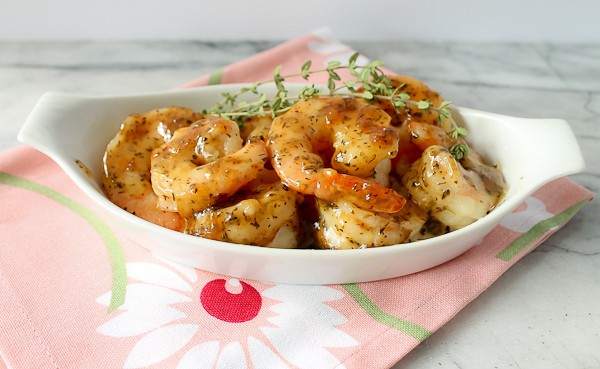 Shrimp, shallots, and herbs are sautéed in butter, flamed with Pernod liqueur, then cream added and reduced  to desired consistency.
By the way, notice that little "Drink an Apple" sticker at the top of the cookbook?  That isn't part of the cover.  Whoever owned the book before me stuck it on there.  Maybe they decided drinking an apple was better than most of the recipes inside, which are, shall we say, inoperative?  Can't say I disagree, but the shrimp is good.  Of course, maybe there are some secret recipes somewhere in the Watergate that no one has found yet. Maybe there is a seafood file somewhere labeled fishy.

Watergate Terrace Scampi New Orleans
Author:
The Watergate Cookbook by N.Y. Alplaus
Ingredients
4 Tablespoons butter
8 prawns, peeled and deveined
1 Tablespoon minced shallots
½ teaspoon basil
½ teaspoon thyme
½ teaspoon marjoram
Pernod liqueur
½ cup heavy cream
Instructions
Melt the butter in a medium heavy skillet. Place shrimp, shallots, and herbs in the skillet and saute until shrimp just start to turn pink. Add a splash and Pernod and flame. When flame subsides, add the cream and reduce until mixture has the desired consistency.